Deportations in Houston resume after Trump suspends them for Hurricane Harvey
Clark Mindock
New York
Thursday 21 September 2017 21:16 Comments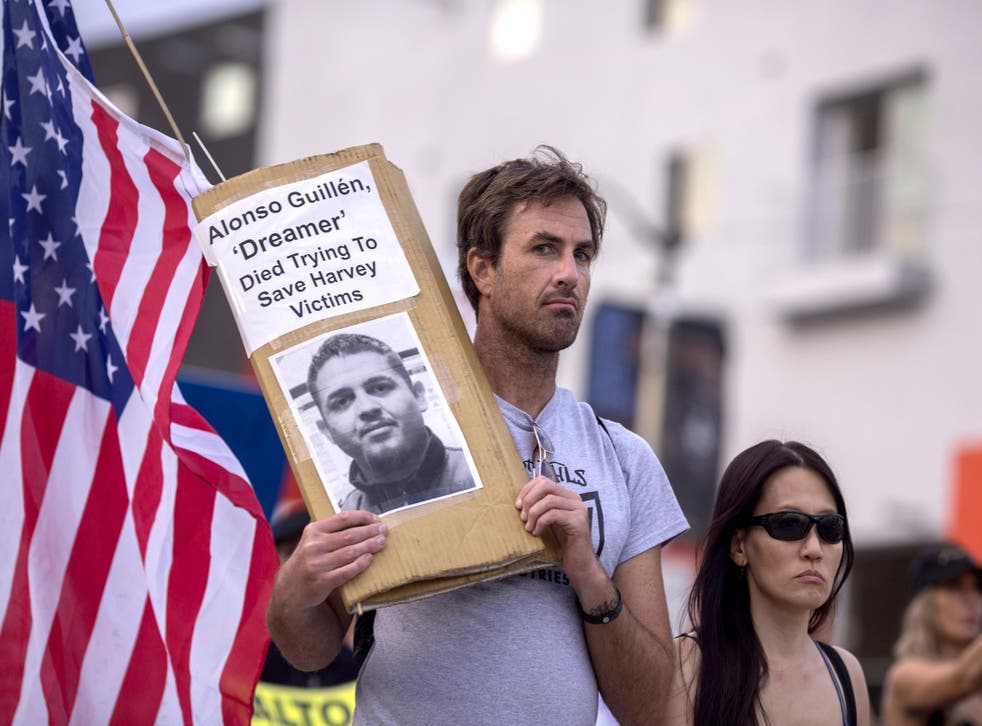 The United States is deporting people from southeastern Texas again after taking a brief break in enforcement during Hurricane Harvey rescue and recovery efforts.
The administration of Donald Trump announced the change, saying that everyone in the country illegally is on the chopping block there, but that response operations would still not be subjected to raids.
"Immigration and Customs Enforcement officers have resumed regular, targeted immigration enforcement operations in the area — with the exception of immediate relief operations like shelters and food banks," a statement from that agency said in a statement.
The agency suspended immigration-related arrests as Hurricane Harvey approached southeastern Texas last month, saying that their immediate priority was to "promote life-saving and life-sustaining activities," according to a statement then.
During that time, more than 200 officers from the agency were sent to help with relief efforts. Those agents were likely to instil a degree of fear for undocumented immigrants in the area, as the Trump administration has arrested more than 6,200 immigrants in the area since Mr Trump took office. In response, federal, state, and local officials urged the 600,000 immigrants in the Houston to seek aid if they needed it. They promised no repercussions for doing so.
Those urgings reportedly weren't enough to convince people to seek shelter and aid. Many people stayed at home, according to the Houston Chronicle, choosing to ride out the risk of devastating floods instead of opening themselves up to the potential for deportation.
The aftermath of Hurricane Harvey

Show all 19
With so many people staying home, some advocates said that the situation became dire. It's "a real crisis," Cesar Espinosa, the executive director of the immigrant advocacy group FIEL Houston, said.
Mr Trump vowed during the 2016 campaign to immediately deport people who are in the United States illegally, in spite of expert claims that it would be incredibly difficult if not impossible to do so logistically. After the President took office earlier this year, he directed his immigration agency to begin working on his goal of meeting 2 to 3 million undocumented immigrants.
In spite of that effort, deportations in the Trump era were lower during the first six months of the year compared to the past several years when Barack Obama was president.
Register for free to continue reading
Registration is a free and easy way to support our truly independent journalism
By registering, you will also enjoy limited access to Premium articles, exclusive newsletters, commenting, and virtual events with our leading journalists
Already have an account? sign in
Join our new commenting forum
Join thought-provoking conversations, follow other Independent readers and see their replies