Doctor left stunned and 'disappointed' after Trump uses his image to falsely suggest Covid is a 'scam'
Dr Jacob Keeperman says he was 'completely caught off guard' after his selfie became the subject of right-wing misinformation - and a tweet from the president
Chris Riotta
New York
Wednesday 02 December 2020 15:29 Comments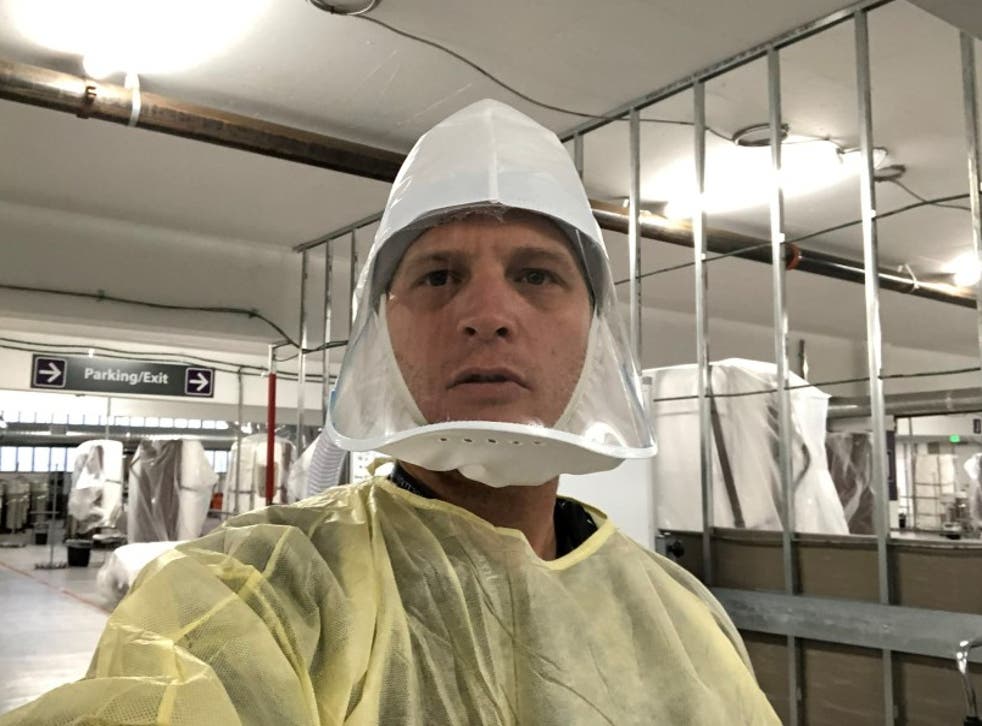 A doctor in Nevada said he was left stunned after President Donald Trump helped turn his message of support for hospital workers "into something that it was never meant to be" in a new interview.
Dr Jacob Keeperman, an ICU physician in Reno, told the Washington Post he was "disappointed" and "completely caught off guard" when the president retweeted a post featuring misinformation — and his selfie — on Tuesday.
The doctor had posted a photo of himself to Twitter standing inside of a newly-created hospital wing with 1,500 beds to treat patients infected with the novel coronavirus that has so far killed nearly 270,000 Americans nationwide. In his post, he thanked his "incredible" staff for "fighting the good fight" and said in his interview with the Post: "I was so impressed with the facility … I took that picture to share with my colleagues throughout the country what had been done here."
His selfie was actually taken days earlier, moments before the unit began accepting its first patients. Dr Keeperman had done a walk-through of the new wing before snapping the picture, apparently in awe of what the hospital was able to create to support the influx of new patients. Similar makeshift ICUs were established in New York and other states that were first hit by the Covid-19 outbreak in March.
But his tweet was taken by right-wing corners of the web and added to a barrage of misinformation surrounding the pandemic in the US, with some falsely claiming the virus was a "hoax" perpetrated by foreign actors or the Democratic Party.
Mr Trump retweeted a post from a conservative blog that featured Dr Keeperman's selfie and suggested Covid-19 was a "scam".
The blog noted how there were "no patients" and "wrapped up equipment that's never been used" in the photo behind the doctor, apparently not realizing the selfie had been taken before the unit began accepting its first patients.
But those facts were seemingly unimportant to the president, who retweeted the conservative blog post and added: "Fake election results in Nevada, also!"
Twitter was then forced to once again label the president's Twitter post as containing disputed claims about the results of the 2020 election.
On top of promoting misinformation about the pandemic, the president has spent the weeks since Election Day falsely claiming there was widespread and systemic vote rigging. His own Justice Department and Department of Homeland Security have strongly countered his false tweets, saying there has been no evidence of mass voter fraud and describing the recent election as the "most secure" in the nation's history.
His latest post featuring Dr Keeperman quickly became the subject of widespread backlash, including from the state's governor.
"For nearly nine months, the State of Nevada has not only had to battle this pandemic, we have had to fight the President's nonstop attempts to politicize a virus that has led to over 260,000 American deaths," Governor Steve Sisolak said in a statement on Tuesday in response to the president's post. "His consistent misleading rhetoric on COVID-19 is dangerous and reckless, and today's implication that Renown's alternate care site is a 'fake hospital' is among the worst examples we've seen."
The governor added: "It is unconscionable for him to continue to spread lies and sow distrust at a time when all Americans should be united during this historic public health crisis. Enough is enough."
Dr Keeperman said he never wanted the post to turn into a political or divisive message. His original tweet encouraged frontline workers to "stay strong" during the pandemic, and he told the Post it was meant to be "nonpolitical" and nonpartisan.
Register for free to continue reading
Registration is a free and easy way to support our truly independent journalism
By registering, you will also enjoy limited access to Premium articles, exclusive newsletters, commenting, and virtual events with our leading journalists
Already have an account? sign in
Join our new commenting forum
Join thought-provoking conversations, follow other Independent readers and see their replies