Trump hosts Turkish President Erdogan at White House despite criticism on Syria
The American and Turkish presidents have unresolved disagreements but try to maintain good relations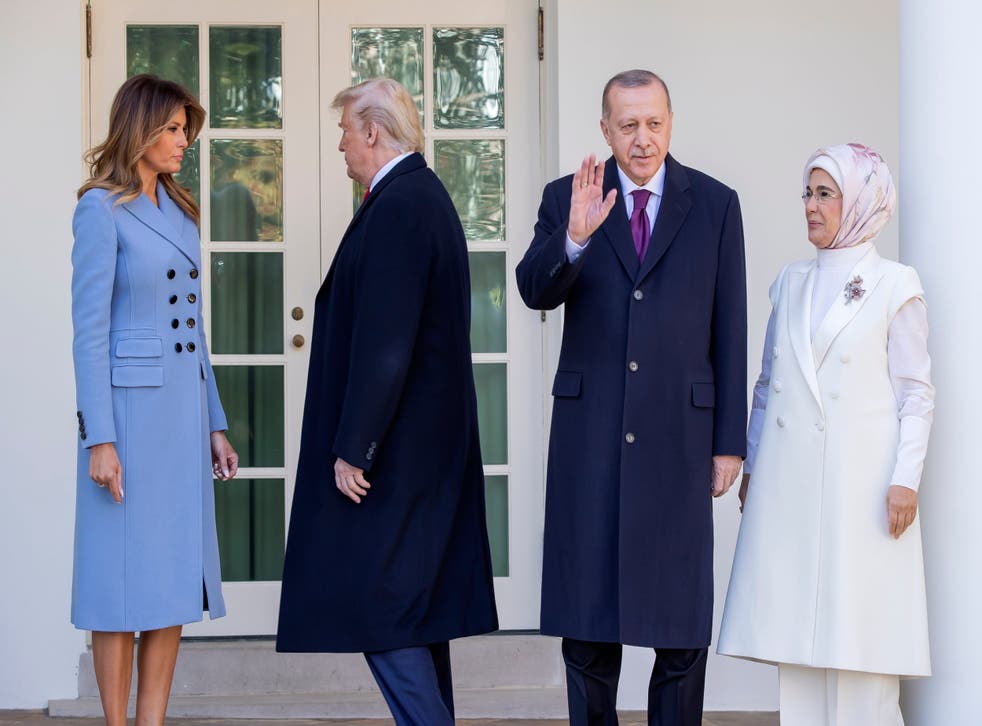 Donald Trump hosted Turkish president Recep Tayyip Erdogan on his second visit to the White House, weeks after he faced a strong backlash for pulling US troops out of the way of a Turkish incursion into northern Syria.
Mr Trump, who faced bipartisan criticism for giving a free pass to the Turkish president, seemed to try to bridge part of the gap with key members of his own party. In an unusual but conciliatory move, he invited a few Republican senators to the Oval Office to speak directly to Mr Erdogan. Among the handful of senators were Ted Cruz and Lindsey Graham, who have been vocal critics of the US President's recent pull-out from northern Syria.
A joint press conference by the two presidents portrayed main points of tension but also validated the personal relationship that both have been trying to cultivate and maintain in the past three years, with Mr Trump insisting they were "very good friends".
The situation in Syria is one of the key areas of difference between the two governments. Turkey is not happy with the deployment of US troops to the oil fields in Syria, but Mr Trump has stood by that decision.
And the US opposes Turkey's acquisition of S-400s, but Mr Erdogan does not seem to be giving up on the Russian missile system. The Turkish president did however mention that he is open to buying US Patriot missiles in the future but it is not clear how much leverage the US president has in making that happen.
Turkey launches offensive into Syria

Show all 25
"Both sides knew that they couldn't shake hands on all issues, but could use this opportunity to relieve tensions," said Erdem Aydin, director of RDM Advisory, a London-based political risk consultancy. "There are no tangible results after this meeting. This is not like the Mike Pence trip to Turkey," he told The Independent. But Mr Aydin believed that the two leaders will continue dialogue and there will be more room for progress in bilateral relations.
One of Mr Erdogan's long time demands from the American president is to extradite the dissident Turkish cleric Fethullah Gulan from the US. Although Mr Trump and some in his close circle have enquired about extradition, it is not something they have been able to deliver as it has to go through legal channels at the Justice Department.
The Turkish president also mentioned the commander of the Syrian Democratic Forces, General Mazloum Abdi, calling him a terrorist. But Mr Trump later told a Turkish journalist that he will continue to have a good relationship with the Kurdish general. That is one key area of disagreement that will continue to be unresolved between the two governments.
"We had a strategy in Syria that was working," said Henri Barkey, a professor of international relations at Lehigh University and a senior fellow at the Council on Foreign Relations. "We had the Syrians and Russians on defensive. We were allies with the Kurds, who are good fighters and can hold territory and fight Isis," Mr Barkey told The Independent, adding "I don't know what can be better."
But the big picture looks to be in favour of Mr Erdogan. There are very few world leaders who have visited the White House twice under Trump. It is especially unusual for a Turkish leader to get such frequent access to the US president.
Mr Trump is known to appreciate tough, authoritarian leaders like Vladimir Putin and Erdogan. "Trump has been protecting Erdogan all along," Mr Barkey said. "Trump has no strategy in Syria. He says he wants to pull the troops out, then deploys them back to the oil fields."
And Mr Trump's supporters don't seem to care about the details. The American public is genuinely fed up by US troops getting killed abroad and their tax dollars being wasted on wars.
Mr Barkey argues that President Trump has a very personal approach on things and is using the American government as his personal company. "Whatever is good for Trump is good for the US," he said, adding that Mr Trump's only grand strategy is to get himself re-elected.
Turkey's Erdogan threatens to send millions of refugees to Europe unless it backs Syria 'safe zone'
It's been a month since Turkey's incursion into northern Syria and it has already lost its sense of urgency in Washington. The impeachment process is also going to be the focus of attention in the US capital.
Register for free to continue reading
Registration is a free and easy way to support our truly independent journalism
By registering, you will also enjoy limited access to Premium articles, exclusive newsletters, commenting, and virtual events with our leading journalists
Already have an account? sign in
Register for free to continue reading
Registration is a free and easy way to support our truly independent journalism
By registering, you will also enjoy limited access to Premium articles, exclusive newsletters, commenting, and virtual events with our leading journalists
Already have an account? sign in
Join our new commenting forum
Join thought-provoking conversations, follow other Independent readers and see their replies