Donald Trump says 'hate has no place in our country' after two mass shootings
Trump pictured greeting guests and smiling at his golf club hours after 20 people killed in mass shooting
President crashed at wedding hours after El Paso shooting, social media photos show
US President Donald Trump was pictured smiling as he crashing at a wedding at one of his golf clubs just hours after 20 people died in a mass shooting.
Photographs posted on Instagram show Mr Trump greeting guests and stopping by at a wedding at his Trump National Golf Club Bedminster in New Jersey on the evening after a shooter opened fire in a shopping mall in El Paso on Saturday.
The photos are circulating on social media. One, posted by wedding photographer Jennifer Lam, shows Mr Trump and first lady Melania Trump posing with the bride and groom.
The photo carries the caption: "The bride and groom and their guests even got to meet the President and First Lady!"
The New York Post reports that videos were posted online of the guests chanting "U-S-A" when Trump arrived at the wedding. The Independent has not independently verified the videos.
Another picture shows Trump enjoying his time at the reception, although the account that published it has since been set to private.
The photos began circulating on social media on Saturday at 9pm, while the presence an active shooter in El Paso was first reported at around 10:30am local time.
Trump remained out of sight at his club for hours on Saturday after the shooting, playing golf. He wrote two tweets of support to the communities affected by the shooting that day – mixed with other posts lashing out against his opponents and one promoting a mixed martial arts fighter.
El Paso mass shooting: 20 killed at Walmart store

Show all 39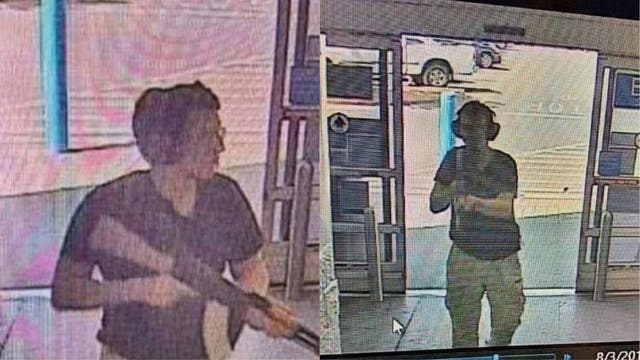 "I'm talking to a lot of people, and a lot of things are in the works," Mr Trump told reporters from the golf club, saying he believed both shooters were "really very seriously mentally ill". "We have to get it stopped. It's been going on for years. Years and years, and we have to get it stopped," he said.
Police arrested Patrick Crusius, 21, on suspicion of murdering 20 people and injuring 26 others after a gunman opened fire at a Walmart store in a shopping mall in El Paso, Texas.
Authorities said they were treating the shooting as an act of domestic terrorism and would seek the death penalty, if the 21-year-old white man from the city of Alen, 650 miles to the east, was found guilty.
El Paso County sheriff Richard D Miles called the suspect a "racist" in a Facebook post, and wrote: "This Anglo man came here to kill Hispanics".
That night, the death toll rose to 29, when several more people were killed din a shooting near a bar in downtown Dayton, Ohio.
Democratic presidential candidate Beto O'Rourke, who is from El Paso, accused Mr Trump of encouraging mass shootings and stirring up ethnic tensions.
"He doesn't just tolerate it; he encourages it," he said. "Folks are responding to this. It doesn't just offend us, it encourages the kind of violence that we're seeing, including in my home town of El Paso yesterday."
Later, he snapped at another question: "He's been calling Mexican immigrants rapists and criminals. I mean members of the press – what the f***."
Pete Buttigieg, another Democrat who, like O'Rourke, is running for president in 2020, said Mr Trump was condoning and encouraging white nationalism. "It is very clear that this kind of hate is being legitimised from on high," he told CNN.
Support free-thinking journalism and attend Independent events
Acting White House chief of staff Mick Mulvaney defended the president. "These are sick people," he said of the shooters. "And we need to figure out what we can do to make sure this doesn't happen again."
Mr Trump announced he would make an official statement today.
Join our new commenting forum
Join thought-provoking conversations, follow other Independent readers and see their replies