US immigration agents double number of workplace raids, spreading fear and tearing families apart
'All of a sudden, everything is gone and you don't know what's going to happen'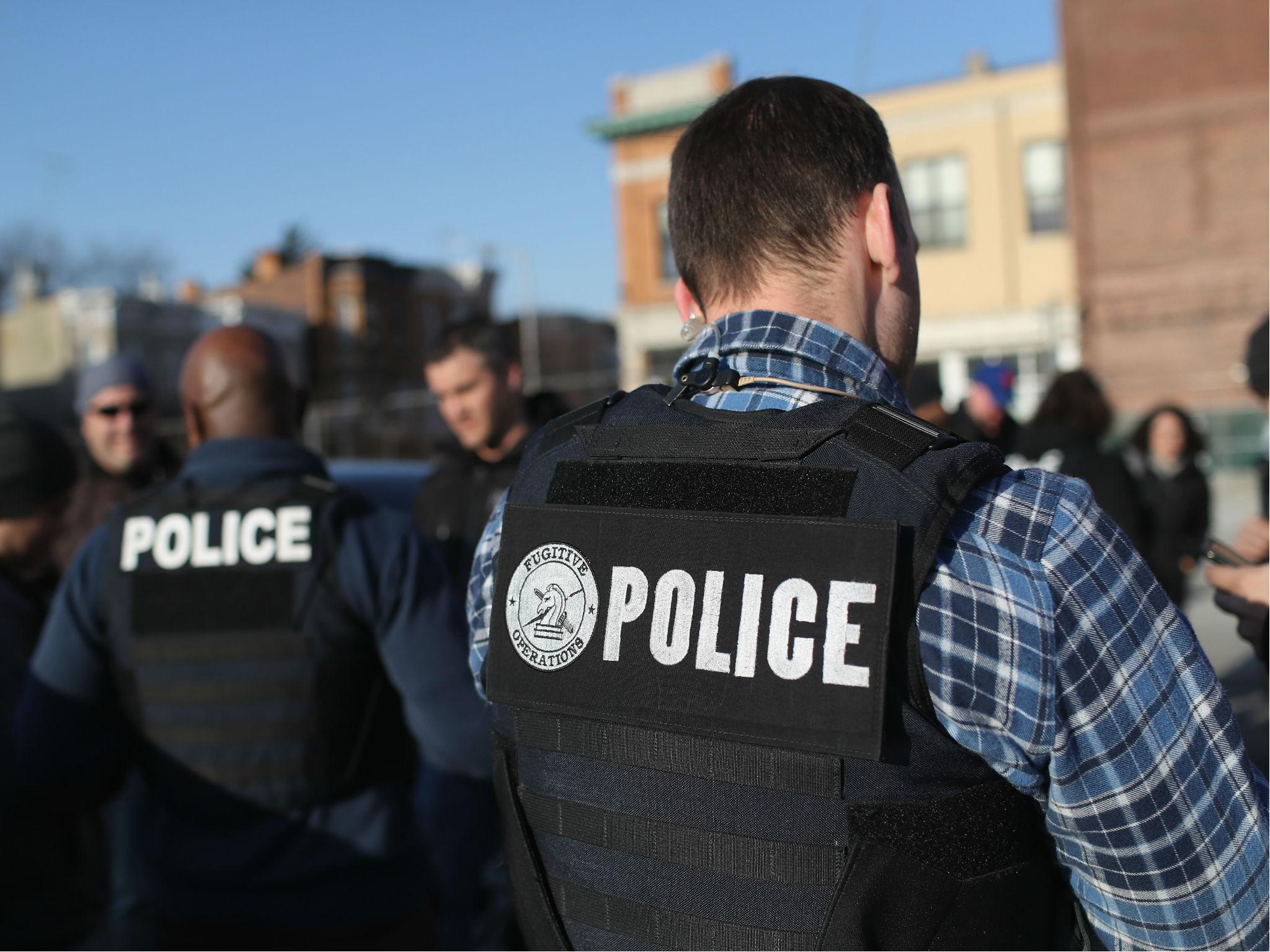 Two months ago, as workers in a slaughterhouse in Eastern Tennessee went about their daily work breaking down carcasses and preparing meat for shipment, a swarm of federal agents surrounded the compound in what would become the largest workplace immigration raid the United States has seen in a decade.
With a helicopter droning overhead, agents from the IRS, Immigration and Customs Enforcement (ICE), and the Tennessee Highway Patrol blocked the roads leading to the slaughterhouse before arresting 97 undocumented workers, pulling breadwinners from their families and sending shockwaves through the quiet, rural community.
Since President Donald Trump took office, ICE has put a renewed premium on workplace raids, and recently announced that it had "already" doubled the number of raids between October and May over the year before – a step towards its pronounced aim at quadrupling the rate practised by the previous administration.
While the president and immigration officials praise these developments, residents in the communities impacted by these raids are largely left to pick up the pieces on their own afterward. They try to help those who have lost husbands and fathers to make ends meet without an important source of income, while rushing to maintain the social fabric in smaller communities suddenly engulfed in fear and concern as the effects of lost workers ripples through the economy.
"One day you have your family. You're just worried about how work is going to go. Then, all of a sudden, everything is gone and you don't know what's going to happen," Yahel Salazar, 27, told The Independent. Her husband – 33-year-old Cristino Ramirez Santana, a Mexican national who came to the US about 16 years ago – was arrested in the Bean Station slaughterhouse raid in Tennessee alongside five in-laws. Ms Salazar is also from Mexico, and is a recipient of the Deferred Action for Childhood Arrivals programme, which Mr Trump has attempted to dismantle.
Since the raid on 5 April, Ms Salazar has had to cut back on her hours at a packing plant where she works to care for her two children, even though she needs the money now more than ever with her husband detained in a facility in Louisiana.
"I've been missing work. I still have to take the kids to the doctor. My little one, who has been sick, has been two times already [since my husband's arrest]," Ms Salazar said of her one-year-old boy, who she says has a virus.
She has one other son, a six-year-old, and previously cared for two girls her husband had with his previous wife, though his ex-wife has taken over their care, and has recently indicated that she may not be able to provide for them in the long term. That raises the prospect that those girls, aged 10 and 12, may end up in state custody, even though Ms Salazar says she would gladly take care of them, even though she is uncertain how she could care for two more kids.
Undocumented immigration across the US-Mexico border
Show all 14
Between 1 October of last year and 4 May, ICE says that 3,410 "worksite investigations", or raids, were opened, which led to 594 criminal and 610 administrative arrests. That's compared to 1,716 such inspections in the fiscal year of 2017, when 139 criminal arrests were made alongside 172 administrative arrests. The raids have targeted communities across the country, including limo companies in New York City and 7-Eleven stores in California.
ICE contends that the raids are important in order to verify the legality of workers and ensure that undocumented people with criminal records are not in the American workforce, and to ensure that employers are not unfairly gaming the system – even though, as is the case in Tennessee, claims that the employers were violating the law have led to no arrests for those in charge and the plant is still running, according to people interviewed for this story.
"ICE is responsible for upholding the laws established by the Immigration Reform and Control Act (IRCA) of 1986, which requires employers to verify the identity and work eligibility of all individuals they hire," Danielle Bennett, an ICE spokesperson, said when contacted about the raids. "These laws help protect jobs for US citizens and others who are lawfully employed, eliminate unfair competitive advantages for companies that hire an illegal workforce, and strengthen public safety and national security."
Immigration advocates say that, in the aftermath of these sorts of raids, the community response is akin to what one might seen following a natural disaster: the community host fundraisers to help the families with food and money, volunteers show up to help people deal with the trauma, people begin to map out how they can afford to not lose their homes as they wait for the courts to work through the log of those detained. For schools, the administrators are faced with convincing students that it is safe to go to class – as many as 550 students did not show up to school the day after the slaughterhouse raid, for instance.
Erica Johnson, the director of the American Friends Service Committee in Iowa, said that the community there came together after 32 people were arrested in a raid in Mt Pleasant on 9 May.
"It's sickening that that's something that Iowans have to do. It's something we're accustomed to doing in the event of a natural disaster like a tornado in Iowa, or a flood, after hurricanes in some states, and in some instances after mass shootings," Ms Johnson said.
"In this case, Iowans are coming together to support young families who have been devastated by the US government."
US attorney general Jeff Sessions to Oakland mayor: 'how dare you' expose immigration raid
ICE says that the amped-up workplace raids – created by directive from ICE deputy director Thomas Homan – will give jobs to Americans who were elbowed out by undocumented workers, but previous raids show that is not always the case.
The community of Cactus, Texas, for instance, has largely recovered after a 12 December 2006 raid that swept up 300 workers there – 10 per cent of the population – as a part of a broader national effort that day that took in 1,300 workers in total.
In the decade after that raid, The Washington Post reports, the meatpacking plant that was targeted has largely jumped back, but it can still be difficult to find American workers. In the aftermath, the plant has resorted to simply hiring a different kind of immigrant – refugees – to fill its ranks. The American workers never showed up.
Donald Trump reads poem 'The Snake' to warn of danger of accepting immigrants
The slaughterhouse in Bean Station, Tennessee, is the third largest employer in the rural area it sits in, and has cut its intake of cattle since the raid significantly, according to Father Steve Pawelk, who runs the small St John Paul II church in nearby Rutledge. Father Pawelk noted that doesn't just impact the workers at the plant and their families –17 of the families directly impacted by the April raid are in his congregation – but they also impact the farmers and ranchers who have to travel farther to sell their stock.
On the day of the raid, Father Pawelk said he had people coming into his small store-front church from 10am until 10pm, seeking answers and solace to what had just happened.
Since then, the church has managed to raise funds to help the families, and has given about $8,000 to families for things like rent, utilities, and insurance. Those efforts have been bolstered by donations from all over the country and from differing denominations, and have included the creation of an Amazon account to allow strangers to buy things like diapers, or baby food, or paper towels for the families.
"Someone asked me recently, when's this going to end?" Father Pawelk said. "I said: 'For the families it doesn't end."
Trump says he may use the military to deport undocumented immigrants
Last month, Attorney General Jeff Sessions focused on the plant operators while discussing the Tennessee raid, instead of the 97 people who had been arrested.
"You don't get to get an advantage in this country by having large numbers of illegal workers working for you," Mr Sessions said of the plant operators, though none had been charged following the raid. "I'm not shedding tears about them. You don't get to benefit from being in this country and looking around the world for the cheapest worker you can find. That's just not good policy for this country."
Just this past week, Ms Salazar's husband was denied bond, meaning that he must stay in Louisiana pending an appeal of that decision.
Ms Salazar says that the detention is taking more than just an economic toll on her family. In the two months since he was detained, their youngest son had his first birthday, and she has no way of knowing for sure that he will be back for the second, or if he will have been deported back to Mexico. She says her children can tell something is wrong, and are grieving in their own way.
"He missed the first birthday. The first step. The first words," Ms Salazar said. "There are so many things. He's just one, but I know he feels something. When you're a mother, you can tell when your babies are not OK."
Join our commenting forum
Join thought-provoking conversations, follow other Independent readers and see their replies