Donald Trump impeachment odds slashed after Michael Flynn agrees to co-operate with FBI Russia probe
'Our punters are also very interested in the year of impeachment with 2018 now sitting at even money - making it a 50/50 shot it happens in the next 12 months'
Saturday 02 December 2017 19:01
comments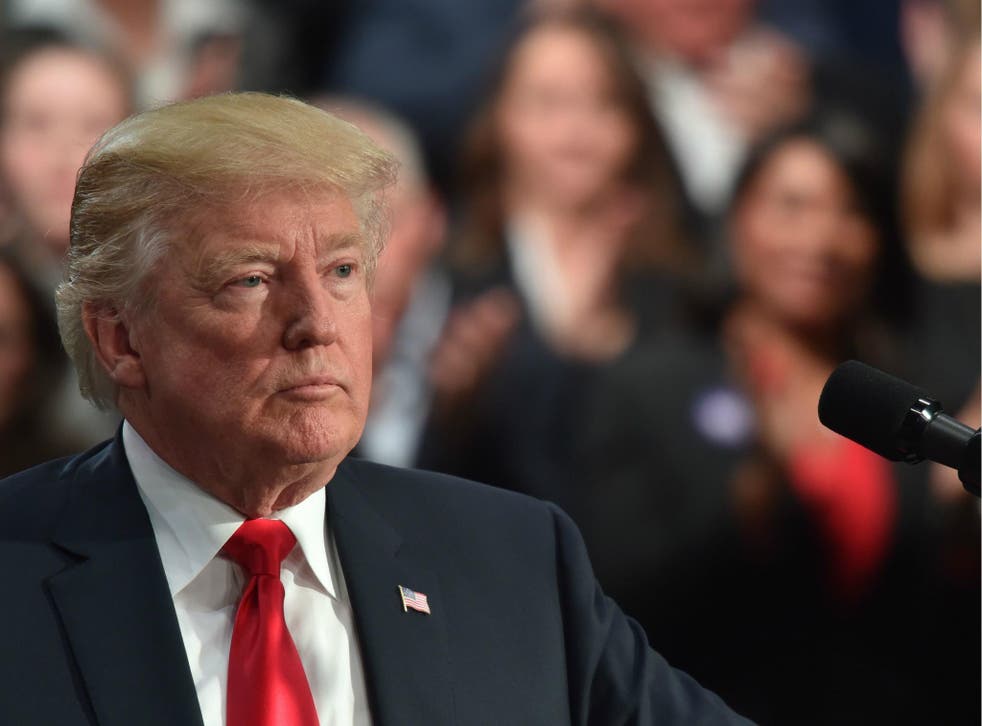 The odds of Donald Trump becoming the third US president to be impeached have been cut after Michael Flynn agreed to cooperate with the FBI's investigation into his campaign's link's with Russia.
"In the wake of the bombshell news that Michael Flynn is pleading guilty to making false statements to the FBI during their Russia investigations, President Trump has hit his shortest price yet to leave office before the end of his term," Naomi Totten, spokeswoman for Betfair, told The Independent.
"Trading at a low of 1.7 or 4/6, which equates to a 59 per cent implied chance, punters are increasingly confident that this is one mess Trump will not be able to tweet his way out of."
"Paddy Power now bet 4/7 that Donald Trump will be impeached. That's an implied probability of 63 per cent," said Joe Lee, Paddy Power's Head of Trump Betting.
"Those odds sat at 11/10 yesterday which would have been a 47 per cent probability," he continued. "Our punters are also very interested in the year of impeachment with 2018 now sitting at even money - making it a 50/50 shot it happens in the next 12 months."
However, at least one bookmaker is refusing to make any predictions.
"We aren't betting on it," said Rupert Adams, an international PR manager for William Hill. "We're got quite a big operation in the States and we're going to steer clear of it. We don't like betting on that."
Former national security adviser and retired general Michael Flynn pleaded guilty to lying to the FBI about his contacts with Russia in the lead up to the US presidential election.
Donald Trump insists 'no collusion' after Michael Flynn admits lying to FBI
He has agreed to cooperate with prosecutors delving into the actions of President Trump's inner circle before he took office.
The dramatic turn of events also raised new questions about whether Mr Trump's son-in-law, Jared Kushner, had a role in those Russia contacts.
General Flynn was the first member of Mr Trump's administration to plead guilty to a crime uncovered by special counsel Robert Mueller's wide-ranging investigation into Russian attempts to influence the 2016 US election and potential collusion by Mr Trump's aides.
Under a plea bargain deal, General Flynn admitted in a Washington court that he lied when asked by FBI investigators about his conversations last December with Russia's then-ambassador, Sergei Kislyak, just weeks before Mr Trump took office.
Prosecutors alleged that the two men discussed US sanctions against Russia and that General Flynn also asked Mr Kislyak to help delay a United Nations (UN) vote seen as damaging to Israel. On both occasions, he appeared to be undermining the policies of outgoing President Barack Obama.
World news in pictures

Show all 50
They also said a "very senior member" of Mr Trump's transition team had told General Flynn to contact Russia and other foreign governments to try to influence them ahead of the UN vote.
It has been reported in some quarters that the "very senior" official was Mr Kushner, Mr Trump's son in law, who was key member of his presidential transition team, who is now one of his senior advisers.
Mr Kushner's lawyer, Abbe Lowell, did not respond to multiple requests for comment. He has previously said his client has voluntarily cooperated with all relevant inquiries and would continue to do so.
General Flynn's decision to cooperate with Mueller's team marked a major escalation in a probe that has dogged the president since he took office in January.
There was nothing in the court hearing that pointed to any evidence against Mr Trump, and the White House said General Flynn's guilty plea implicated him alone.
"Nothing about the guilty plea or the charge implicates anyone other than Mr. Flynn," said Ty Cobb, a White House attorney.
General Flynn only served as Trump's national security adviser for 24 days. He was forced to resign after he was found to have misled Vice President Mike Pence about his discussions with Mr Kislyak.
But General Flynn had been an enthusiastic supporter of Trump's election campaign and the president continued to praise him even after he left the administration, saying he had been treated "very, very unfairly" by the news media.
Additional reporting by agencies.
Join our new commenting forum
Join thought-provoking conversations, follow other Independent readers and see their replies