Trump claims without providing evidence Soleimani planned to attack four US embassies
Trump says Iran is planning 'sneak attack' on US interests in Iraq
Tensions have been high since assassination of Iranian general Qassem Soleimani 
Donald Trump claimed on Wednesday that Iran is planning a "sneak attack" against US forces in Iraq, without providing any evidence or sourcing for the assertion.
"Upon information and belief, Iran or its proxies are planning a sneak attack on U.S. troops and/or assets in Iraq. If this happens, Iran will pay a very heavy price, indeed!" he wrote on Twitter.
Tensions between Iran and the US have been sky-high since the US assassination of Iranian general Qassem Soleimani in January.
Iran's supreme leader Ayatollah Ali Khamenei vowed "severe revenge" after the attack. Since then, US bases in Iraq have come under attack a number of times.
US airstrike kills Iran's Qassem Soleimani: Fallout in pictures

Show all 35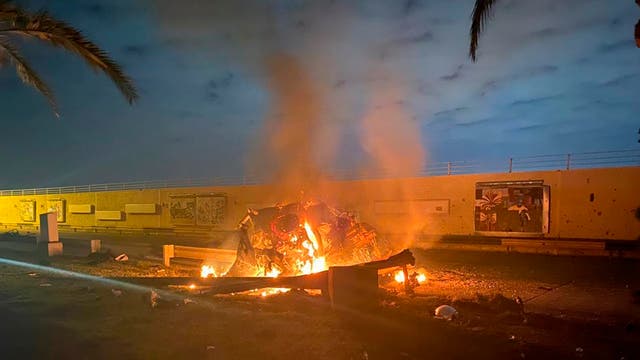 Soleimani, the leader of Iran's Quds Force, was killed in a drone strike on 3 January in Baghdad airport. The strike was ordered by Mr Trump following weeks of rising tensions between US military forces and Iran-backed militias in Iraq.
In his dual role as diplomat and military commander, Soleimani, 62, was the architect of Iran's military influence across the Middle East. He travelled the region to build and support a network of allied militias that aimed to project Iran's strength and counter US influence.
Iran has struck back against US troops in Iraq through its allied militias in the country. In March, a rocket attack attributed to Kata'ib Hezbollah, one of those militias, killed two American and one British military personnel at a base north of Baghdad.
The US launched retaliatory strikes a day later targeting Kata'ib Hezbollah facilities in the country.
Join our new commenting forum
Join thought-provoking conversations, follow other Independent readers and see their replies