Trump 'asks Mar-a-Lago members what to do about gun control in wake of Florida school shooting'
President is said to have polled guests at the resort about the issue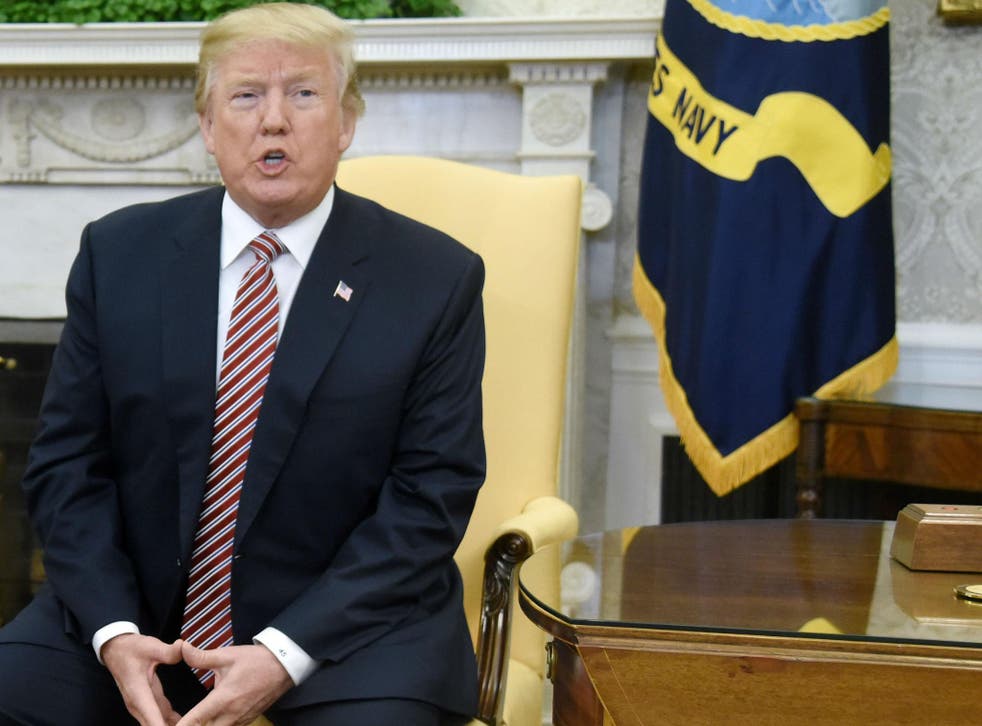 Donald Trump reportedly consulted guests staying at his Mar-a-Lago resort about what action he should take on gun control in the wake of the Florida school shooting.
The US President is said to have asked members of the luxury Florida resort whether he should take an active position on gun control after a gunman opened fire at a school in the small city of Parkland, around 45 miles north of Miami. The assailant killed 17 and left more than a dozen injured.
A number of people who reportedly spoke with Mr Trump at the resort during the two days he spent there, told The Washington Post that the president had observed media appearances made by student survivors of the massacre.
Mr Trump was said to have polled guests at the resort over whether she should opt to take a stand on gun control after the deadliest school shooting to take place since Adam Lanza opened fire at Sandy Hook Elementary in Newtown, Connecticut, killing 20 children and six staff members.
Survivors of Florida shooting have urged the world leader to implement gun control measures. Emma Gonzales, who survived the Valentines Day massacre, has been hailed as a leader for delivering an impassioned speech at a gun control rally.
"If the president wants to come up to me and tell me to my face that it was a terrible tragedy and how it should never have happened and maintain telling us how nothing is going to be done about it," Ms Gonzalez told the crowd in Fort Lauderdale. "I'm going to happily ask him how much money he received from the National Rifle Association (NRA)".
Florida student Emma Gonzalez passionately calls for gun control at rally after school shooting
The NRA donated more than $30m (£21.4m) to Mr Trump's presidential campaign, meaning he received the most gun lobby funding of any presidential candidate.
Last April, he told members of the NRA: "The eight-year assault on your Second Amendment freedoms has come to a crashing end."
Reports Mr Trump discussed gun control measures with Mar-a-Lago guests preceded the White House's announcement the president supported efforts to improve the federal background check system for gun purchases.
Donald Trump supports 'improved gun background checks', White House announces
Mr Trump spoke to Republican Senator John Cornyn about gun legislation last week. The pair discussed the bipartisan bill Mr Cornyn and Democratic Senator Chris Murphy introduced to improve federal compliance with criminal background checks, White House spokeswoman Sarah Sanders said in a statement.
"While discussions are ongoing and revisions are being considered, the President is supportive of efforts to improve the federal background check system," Ms Sanders said.
Donald Trump's first year: in pictures

Show all 29
Mr Trump signed a resolution in February blocking an Obama-era rule that would have stopped an estimated 75,000 people with mental disorders from purchasing guns.
But on Sunday, the White House announced that Mr Trump would host a "listening session" with students to talk about school safety measures.
Mr Trump launched into a Twitter tirade over the weekend attacking the FBI for failing to stop the Florida school shooting suspect and "spending too much time" trying to link his election campaign to Russia.
"Very sad that the FBI missed all of the many signals sent out by the Florida school shooter," the president tweeted. "This is not acceptable. They are spending too much time trying to prove Russian collusion with the Trump campaign – there is no collusion. Get back to the basics and make us all proud!"
Join our new commenting forum
Join thought-provoking conversations, follow other Independent readers and see their replies