Rex Tillerson 'called Donald Trump a moron and threatened to quit'
The US Secretary of State allegedly spoke out after the president went off cue in his Boy Scouts of America speech and derided his opponents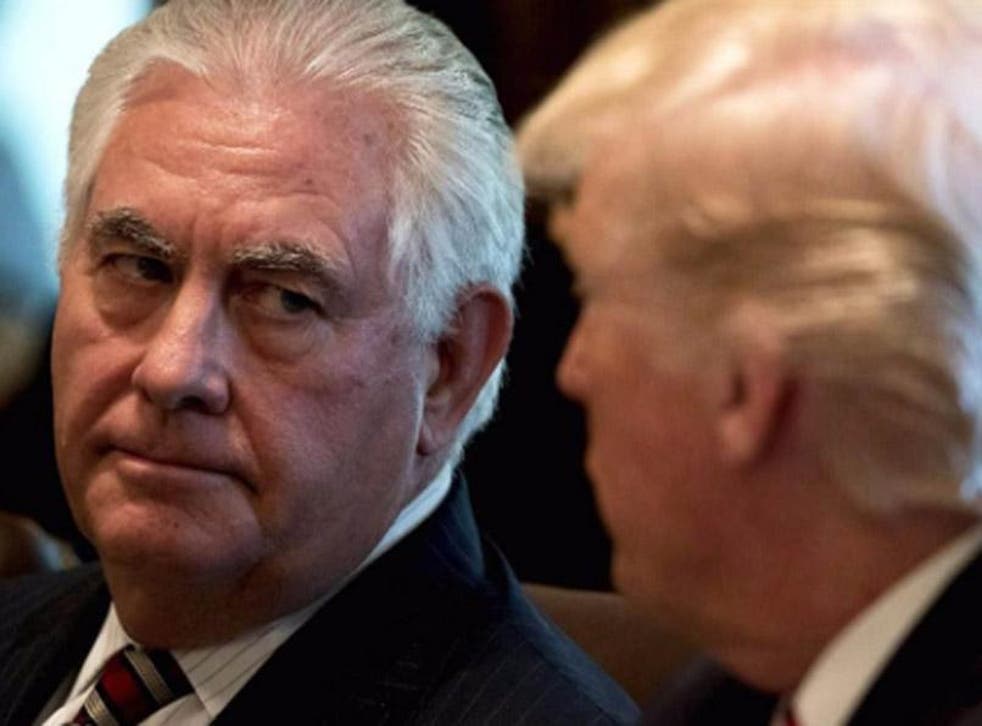 US Secretary of State Rex Tillerson was given a "pep talk" after he called Donald Trump a "moron", it was claimed, amid an ongoing row with the White House where he threatened to quit.
Vice president Mike Pence called Mr Tillerson aside for a chat to ease his criticism and asked him to stay on board with the US president's administration, senior officials reportedly said.
Mr Tillerson had allegedly lashed out at a Pentagon meeting after the US president hijacked his Boy Scouts of America speech and used it as a platform to deride his opponents.
Instead of championing good citizenship, he went off cue and railed against the "fake media" and drew boos when he hit out at President Barack Obama for never speaking at the National Jamboree.
Mr Tillerson, who once headed the Boy Scouts, had already been at loggerheads with the White House over policy and had been ready to quit before Mr Trump broke tradition at the July speech.
The claims that he tongue-lashed the White House chief came as a fresh war of words broke out between the pair in recent days over how the US should resolve the North Korea crisis.
Mr Tillerson was in Texas for his son's wedding when Mr Trump addressed some 40,000 teenagers at the Boy Scouts jamboree, and threatened not to return to Washington, insiders told NBC News.
But Donald Trump has dismissed the story, tweeting that it is "FakeNews".
The NBC News report stated that when Mr Tillerson did jet back to Washington Mr Pence called him aside for a "pep talk", according to three unnamed officials aware of the dispute, and asked him not to quit until at least the end of the year.
In a separate meeting, retired General John Kelly, who would be named Trump's second chief of staff, and Defense Secretary James Mattis helped to cool him down, it was claimed.
"They did beg him to stay," a senior administration official said, according to the NBC News report. "They just wanted stability."
World news in pictures

Show all 50
The White House did not immediately comment on the claims that Mr Tillerson had called Mr Trump a "moron" and threatened to quit his administration.
Mr Tillerson's State Department spokesman, RC Hammond, said Mr Tillerson did not consider quitting in July. He also denied that he called Mr Trump a "moron."
The shock claim came just days after fresh tension emerged between Mr Trump and Mr Tillerson after the Secretary of State said Washington was in talks to end the missile crisis with North Korea.
"I told Rex Tillerson, our wonderful Secretary of State, that he is wasting his time trying to negotiate with Little Rocket Man...," Mr Trump tweeted.
He added: "… Save your energy Rex, we'll do what has to be done!"
Join our new commenting forum
Join thought-provoking conversations, follow other Independent readers and see their replies