Trump's pick for Office on Violence Against Women claims guns will protect women from violence
'It is concerning. What is the point of having four decades worth of evidence if you are going to ignore it,' says campaigner
Maya Oppenheim
Women's Correspondent
Wednesday 06 March 2019 20:00 Comments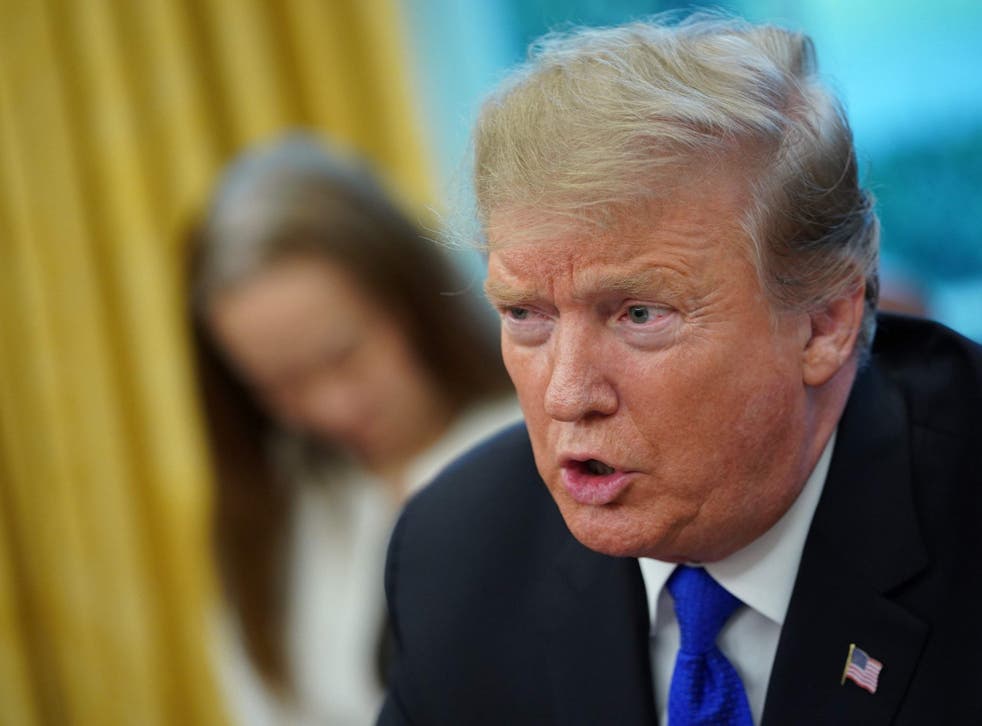 Donald Trump's choice for the head of a federal agency which manages grants for domestic violence and sexual assault victims has been criticised by women's rights groups for her track record on these issues.
Shannon Lee Goessling, a Republican who has a history of opposing LGBT+ and immigrant rights, has previously claimed guns will protect women from violence despite research demonstrating the contrary.
The US president's nominee to lead the Office on Violence Against Women wrote an amicus brief on the District of Columbia v Heller case relating to individual gun ownership in 2008.
Georgia's former district attorney quoted a researcher who claimed that women facing sexual assault were "significantly less likely to experience a completed rape if they resist with a weapon."
It also claimed that guns "eliminate the disparity in physical power between the sexes."
Most beautiful 'bread and roses' costumes at the Women's March 2019

Show all 12
Amicus briefs are legal documents filed in appellate court cases by non-litigants with an interest in the subject matter. They advise the court of relevant, additional information or arguments that the court might wish to consider.
Ms Goessling referred to the research while she was chief legal counsel for the Southeastern Legal Foundation - a conservative public interest law firm and policy centre with a record of supporting gun rights and religious freedom.
A recent study in the American Journal of Public Health found victims were five times more likely to be killed if their abuser has access to a gun. Other research has demonstrated partners and spouses often take the gun away from the victim and use it against them in instances of domestic abuse.
Dr Hannah Bows, of the Centre for Research into Violence and Abuse at Durham University in the UK, told The Independent Mr Trump's choice was "concerning".
She said: "We need to make sure that the people in these positions have a good grasp of the research and it does not appear this person does. What is the point of having four decades worth of evidence if you are going to ignore it. It is also peddling an agenda to justify gun laws and promote the use of guns. It is a political decision."
The Assistant Professor in Criminal Law argued women carrying guns or weapons would not stop sexual violence because it is founded on the erroneous view people are capable of stopping rape from happening.
She said the view that guns protect women from violence is an example of victim blaming.
"It puts the responsibility back on women to protect themselves," she said. "We don't do it for other crimes but with rape we focus on the victim rather than the perpetrator.
"In the UK, we expect women to protect themselves. They are asked 'why didn't you fight them off? Why aren't their signs you fought them off?' Even though we are an anti-weapon country and we have different attitudes here, there are parallels in terms of the underpinning attitudes of expecting victims to prevent rape rather perpetrators."
"America should be spending their efforts tightening prevention but unfortunately this would require a change in the views of the president which is not going to happen."
The Senate Judiciary Committee postponed its nomination hearing for Ms Goessling which had initially been planned to take place earlier this week. A new date has yet to have been set.
Women's rights groups have also hit out at her nomination – saying her track record demonstrates she is the wrong person for the role.
"The head of the Office of Violence Against Women must be someone who recognises the intersectional complexities to ending intimate partner and sexual violence," said Eleanor Smeal, president of the Feminist Majority Foundation, a non-profit women's rights organisation.
"Shannon Goessling is very clearly not that person."
She added: "We are very concerned that a vote for Goessling is a vote to exclude LGBTQ and immigrant survivors from protections and resources."
Ms Goessling's position that guns protect women in sexual violence situations "could not be further from the truth", she said, adding that every credible scientific study shows a gun in a woman's home is far more likely to be used against her than to protect her.
"Goessling's severely flawed perspective essentially makes victims responsible for stopping their own sexual or physical assaults and threatens to hurt even more women, not protect them," she said.
During her time at Southeastern Legal Foundation, the group filed an amicus brief arguing in favour of same-sex marriage bans. It also sued the governor of Alabama for offering driver's license exams in languages other than English.
Ms Goessling, who was the executive director and chief legal counsel of Southeastern Legal Foundation from 2004 to 2015, would have a big influence on setting the political agenda for women's issues and choosing which domestic violence and sexual assault programs get funding if she is confirmed.
Ms Goessling did not respond to request for comment.
Register for free to continue reading
Registration is a free and easy way to support our truly independent journalism
By registering, you will also enjoy limited access to Premium articles, exclusive newsletters, commenting, and virtual events with our leading journalists
Already have an account? sign in
Join our new commenting forum
Join thought-provoking conversations, follow other Independent readers and see their replies