Trump sexual accuser E Jean Carroll is 'sick' of women not being listened to
Trump rape accuser E Jean Carroll asks for DNA sample from president, lawyers say
The DNA sample is to determine if his genetic material is on a dress she wore during the encounter
Lawyers acting for a woman who accuses President Donald Trump of raping her in the 1990s are requesting a DNA sample to determine if his genetic material is on a dress she wore during the encounter.
Advice columnist E Jean Carroll's lawyers served notice to a Trump attorney on Thursday asking for the president to submit a sample for "analysis and comparison against unidentified male DNA present on the dress."
They ask that a sample of saliva be submitted on 2 March in Washington, DC.
Ms Carroll filed a defamation suit against Trump in November 2019 after the president denied her allegation saying that she was "totally lying", and that he did not know her.
The suit says that he smeared her, and that by calling her a liar, damaged her career as an advice columnist for Elle magazine. She is seeking unspecified damages and a retraction of Trump's statements.
Donald Trump celebrity president: A decade in two halves

Show all 29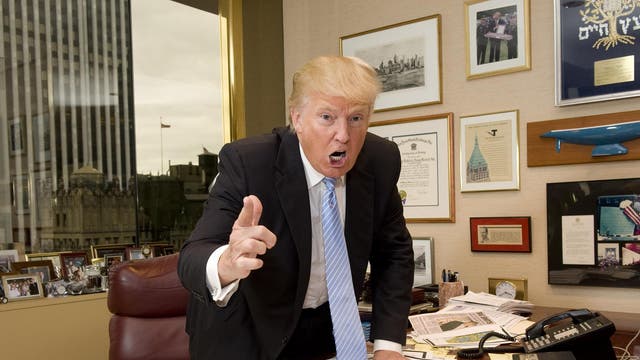 Speaking to The Hill at the time of Ms Carroll's accusation, Trump said: "I'll say it with great respect: Number one, she's not my type. Number two, it never happened. It never happened, OK?"
Lawyer Roberta Kaplan, representing Ms Carroll, had the black wool coat-style dress tested, and a lab report included with the legal notice states that DNA found on the sleeves was a mix of at least four people. At least one of them is male.
The report, exclusively obtained by the Associated Press, shows that several other people were tested and eliminated as possible contributors to the mix. Their names are redacted.
On Twitter, Ms Carroll said: "The dress has been tested. We have the results. My attorney @kaplanrobbie has served notice to @realDonaldTrump 's attorney to submit a sample of Trump's DNA."
Ms Carroll's accusation is that Trump raped her in the dressing room of a luxury Manhattan department store in the mid-1990s.
In an article in New York magazine in June 2019, she said that during the alleged assault, Trump reached under the black wool dress and pulled down her tights before raping her. She says she fought him off and managed to escape.
"The Donna Karan coatdress still hangs on the back of my closet door, unworn and unlaundered since that evening," she wrote. She wore it for a photo to accompany the article.
In a statement released on Thursday, Ms Carroll says: "Unidentified male DNA on the dress could prove that Donald Trump not only knows who I am, but also that he violently assaulted me in a dressing room at Bergdorf Goodman and then defamed me by lying about it and impugning my character."
In January, President Trump's lawyers asked a judge to throw out the defamation case arguing that the suit cannot be tried in a New York state court because his statements were made in Washington, DC. Trump lawyer Lawrence S Rosen wrote at the time that New York law does not allow for defamation suits over statements made elsewhere, except in circumstances that Carroll's case does not meet.
Justice Doris Ling-Cohan of State Supreme Court in Manhattan rejected the argument on the basis that Trump had failed to provide any evidence to support his position — "not even a tweet, much less an affidavit." She also denied a request that discovery be stayed.
Ms Kaplan, said it was "obviously ridiculous" that Trump cannot be sued in New York, and described his legal team's actions as "a transparent effort to avoid discovery at all costs in a case involving a sexual assault."
It is, she says, "standard operating procedure" in a sexual assault investigation to request a DNA sample from the accused. Indeed, it is not without precedent to request a president to submit a DNA sample for testing.
In 1998, prosecutors, including then independent counsel Kenneth Starr, demanded a sample of President Bill Clinton's DNA to establish forensic proof that his relationship with Monica Lewinsky was sexual. That sample was to determine whether DNA from a blue dress owned by Ms Lewinsky matched that of the president.
Mr Starr, now part of President Trump's impeachment defence team, required that President Clinton's DNA be turned over in the form of a blood sample, drawn be the president's personal physician.
Ultimately, the DNA matched, and President Clinton acknowledged an "inappropriate intimate relationship" with Ms Lewinsky. In December 1998 he was impeached, but later acquitted by the Senate.
Join our new commenting forum
Join thought-provoking conversations, follow other Independent readers and see their replies