Republicans are criminalising peaceful protests across America, UN experts warn
'The bills, if enacted into law, would severely infringe upon the exercise of the rights to freedom of expression and freedom of peaceful assembly' 
Chloe Farand
Thursday 30 March 2017 19:09 Comments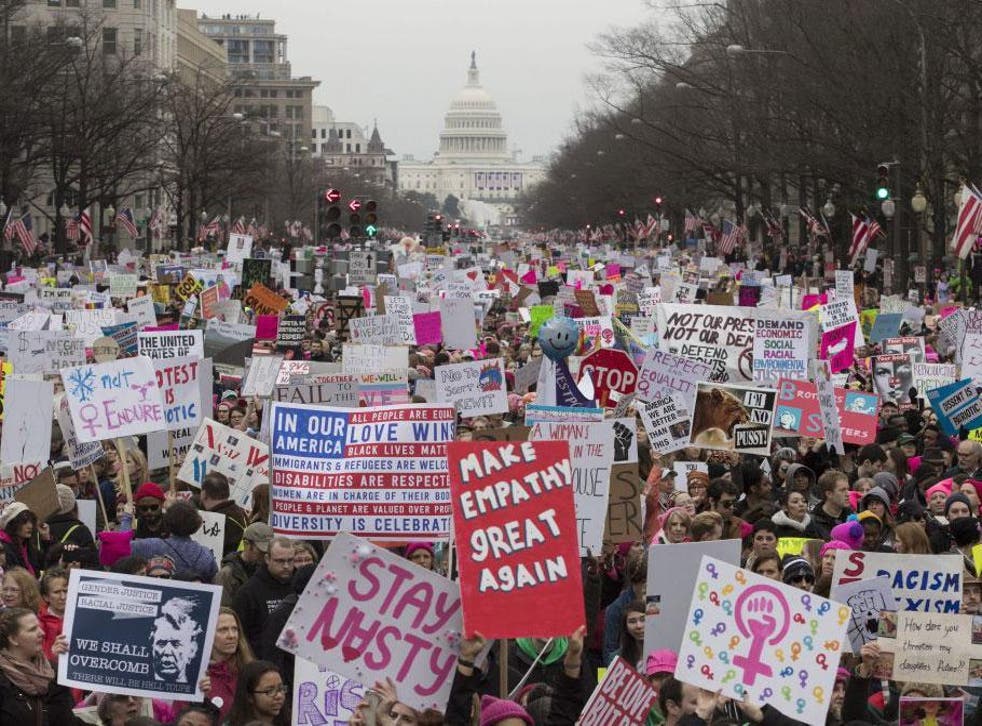 Bills which criminalise the right to peacefully protest are being introduced by politicians in a number of US states, United Nations (UN) experts have warned.
More than 16 states have introduced draft legislation aimed at restricting the rights to assembly since May 2015, according to the organisation's Special Rapporteur on freedom of peaceful assembly, Maina Kiai and David Kaye, Special Rapporteur on the protection of the right to freedom of expression.
The pair described the "alarming" trend as "undemocratic", adding that the issue had intensified since Donald Trump's election as president.
"The bills were mainly proposed at the beginning of 2017 and exclusively by Republican legislators," said Mr Kiai and Mr Kaye.
Their findings come as protests in the US have increased over the last few months.
The Women's Marches, which took place in a number of US cities to protest against Mr Trump's inauguration, are believed to be the largest and most peaceful day of protest in US history, according to political scientists from the Universities of Connecticut and Denver.
Somewhere between 3.3 million and 4.6 million people are thought to have taken part in the protests in Los Angeles, Washington DC, New York, Chicago and Seattle.
Mr Kiai and Mr Kaye said the anti-protests bills could be aimed at discouraging the development of movement such as Black Lives Matter.
"Since January 2017, a number of undemocratic bills have been proposed in state legislatures with the purpose or effect of criminalising peaceful protests," they said. "The bills, if enacted into law, would severely infringe upon the exercise of the rights to freedom of expression and freedom of peaceful assembly in ways that are incompatible with US obligations under international human rights law and with First Amendment protections.
They added that "the trend also threatens to jeopardise one of the United States' constitutional pillars: free speech."
The experts have sent a letter to US authorities raising their concerns over the rise of these bills.
Pendings bills are currently in the legislative corridors of Arkansas, Colorado, Florida, Georgia, Indiana, Iowa, Michigan, Minnesota, Missouri, North Carolina, North Dakota, Oklahoma, Oregon, South Dakota, Tennessee and Washington.
President Trump protests

Show all 20
Indiana's Senate Bill 285, for example, would allow law enforcement officials to "use any means necessary to clear the roads of people unlawfully obstructing vehicular traffic".
The bill defines as "mass traffic obstruction" "an incident in which, as part of or as a result of a protest, riot or other assembly, at least 10 people obstruct vehicular traffic".
The broad language is a major cause of concern for the UN experts, who said they feared it could lead to "excessive use of force".
In Colorado, a harsher penalty could be applied to environmental protesters "obstructing or tampering with oil and gas equipment" and giving companies the possibility to pursue separate claims against the protester," they said.
They added: "There has been many demonstrations against oil and gas extraction in Colorado, which would be directly affected by the bill."
Hefty fines and prison sentence accompany most of the pending bills. In Iowa, that could be up to five years in prison and a $7,500 fine.
In Florida and Tennessee, the bills would exempt drivers from liability if they accidentally hit and even killed a pedestrian participating in a protest. Peaceful protesters could also be criminalised in Minnesota, for participating in demonstrations, which turn violent even if those protesters did not personally participate in the violence or property damage.
"From the Black Lives Matter movement, to the environmental and Native American movements in opposition to the Dakota Access oil pipeline, and the Women's Marches, individuals and organisations across society have mobilised in peaceful protests, as it is their right under international human rights law and US law," Mr Kiai and Mr Kaye said.
"These state bills, with their criminalisation of assemblies, enhanced penalties and general stigmatisation of protesters, are designed to discourage the exercise of these fundamental rights,"
The controversial orders Donald Trump has already issued

Show all 9
The pair took particular issue with the characterisation of protests being "unlawful" or "violent" in some of the bills.
They said: "There can be no such thing in law as a violent protest. There are violent protesters, who should be dealt with individually and appropriately by law enforcement. One person's decision to resort to violence does not strip other protesters of their right to freedom of peaceful assembly. This right is not a collective right; it is held by each of us individually.
"Peaceful assembly is a fundamental right, not a privilege, and the government has no business imposing a general requirement that people get permission before exercising that right," they said.
Mr Kiai and Mr Kaye have called on the US authorities at the federal and state level to refrain from enacting any legislation, which would curb freedom of peaceful assembly, expression or opinion.
Register for free to continue reading
Registration is a free and easy way to support our truly independent journalism
By registering, you will also enjoy limited access to Premium articles, exclusive newsletters, commenting, and virtual events with our leading journalists
Already have an account? sign in
Join our new commenting forum
Join thought-provoking conversations, follow other Independent readers and see their replies