Trump fan who made racist death threats to Obama and Maxine Waters jailed for nearly four years
Stephen Taubert, 61, blames social media and his conservative politics for his behaviour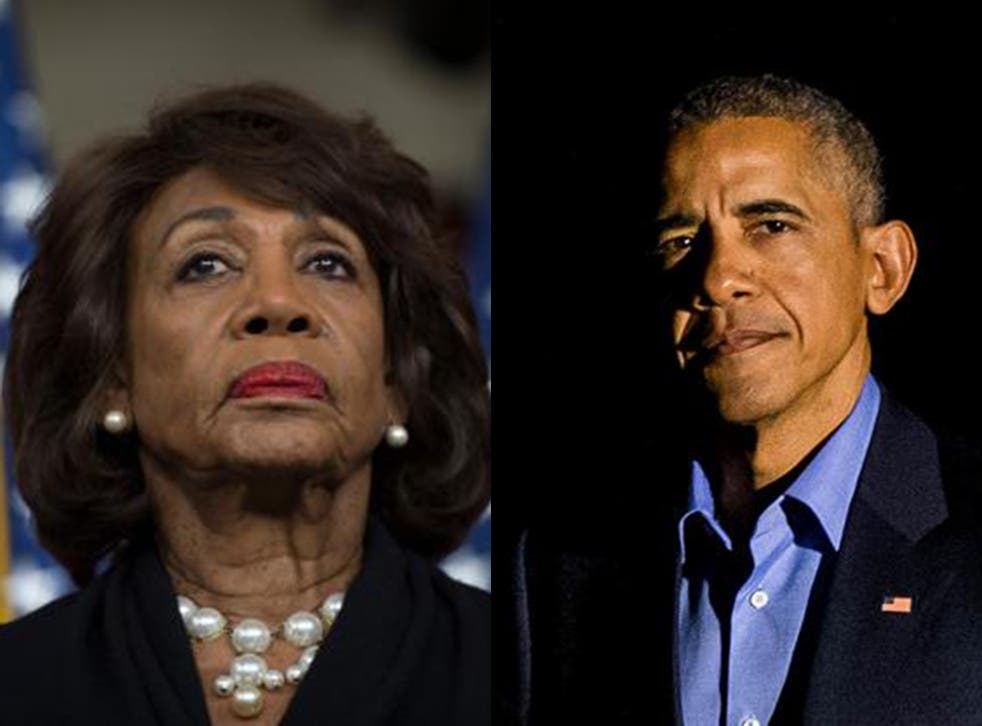 A Trump fan convicted of making racist threats to kill Barack Obama and Democratic congresswoman Maxine Waters has been sentenced to nearly four years in prison.
Stephen Taubert, 61, was found guilty of calling congressional offices in 2017 and 2018 and using racial slurs and other "vile" language to threaten public officials, prosecutors said.
On Tuesday, Taubert was sentenced to 46 months in prison for the phone calls in the US District Court in Syracuse, New York.
"Racist threats to kill present and former public officials are not protected free speech, but serious crimes," Grant C Jaquith, the US attorney for the Northern District of New York, said in a statement on Tuesday.
Taubert's lawyer, Courtenay K McKeon, declined to comment. But in court on Tuesday, she and Taubert both said that he was mentally ill and deserved a more lenient sentence, according to the Syracuse Post-Standard.
Criminals who worked for Trump

Show all 5
Taubert blamed social media and his conservative politics in part for his behaviour, the newspaper's website reported.
Taubert, who said in court that he once served in the US Air Force, worked as a janitor at a variety of offices, including some government employers, until 2011, when he had a stroke and had to stop working, according to court papers.
"Probably the worst thing for me is social media," Taubert said during the sentencing hearing, the Post-Standard reported. "I should stay off of it. When I hear all these people knocking the president, it upsets me."
Taubert threatened Ms Waters and her staff members last July, when the congresswoman was in a high-profile verbal feud with the Trump administration.
The previous month, White House officials had been heckled at restaurants by protesters opposed to the administration's "zero tolerance" immigration policy that separated children from their families.
At a rally, Ms Waters, a frequent critic of the White House, commended the protesters and encouraged her supporters to take similar actions. She specifically told them to "show up" wherever they had to, "create a crowd" and "push back."
Some conservatives took issue with her comments, arguing that "push back" had a physical connotation that was tantamount to inciting assault.
Two days after Ms Waters' remarks, Donald Trump joined in the criticism, writing on Twitter that the California congresswoman had called for "harm" to his supporters. Then he warned her to "be careful what you wish for."
Roughly a month after Mr Trump's tweet, Taubert called Ms Waters' office in Los Angeles. Using pejorative slurs for women and African Americans, he said that he planned to attend all of Waters' public events and vowed to kill her and her staff, prosecutors said.
When asked about that call by police officers, Taubert repeated his racial slur against her, according to court papers. He also called Ms Waters "low IQ", a comment that mirrored the language of Mr Trump's tweet.
The call to Ms Waters' office came 13 months after Taubert made multiple calls to the Washington office of Al Franken, then a Democratic senator from Minnesota. In two of those calls, Taubert said he was planning to go to Washington the next day to "hang" Obama at his home.
Prosecutors said that Taubert had a history of threatening phone calls dating back to 2013, when he said he was going to burn down the NAACP's building in Baltimore.
In letters of support filed with the court and provided to the New York Times, Taubert's family and friends said he had apologised several times for the calls. They portrayed him as a man who exercised poor judgment but who had no intention of following through on his threats.
But Judge Glenn T Suddaby cited Taubert's history of menacing phone calls as he handed down the sentence.
Support free-thinking journalism and attend Independent events
"They claim he'd never hurt anybody," Mr Suddaby said in court, The Post-Standard reported. "Mr. Taubert, you've repeatedly hurt people with your words."
Taubert was ordered to pay a $1,000 fine, and will face three years of supervised release after completing his prison term.
A representative for Mr Obama declined to comment. Representatives for Ms Waters did not immediately respond to requests for comment, though in March, after Taubert was found guilty, Ms Waters said in a statement that she was pleased by the conviction.
New York TImes
Register for free to continue reading
Registration is a free and easy way to support our truly independent journalism
By registering, you will also enjoy limited access to Premium articles, exclusive newsletters, commenting, and virtual events with our leading journalists
Already have an account? sign in
Register for free to continue reading
Registration is a free and easy way to support our truly independent journalism
By registering, you will also enjoy limited access to Premium articles, exclusive newsletters, commenting, and virtual events with our leading journalists
Already have an account? sign in
Join our new commenting forum
Join thought-provoking conversations, follow other Independent readers and see their replies