Trump to visit controversial Jerusalem site, Israel PM Netanyahu, reports say
Republican presidential hopeful's comments follow a controversial bid to bar Muslims from the United States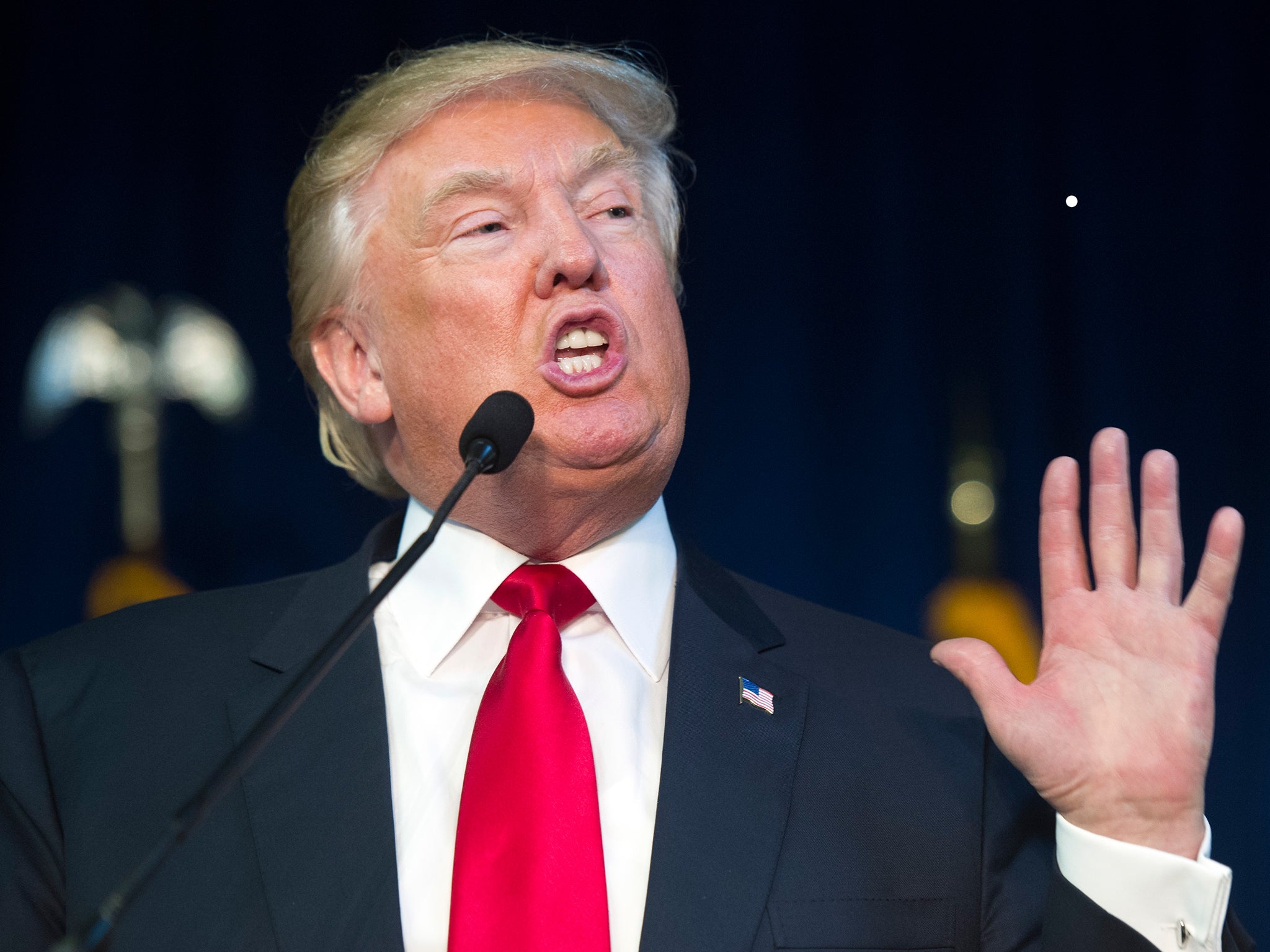 Donald Trump plans to travel to a disputed Jerusalem holy site and meet with the Israeli prime minister, Israeli media reported, after the Republican presidential hopeful announced a controversial plan to bar Muslims from entering the United States.
Mr Trump would speak with Prime Minister Benjamin Netanyahu and visit a site that has long been a focal point for tensions between Palestinians and Israelis, The Jerusalem Post reported Wednesday. The site is known to Muslims as the Noble Sanctuary from which the Prophet Mohammed is believed to have ascended to heaven and to Jews as the Temple Mount, the religion's holiest site.
Israeli authorities have in recent months restricted access to Al-Aqsa Mosque located on the disputed parcel of land, provoking heightened tensions between Palestinians and Israelis.
An Israeli government official familiar with the situation, who spoke on condition of anonymity, told The Independent he could not immediately confirm the reports of Mr Trump's visit.
"The prime minister meets with candidates from all parties who come to Israel as per their request," the official said.
Mr Trump did not respond to The Independent's request for comment at time of publication.
The Palestinian Liberation Organisation (PLO) ambassador to Washington told The Independent said that he found the news interesting given Mr. Trump's suggestion Monday that the US bar Muslims from entering the country in the wake of an attack by self-professed adherents of the Islamic State in Iraq and Syria (ISIS) killed 14 people last week in San Bernardino, California.
"It will be really ironic that he will pay a visit to one of the holiest Muslim sites at a time when he is attacking Muslims," the ambassador, Maen Rashid Areikat, said.
Still, "he's a presidential candidate. He's a US citizen. He can talk to whomever he wants to talk to," Ambassador Areikant added.
Palestinian rights advocates say that Israel is keen to promote conservative Republican candidates like Mr. Trump.
"Netanyahu wants to see a Republican and the more extreme the better from his perspective," prominent Palestinian rights advocate Ali Abunimah told The Independent. Mr Abunimah said that Trump's anti-Muslim rhetoric is "mainstream" among Israelis and their leadership.
"It will be interesting to see if [Mr Trump] will attempt to consolidate his base by offering extreme anti-Palestinian rhetoric to his anti-muslim enticement in the united states," Mr Abunimah added.
It remains uncertain whether Israeli authorities would allow Mr Trump to travel to the site of the Al-Aqsa Mosque. The recent uptick in violence began in September, when Israel moved to restrict Palestinian access to the holy site. Since then, over 100 Palestinians and over 20 Israelis have been killed in clashes, particularly in the Israeli settlements in the Palestinian West Bank that are deemed illegal by international law.
Visits by far-right Israeli groups who have said they hope to destroy Al-Aqsa and build in its place Judaism's Third Temple have also increased tensions. An investigative reporter for Israeli newspaper Haaretz revealed in a 2010 report that the Israeli government funds Israeli NGOs that have for their goal the destruction of the Muslim holy site.
Mr Abunimah believes a trip to the controversial holy site is not out of the question.
"If they thought this could really mobilize support for him, maybe they would do it," Mr Abunimah said. "For Israel, it's a matter of what you can get away with."
It is not uncommon for US presidential candidates to show support for Israel and meet with Israeli officials. US President Barack Obama travelled to Israel ahead of his 2008 campaign, for instance.
There is no support for Palestinians among US presidential candidates at the moment, Mr Abunimah said. "On the contrary, Hillary Clinton who looks like she'll be the democratic nominee has defaulted to the usual Israel support," he said of the US's Democratic frontrunner.
A trip to Israel may not be enough to garner the support of many American Jews, after Mr Trump's controversial comments at a convention for Jewish Republicans last week. "I'm a negotiator, like you folks," he said at the event, sparking the ire of many in the audience and US media.
Join our commenting forum
Join thought-provoking conversations, follow other Independent readers and see their replies