Twitter flags 'misleading' Trump tweet after president suggests ballot boxes may spread coronavirus
President has made unsubstantiated claims that ballot boxes are vulnerable to fraud in the past  
Danielle Zoellner
,
Richard Hall
Monday 24 August 2020 10:45 Comments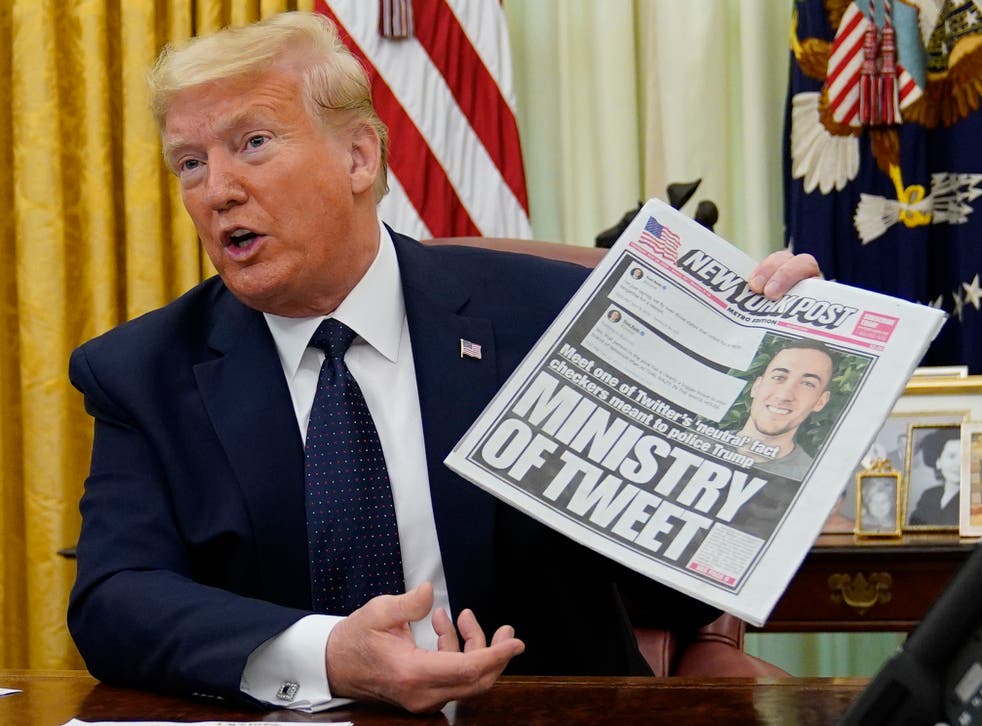 Twitter has flagged another tweet by Donald Trump for spreading "misleading health claims" after the president implied ballot boxes could spread the coronavirus.
Mr Trump claimed in a post shared on both Facebook and Twitter early Sunday morning that ballot drop-off boxes are a "voter security disaster" as they are not "Covid sanitised" and would allow for people to "vote multiple times".
Hours later, Twitter took action on the tweet by placing a warning over it, which limits the interactions on the tweet.
"We placed a public interest notice on this Tweet for violating our Civic Integrity Policy for making misleading health claims that could potentially dissuade people from participation in voting," Twitter said in its warning.
It added: "Per our policies, this Tweet will remain on the service given its relevance to ongoing public conversation. Engagements with the Tweet will be limited. People will be able to Retweet with Comment, but not Like, Reply, or Retweet it."
Mr Trump has made a number of unsubstantiated claims about the integrity of ballot drop-off boxes — which voters can use to securely drop off their ballots at locations such as schools or libraries to be collected by election officials — as part of a concerted effort against mail-in voting.
His reelection campaign is pursuing legal action to block the use of the boxes in the battleground state of Pennsylvania, a move that could foreshadow similar fights across the country. The lawsuit seeks to prevent the use of the boxes in November's presidential election.
Voting rights advocates have warned the lawsuit is an attempt to undermine the democratic process and suppress the vote in a state that the president won by only 44,000 votes in 2016 — or 0.7 percent.
"This lawsuit is part of a strategy to make it harder for eligible voters to vote in November – by introducing confusion, eliminating choices about how to return a mail ballot, and raising meritless questions about the integrity of our elections," Suzanne Almeida, of voting rights group Common Cause Pennsylvania, told The Independent this week.
The move comes amid a surge of requests for mail-in ballots during the coronavirus pandemic, as states seek to expand access to remote voting as a way of protecting against the virus.
The battle over ballot drop-off boxes has been given added urgency in recent weeks amid repeated attacks by Mr Trump on mail-in ballots and attempts to hobble the postal service's ability to handle them.
In recent weeks, Mr Trump has blocked emergency funding asked for by the USPS deal with an expected increase in voting by mail due to the coronavirus, and even explicitly linked the decision to his desire to limit the use of mail-in ballots in the upcoming election.
Register for free to continue reading
Registration is a free and easy way to support our truly independent journalism
By registering, you will also enjoy limited access to Premium articles, exclusive newsletters, commenting, and virtual events with our leading journalists
Already have an account? sign in
Register for free to continue reading
Registration is a free and easy way to support our truly independent journalism
By registering, you will also enjoy limited access to Premium articles, exclusive newsletters, commenting, and virtual events with our leading journalists
Already have an account? sign in
Join our new commenting forum
Join thought-provoking conversations, follow other Independent readers and see their replies