Trump says Bolsonaro 'working very hard' despite Brazil rejecting aid for Amazon fires unless Macron 'withdraws insults'
Mr Bolsonaro and Mr Macron have engaged in what some have called the worst diplomatic crisis between their countries in decades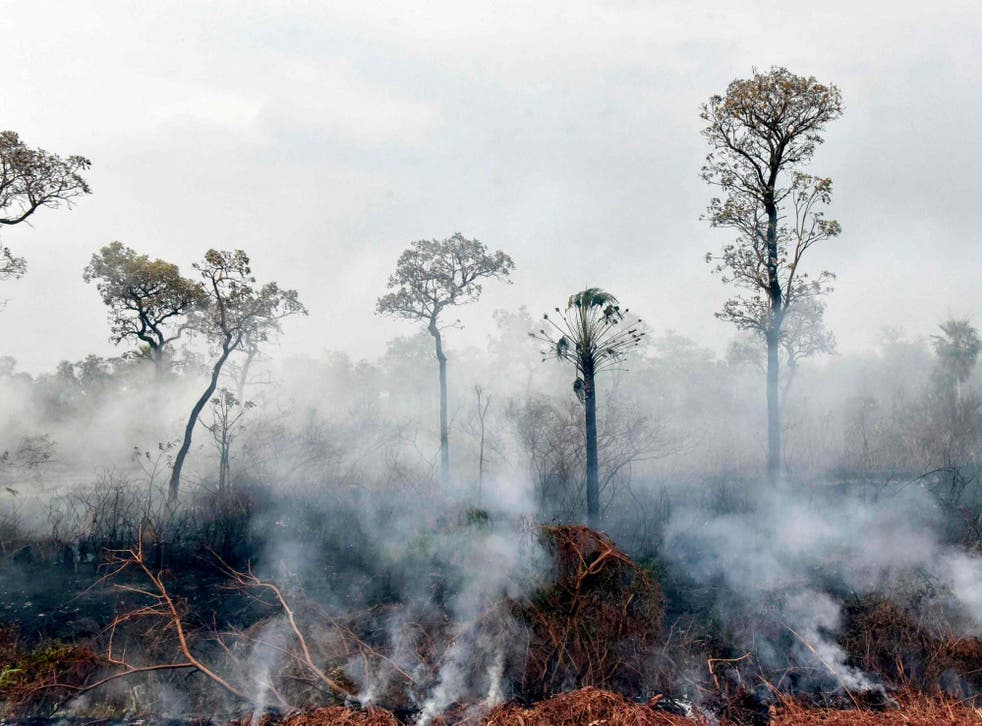 Donald Trump says that Brazilian president Jair Bolsonaro has the full support of the United States and is "working very hard" to put out wildfires raging in the Amazon, even as the South American president has signalled his intention to reject $22 million in international aid for the efforts unless French president Emmanuel Macron retracts his "insults".
In a tweet, Mr Trump also praised Mr Bolsonaro's work as president to say he is "doing a great job for the people of Brazil", in spite of mounting evidence from leaked documents and scientists that the fires raging across the forest responsible for around 20 per cent of the world's oxygen supply is a result of aggressive deforestation policies pursued by the Brazilian leader.
"I have gotten to know [Mr Bolsonaro] well in our dealings with Brazil. He is working very hard on the Amazon fires and in all respects doing a great job for the people of Brazil — Not easy," Mr Trump wrote. "He and his country have the full and complete support of the USA!"
The tweet came just hours after Mr Bolsonaro signalled his intention to reject a $22 million aid package offered by G7 countries to help the fire fighting efforts.
"First of all, Mr Macron must retract the insults he gave me. First, he called me a liar. Then, the information I had is that our sovereignty is up for grabs in the Amazon," Mr Bolsonaro told reporters on Tuesday. "So, before talking or accepting anything that comes out of France's best possible intentions, he will have to take those words out and then we can talk."
Amazon rainforest swept by fires: In pictures

Show all 25
Mr Macron and Mr Bolsonaro have engaged in what has become a deeply personal war of words in recent days, with the insults amounting to what some consider to be the worst diplomatic crisis between the two countries in 40 years.
The Brazilian government had initially said it would reject an aid package, saying that "maybe those resources are more relevant to reforest Europe", and criticising France for its recent fire at the Paris cathedral Notre Dame.
But, the crisis between the two has only deepened from there, after Mr Bolsonaro liked a post on his Facebook page in which a supporter compared the appearance of Mr Macron's wife Brigitte to that of Mr Bolsonaro's, Michelle. The supporter implied in the post that Ms Bolsonaro is more attractive.
Support free-thinking journalism and attend Independent events
"Don't humiliate the guy... haha," Mr Bolsonaro wrote.
In response, Mr Macron told reporters at the G7 summit in Biarritz that he saw the comments as sad for the Brazilian president and his people.
"He has made some extraordinarily rude comments about my wife," he said. "What can I tell you? It's sad. It's sad for him, and for Brazilians. I think that Brazilian women are probably ashamed to read that their president has done that."
"I think that Brazilians, a great people, are a bit ashamed of this behaviour," the French president added. "As I have a lot of friendship and respect for the Brazilian people, I hope that they will quickly have a president who is up to the job."
The number of fires in the Amazon has risen by 79 per cent this year, according to Brazil's space research agency. And, while Brazil is at the epicentre of the blazes, there are some 10,000 square kilometres (around 38,000 square miles) of rainforest burning in Bolivia as well, near its borer with Paraguay and Brazil.
Mr Bolsonaro has blamed the fires on environmentalists, non-governmental organisations, and on the weather. He has also sought to divert attention to past fires, during left-wing governments in his country.
Additional reporting by agencies
Register for free to continue reading
Registration is a free and easy way to support our truly independent journalism
By registering, you will also enjoy limited access to Premium articles, exclusive newsletters, commenting, and virtual events with our leading journalists
Already have an account? sign in
Register for free to continue reading
Registration is a free and easy way to support our truly independent journalism
By registering, you will also enjoy limited access to Premium articles, exclusive newsletters, commenting, and virtual events with our leading journalists
Already have an account? sign in
Join our new commenting forum
Join thought-provoking conversations, follow other Independent readers and see their replies