'No system whatsoever' to reunite thousands of children with parents they were separated from under Trump policy
Hundreds of children remain stranded in New York after separation at US border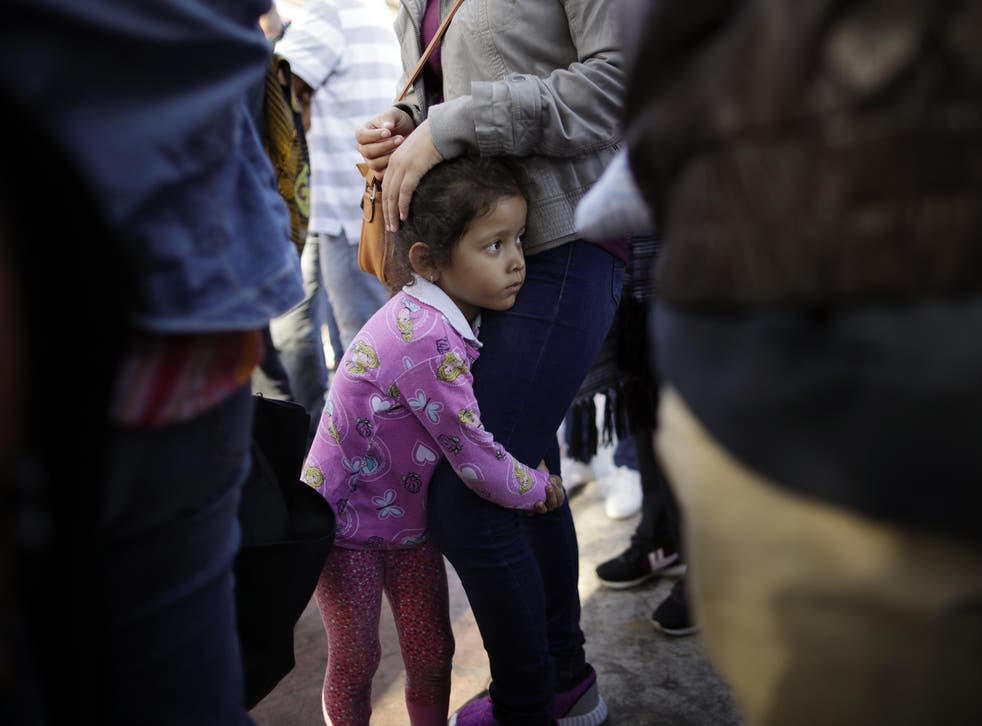 Under cover of darkness and in the custody of the federal government, migrant children have been coming in waves to New York, taken from their parents after crossing the southern border.
Even as President Donald Trump signed an executive order on Wednesday ending his administration's policy of separating parents and children who have illegally crossed the border, the crisis was already spreading to a city some 2,000 miles away.
Speaking outside Cayuga Centres in Harlem, one of a group of social service agencies in the state that contract with the federal government to take in unaccompanied minors, Bill de Blasio, the city's mayor, said 350 children had come through the centre and 239 of them were currently in Cayuga's care; the agency is not residential but places children in temporary foster care and runs day programmes.
The children included a nine-year-old boy from Honduras who had come alone on a bus from Texas, and a child as young as nine months old, Mr de Blasio said, as he issued a scathing rebuke of the Trump administration.
"How is it possible that none of us knew that there were 239 kids right here in our own city?" he asked. "How is the federal government holding back that information from the people of this city and holding back the help these kids could need?"
Mr de Blasio said the federal government would not tell city officials exactly how many children were sent to New York or where they were being housed. The office of Andrew Cuomo, New York's governor, said the state was also unclear about the exact number.
The consulates in New York for Honduras and El Salvador said they, too, did not know how many of their young citizens were in the city, and of how to reach their relatives back home.
Even as the crisis escalated, the federal agency that cares for unaccompanied minors – the Office of Refugee Resettlement – remained silent. It did not return repeated requests for comment.
"Come clean with the truth," Mr de Blasio urged federal authorities after meeting with Cayuga officials. "Who are these children? How many are they? Where are they? What is happening here?"
Undocumented immigration across the US-Mexico border

Show all 14
The Cayuga welfare agency has received the majority of the children separated from their parents at the border, said Bitta Mostofi, the city's commissioner of immigrant affairs. She said that Cayuga currently serves 600 unaccompanied minors (including those who did not come with parents), and that it planned to add 300 more spaces over the summer.
Cayuga Centres, which has several locations, did not return repeated requests for comment.
The children have been separated from their parents at the southern border as part of the federal government's zero-tolerance policy, in which adults were being prosecuted for entering the country illegally, and their children were taken from them and placed into custody separately. More than 2,300 children have been taken from their parents in the last two months.
But it was unclear how Mr Trump's executive order ending the separation policy would affect the chaotic situation for the children in New York.
José Xavier Orochena, the lawyer for Yeni Gonzalez, an immigrant from Guatemala whose three children are being held at one of their centres, was outside Cayuga.
Ms Gonzalez fled gang violence in Guatemala with her three children, Mr Orochena said. After they arrived in McAllen, Texas, over a month ago, the children were taken from her and sent to New York, he said. She is being held in Eloy Detention Center in Arizona. Mr Orochena said the children and their mother have communicated by phone.
World news in pictures

Show all 50
The Council of Family and Child Caring Agencies, an organisation whose members include the 10 state welfare agencies that are contracted with the government, said the agencies were providing "homelike settings with high-quality, trauma-informed services". But Jim Purcell, the chief executive of the organisation, called the separation policy "child abuse, plain and simple".
On Wednesday, Cayuga seemed to be scrambling to find homes to accommodate these new arrivals. As a reporter waited outside the organisation's Bronx office, two job applicants left interviews.
Salustriana Gomez, 67, of the Bronx, a self-employed foster care and day care worker, said Cayuga had called her in for an interview that morning. Two years ago, Gomez worked with young victims of domestic abuse, all from the city, referred by Cayuga.
"Now it's children coming from different countries – Guatemala, Mexico, Honduras," she said after her interview, as she walked to the 138th Street-Grand Concourse subway station. She expected to hear back within a day, she said, and was told that if she were hired, she would undergo new training and orientation for this assignment.
The children are entitled to their own court hearings, and, according to lawyers who have dealt with their cases, some of them have asked to be sent back to Central America. That is a shift from earlier cases, in which children who travelled alone would be placed with family members in New York as they sought legal remedies to stay in the United States.
The children arriving from the border are almost all under the age of 10, and they have been "rendered" unaccompanied minors by the government, said Anthony Enriquez, the director of the unaccompanied minors program for Catholic Charities. "They didn't make the decision to come to the United States. They said, 'I just followed my mom here,'" Mr Enriquez said.
Within 10 days of a child's arrival, he said, Catholic Charities sends what is known as a "migration counsellor" to speak to the young children about their legal rights and about expected behaviour in temporary housing. Then the counsellor talks to the children about their experience to see what may be done on their behalf.
Some of the young children are inconsolable at the beginning of the interview, he said. "They just need to cry for 10 minutes."
He said that lawyers for Catholic Charities have handled 18 cases of separated children who have asked judges for "voluntary departure", or to be sent back, and another 15 were considering that option. Some have already left, he said.
But sending children back to countries like Guatemala, Honduras and El Salvador can be difficult because often the government does not know whether the parent is still in the United States or has already been deported.
"There is no system whatsoever to track these family separations, no efforts systematically to reunite these families," Mr Enriquez said. "There is no supervisor, there is no database saying, 'child here, parent there,' so they can come back together."
The New York Times
Join our new commenting forum
Join thought-provoking conversations, follow other Independent readers and see their replies