Turkey summons US ambassador to protest 'aggressive' handling of Turkish bodyguards
The State Department has called the conduct of Turkish security personnel in the incident 'deeply disturing'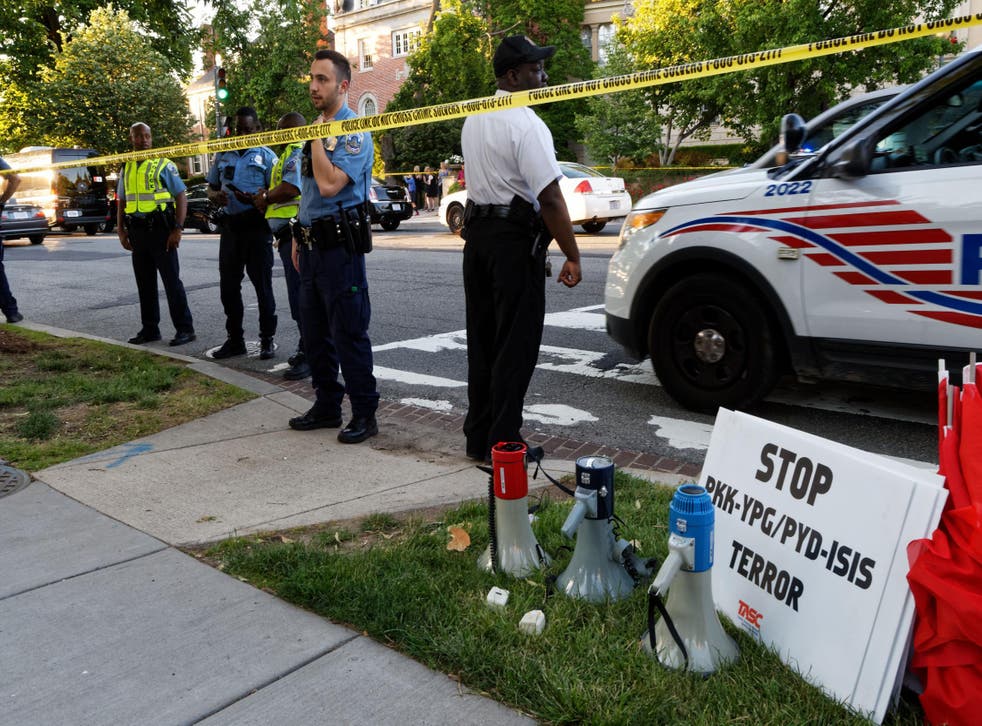 Turkey has summoned the US ambassador to protest 'aggressive' action against Turkish bodyguards in Washington, DC.
Bodyguards for Turkish President Recep Tayyip Erdoğan were involved in a brawl last week when the president visited the White House. Nine people were injured and two were arrested in the flare-up between bodyguards and anti-Erdoğan protestors.
Many in Washington called for strong, swift action against the bodyguards in the wake of the brawl. The State Department said they were "communicating our concern to the Turkish government in the strongest possible terms", and that the actions of Turkish security personnel during the incident was "deeply disturbing".
The Turkish Foreign Ministry now says the US ambassador has been given a "written and verbal protest" over the US's handling of the situation. The country is calling for a "a full investigation of this diplomatic incident".
Peaceful protests outside the Turkish embassy during Mr Erdoğan's visit erupted when demonstrators arrived carrying the flag of the Kurdish Democratic Union party. The US is seeking to arm the group in Syria. The Turkish government considers them a terrorist organisation.
The diplomatic response to the brawl devolved into accusations on either side, with prominent US officials claiming the bodyguards had acted inappropriately, and the Turkish government claiming they had been provoked.
"The violence and injuries were the result of this unpermitted, provocative demonstration," the Turkish embassy said in a statement. "We hope that, in the future, appropriate measures will be taken to ensure that similar provocative actions causing harm and violence do not occur."
In pictures: Turkey coup attempt

Show all 17
Former US ambassador to the United Nations Samantha Power, however, tweeted that "clearly Erdoğan's guards feel complete impunity, drawing on tools of repression they use at home & knowing he has their back, no matter what."
The Metropolitan Police Department has said they have "every intention" of pursuing charges against all parties involved.
Mr Erdoğan's recent visit to the White House was his first in years, after US-Turkey relations declined significantly under former President Barack Obama. The Turkish leader is seen by many to be taking an increasingly authoritarian hold on his country.
Mr Trump has pledged to work with Mr Erdoğan's toward their "shared goal" of fighting Isis.
Register for free to continue reading
Registration is a free and easy way to support our truly independent journalism
By registering, you will also enjoy limited access to Premium articles, exclusive newsletters, commenting, and virtual events with our leading journalists
Already have an account? sign in
Register for free to continue reading
Registration is a free and easy way to support our truly independent journalism
By registering, you will also enjoy limited access to Premium articles, exclusive newsletters, commenting, and virtual events with our leading journalists
Already have an account? sign in
Join our new commenting forum
Join thought-provoking conversations, follow other Independent readers and see their replies