TV station assures viewers Ferguson verdict won't disturb Dancing With The Stars, internet rages
Christopher Hooton
Tuesday 25 November 2014 10:11 Comments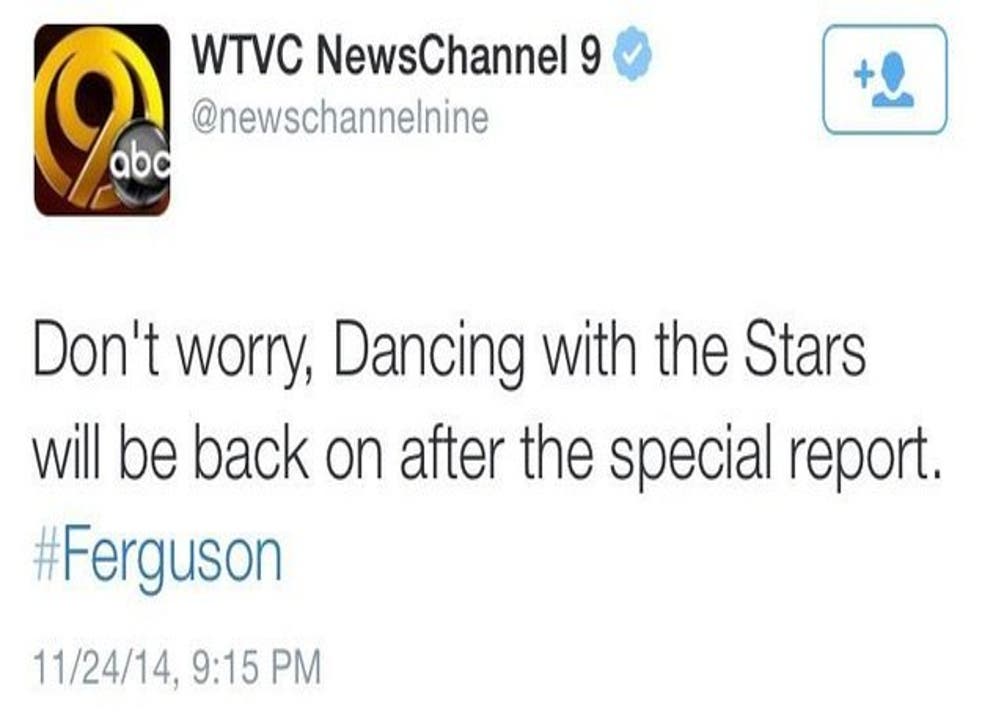 An ABC affiliated news station got its priorities horribly wrong last night, reassuring celebrity dance fans that they wouldn't have to endure the very serious situation unfolding in Ferguson, St Louis for long.
"Don't worry, Dancing with the Stars will be back after the special report. #Ferguson" WTVC NewsChannel 9 tweeted as the grand jury verdict was announced.
Outrage rained in, with one viewer tweeting the station: "Wow I guess dancing with the stars is more important than a young black life" and another adding: "A man is dead. A family is grieving. A city is burning. Nobody gives a damn tonight about 'Dancing with the Stars.'"
It was a very silly mistake and the station backpedalled furiously, issuing a series of apology tweets along with ones directed at individuals.
"No, please - it was a mistake, it won't happen again, we promise," a man named Gary who works at the station wrote.
But it fell on deaf ears.
"It's too late now. You should have apologized to everyone earlier and stopped tweeting," a viewer wrote.
"For a meltdown of epic proportions, watch @newschannelnine try to recover from its awful tweet. But hey, they follow back!" Jessie Opoien tweeted.
The St Louis suburb of Ferguson was gripped by violent protests once more last night, after a grand jury chose not to bring charges against Darren Wilson, the white police officer who shot dead Michael Brown, an unarmed black teenager, on 9 August.
In pictures: New Ferguson unrest

Show all 55
Buildings and cars were torched, businesses looted and the sound of gunfire shuddered out at regular intervals as demonstrators and armoured police clashed across parts of the city.
Tear gas and rubber bullets were fired by police, while a Walgreens pharmacy and a Little Caesars pizza place were both gutted by fire. A public storage facility, petrol stations and other restaurants were also set ablaze.
Register for free to continue reading
Registration is a free and easy way to support our truly independent journalism
By registering, you will also enjoy limited access to Premium articles, exclusive newsletters, commenting, and virtual events with our leading journalists
Already have an account? sign in
Register for free to continue reading
Registration is a free and easy way to support our truly independent journalism
By registering, you will also enjoy limited access to Premium articles, exclusive newsletters, commenting, and virtual events with our leading journalists
Already have an account? sign in
Join our new commenting forum
Join thought-provoking conversations, follow other Independent readers and see their replies