Pro-Trump Twitter bot 'Neil Turner' posts fake image of immigration officer arresting Latino voter
The bot account tweeted at Spanish-language outlets likely aimed at intimidating Latino voters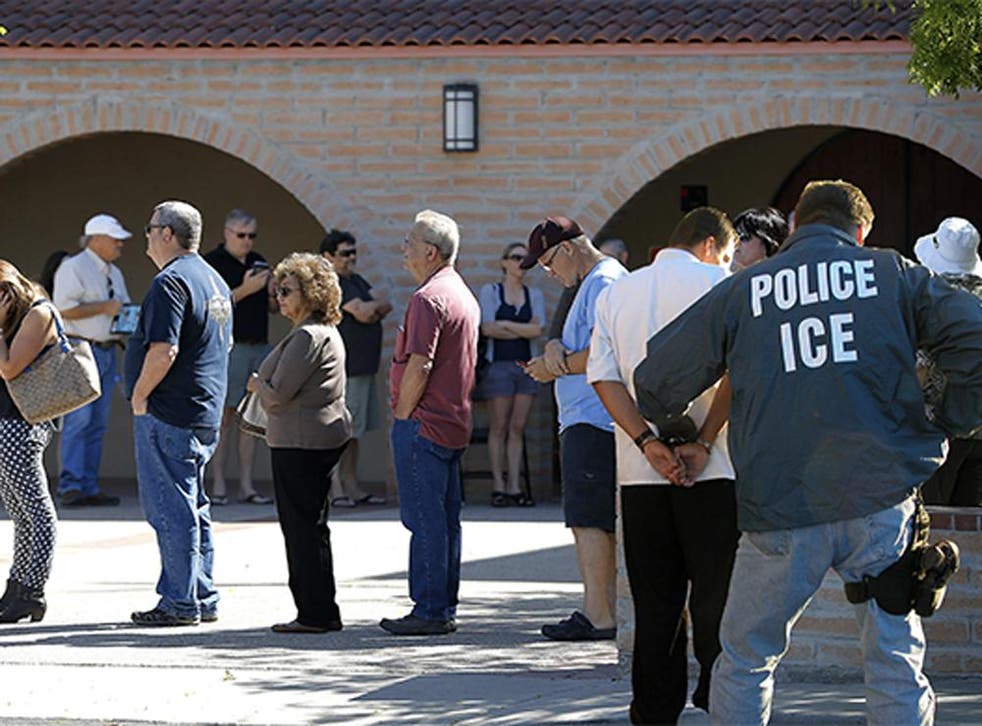 A fake image depicting an immigration enforcement officer arresting an undocumented immigrant at a polling place made its way through Twitter.
But the Photoshopped picture stemmed from a pro-Trump bot account, and is aimed at discouraging Latino voters from making their ways to the ballot boxes during the final days of the election.
The tweet comes amid Donald Trump's continued claims that the election is rigged, as he alleges countless cases of voter fraud, including voting by undocumented immigrants. Despite the actual unlikelihood of voter fraud – only 31 certified cases were identified in one billion votes between 2000 and 2014 – Mr Trump's claims are widely embraced by his supporters, many of whom identify with the anti-immigrant, Alt-Right faction.
ProPublica and Univision reported that the image, tweeted from the well known bot account "Neil Turner", was a composite of two different photos. The background image is taken from an Associated Press photograph depicting Arizona voters waiting in line during the March primaries. The foreground image of the Immigration and Customs Enforcement officer making an arrest comes from Wikipedia Commons.
"I've just got word that an illegal trying to vote has been arrested," the tweet read. "ICE is watching voting places closely! Thank you ICE!"
The Neil Turner account – which New York Magazine identified as a bot in June – tweeted the image to numerous Spanish-language news outlets, including Univision.
And consistent with claims of rampant voter fraud, there is no evidence that immigration enforcement officers have made arrests at polling places during an election in modern US history.
"I have never, ever, ever heard of this happening. Ever," Tammy Patrick, elections expert and Bipartisan Policy Centre fellow, told ProPublica. "It sounds like a step up from decades ago when ads were put out saying that if you hadn't paid child support you will be arrested when you go to vote."
Ms Patrick was referencing a 1998 effort during which a Republican state representative mailed 3,000 brochures to black voters warning that law enforcement would be manning polls on Election Day, and warned that "this election is not worth going to jail".
The actual identity of Neil Turner, whose account boasts almost 29,000 followers, remains unknown. The Ringer reported that a person claiming to be Turner said he was a computer science student at a university in the South.