Twitter IPO: Investors in fine feather after $30bn float
The company's shareholders come from far beyond Silicon Valley and include Virgin's boss, Sir Richard Branson and the actor Ashton Kutcher
Tim Walker
Thursday 07 November 2013 17:38 Comments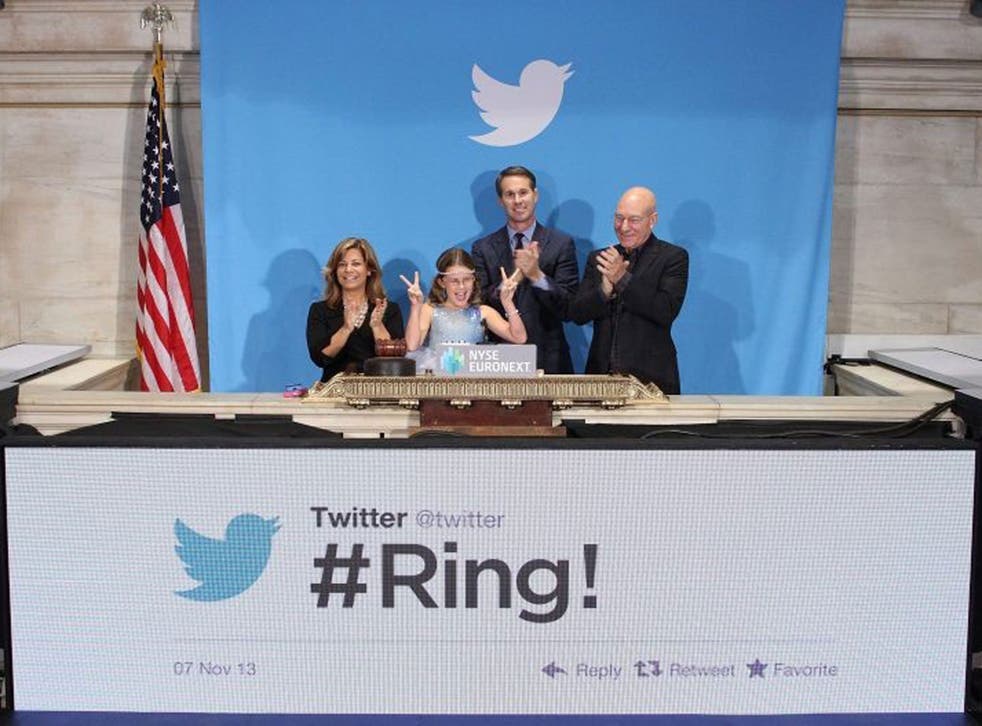 In the weeks leading up to his firm's share flotation, Twitter's chief executive, Dick Costolo, gave tips to employees at the social network's San Francisco headquarters on how to manage their forthcoming fortunes. After Twitter's flotation on the New York Stock Exchange (NYSE), Mr Costolo will surely be following his own advice. The company offered 70 million shares at $26 (£16) each but at close of trading in New York the price was $44.90, valuing the company at about $31bn – and the CEO's personal stake at just over $340m.
Twitter's is the second largest internet IPO by any US company, dwarfed only by Facebook's, whose stock market debut minted 850 millionaires. Twitter's IPO created plenty of paper millionaires and, at the close, at least one billionaire: Evan Williams, one of its founders and directors, and owner of the largest individual stake, now worth more than $2.5bn.
Another founder, Jack Dorsey, saw his stake valued at $1bn at the close. Mr Dorsey, who posted the first ever tweet in March 2006 – "Just setting up my twttr" – is already a billionaire, having sold his share of his mobile payments company, Square, this year. He now owns a 4.3 per cent stake in Twitter. Shares owned by Peter Fenton, a partner at the venture capital firm Benchmark, were valued at $1.4bn.
Some observers expect the share price to increase dramatically by the time Twitter's executives and directors are allowed to sell their stock 180 days from now. The company's shareholders come from far beyond Silicon Valley and include Virgin's boss, Sir Richard Branson, the actor Ashton Kutcher, and Peter Chernin, former president of Rupert Murdoch's News Corp. The banking giant JP Morgan owns a 10.4 per cent stake, yet the biggest holding belongs to the little-known private equity fund Rizvi Traverse Management, which owns 17.9 per cent of Twitter's stock.
The New York-based outfit was founded by 47-year-old Suhail Rizvi, whose investors include Saudi Prince Alwaleed. Born in India but brought up in Iowa, Mr Rizvi has previously focused his attentions on Hollywood, with investments in Playboy Enterprises; Lionsgate, the studio behind the Twilight and Hunger Games franchises; and International Creative Management, a talent agency. Last year, Mr Rizvi's group invested $200m in Square, of which Mr Dorsey is the founder and CEO.
Absent from Twitter's stock market filing were the firm's two remaining founders, Biz Stone and Noah Glass, the software developer who reportedly coined the name "Twitter". According to the recently published Hatching Twitter, by Nick Bilton, Mr Glass was fired by Mr Williams, at Mr Dorsey's request, in the firm's infancy. In spite of his crucial role in its creation, Mr Glass will not see a cent from Twitter's flotation.
Mr Stone left Twitter in 2011, and is thought to have sold most or all of his stake in the company already, though he was with Mr Williams and Mr Dorsey at the NYSE to watch as prominent Twitter users, including the actor Patrick Stewart, rang the opening bell.
Meanwhile, in San Francisco, employees of the micro-blogging behemoth gathered at its HQ to view the flotation on television. Many of them wore matching T-shirts displaying the blue Twitter-bird logo, anticipating a somewhat more expensive wardrobe.
Yet some critics suggest their confidence may be misplaced. Though Twitter now has some 230 million users worldwide, it posted a loss of $65m in its last quarter. A recent Reuters-Ipsos poll suggested that more than a third of Twitter account holders rarely if ever use it. Yet Mr Costolo remains bullish about its prospects, telling CNBC: "We think this is a long-term company – a company for which there is a fantastic use case for every person on the planet."
Richer, not richer: The Twitter team
Evan Williams Backer
His shares are now worth more than $2bn. Founded Blogger, which was later bought by Google. Met Twitter's creators in 2004.
Jack Dorsey Co-founder
Backed by Williams, Dorsey co-founded Twitter in early 2006. His stake is now worth just under $1bn.
Biz Stone Co-founder
Biz Stone left Twitter in 2011 to pursue other projects. It is thought he will not see a cent from the flotation.
Noah Glass Creator?
Made the software that became Twitter, but left the company shortly thereafter. His stake is thought to be zero.
Register for free to continue reading
Registration is a free and easy way to support our truly independent journalism
By registering, you will also enjoy limited access to Premium articles, exclusive newsletters, commenting, and virtual events with our leading journalists
Already have an account? sign in
Join our new commenting forum
Join thought-provoking conversations, follow other Independent readers and see their replies