Two rare blue lobsters caught by Canadian fisherman on same weekend
'The trap was coming out of the water and you could just see the blue lobster glowing'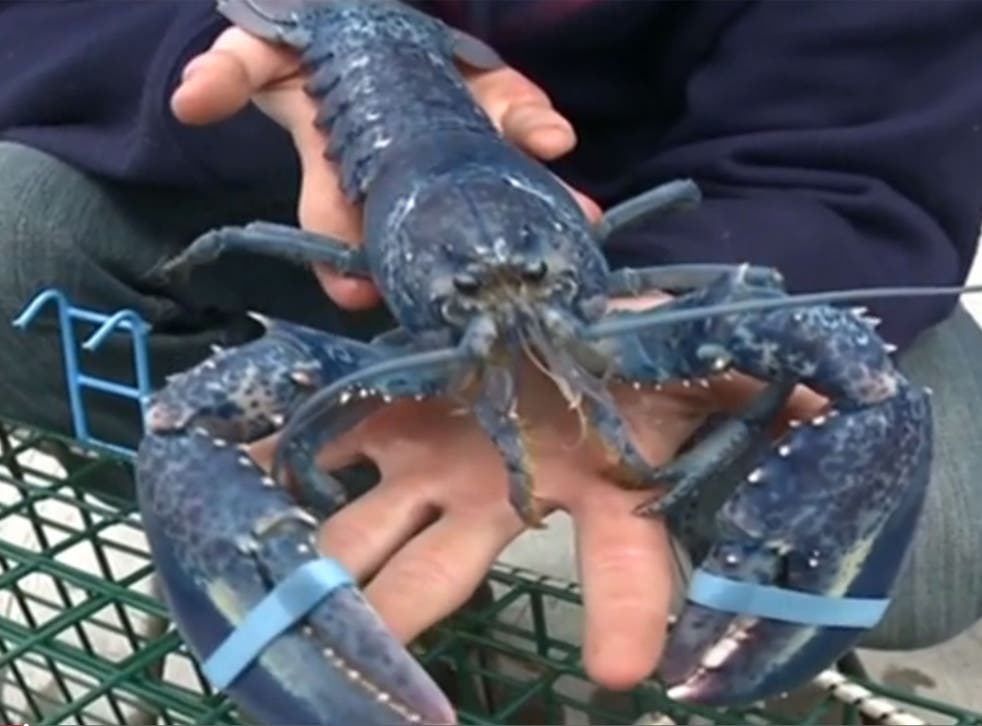 Two extremely rare blue lobsters have been caught within 100 miles of each other over the course of a handful of days.
Only one in two million lobsters is blue, oceanographers believe, and to catch more than one so close and in such a small timeframe is almost unheard of.
The vivid blue crustaceans, found off the eastern coast of Canada, are prized by local fisherman for bringing good luck.
Fisherman Scott MacKinnon, who caught one of the specimens on Monday near Low Point, Nova Scotia, told local broadcaster CTV News: "The trap was coming out of the water and you could just see the blue lobster glowing. We were happy to get him!"
"This is a first for us and I've been fishing for 30 years. It's just beautiful,"
Mr MacKinnon said it was blue from its torso to its eyes and the tip of its whiskers.
Mr MacKinnon has made plans to release the lobster – which he has named Opal - after the season is over in mid-July.
He added: "The old people say it's good luck and prosperity for the boat. No chance on us eating it. We're going to send the good luck back to the ocean."
The other blue lobster was found on Friday, 93 miles away at Alder Point, also in Nova Scotia, by Blaine Marsh.
Wildlife Photographer of the Year

Show all 26
His wife, Mary Marsh, told the broadcaster: "It's a good luck sign for the fisherman. I hope the fishermen have a good season this lobster season."
After his granddaughter named the creature Blueberry, Mr Marsh released it back into the sea.
The fishermen also believe the finds are not the same creature, as "their lobster was undersized and ours was a pound and a half," according to Mr MacKinnon.
Only one in two million lobsters are blue, according to a paper by the University of Maine Lobster Institute. "That makes blue lobsters pretty rare, special and valuable," the text said.
According to the paper, the unusual colouration comes from a "genetic defect that causes the lobster to produce an excessive amount of a particular protein", leading to the bright and unusual colours.
However, despite the rareness of the blue variety, there are other lobsters out there which are even harder to find, according to the Lobster Institute.
The chances of finding a red lobster – alive – are around one in ten million. The majority of caught lobsters are shades of green and brown. Meanwhile, the likelihood of finding a yellow lobster is estimated to be one in 30 million and the odds on finding a Calico lobster, with spotted yellow or orange shells, are the same.
The odds of finding a Split lobster, with a half brown, half orange shell, is around one in 50 million. However, rarest of all is an albino lobster, also known as a Crystal lobster – at one in 100 million.
Register for free to continue reading
Registration is a free and easy way to support our truly independent journalism
By registering, you will also enjoy limited access to Premium articles, exclusive newsletters, commenting, and virtual events with our leading journalists
Already have an account? sign in
Register for free to continue reading
Registration is a free and easy way to support our truly independent journalism
By registering, you will also enjoy limited access to Premium articles, exclusive newsletters, commenting, and virtual events with our leading journalists
Already have an account? sign in
Join our new commenting forum
Join thought-provoking conversations, follow other Independent readers and see their replies