Two-year-old girl dies after swallowing button battery over Christmas in US
Brianna Florer's grandfather described their family Christmas as 'perfect' until the little girl fell violently ill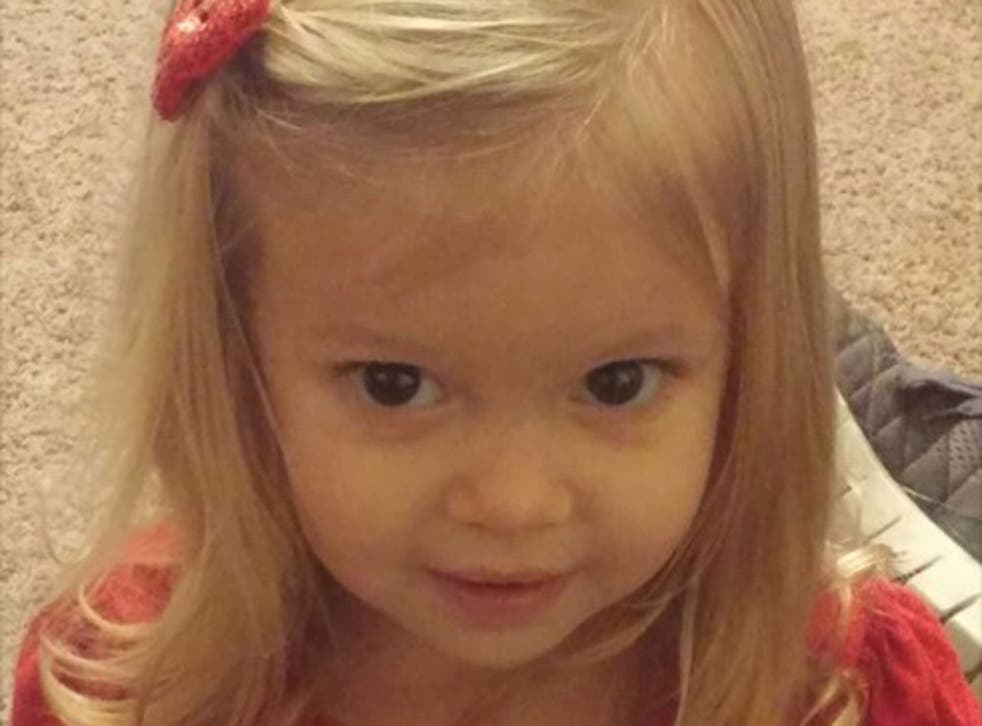 A two-year-old girl has died after swallowing a button battery in the US.
Brianna Florer's grandfather described how she had a "perfect Christmas" with her family before suddenly starting to vomit blood and turn blue on 27 December.
Her parents called paramedics and she was taken to hospital in Tulsa, Oklahoma, but Brianna died after two hours of emergency surgery attempting to stop the internal bleeding.
"She was always happy and laughing…she was just an angel," Kent Vice, her grandfather, told the Oklahoman newspaper.
"One minute she is perfect, and the next minute she is dead. We had no idea when she swallowed it (the battery)."
The results of Brianna's autopsy have not yet been made public but Mr Vice said doctors told the family they believe the battery ate through an artery through the child's oesophagus.
A GoFundMe page set up by a family friend to cover funeral expenses has so far raised almost $4,000 (£2,700).
Renee Blevins Hale wrote that Brianna's brother and two sisters were struggling to come to terms with her sudden death.
"The family is just overwhelmed by the outpouring of love, prayers, support as well as donations by friends, family and strangers," she said.
"Please say extra prayers for them as they start the painful process of saying their goodbyes to Brianna.
"They have been in shock these first several days but now the reality of this tragedy is finally starting to become even more evident."
Button batteries are the small, round, silver-coloured lithium batteries used in many electrical toys.
Health news in pictures

Show all 40
The NHS advises anyone who believes their child may have swallowed one to take them to A&E immediately, saying that as well as being a choking hazard, the electrical current the batteries give out can cause burns if they become stuck.
An alert issued by NHS England said caustic soda created by the current can cause "severe tissue damage", leading to burns, skin damage and "catastrophic haemorrhage".
In the four years leading up to 2014, five cases of severe injury caused by button batteries had been identified in England, including one resulting in a child's death.
"The risk affects all age groups, although most cases involve children under the age of six who mistake the battery for a sweet and older people with confusion or poor vision who mistake the battery for a pill," an NHS spokesperson said.
Dr Mike Durkin, the NHS England Director of Patient Safety, released a warning to GPs and hospitals to ensure they were aware of the symptoms.
He said: "As these types of batteries are common in toys and gadgets that may be given as presents, the risk of children swallowing them increases during the Christmas period."
Register for free to continue reading
Registration is a free and easy way to support our truly independent journalism
By registering, you will also enjoy limited access to Premium articles, exclusive newsletters, commenting, and virtual events with our leading journalists
Already have an account? sign in
Register for free to continue reading
Registration is a free and easy way to support our truly independent journalism
By registering, you will also enjoy limited access to Premium articles, exclusive newsletters, commenting, and virtual events with our leading journalists
Already have an account? sign in
Join our new commenting forum
Join thought-provoking conversations, follow other Independent readers and see their replies