Perfectly preserved T Rex skeleton set to auction for up to $8m in New York
Fearsome 'King of the Dinosaur' skeletons being sold at public auction are a rare event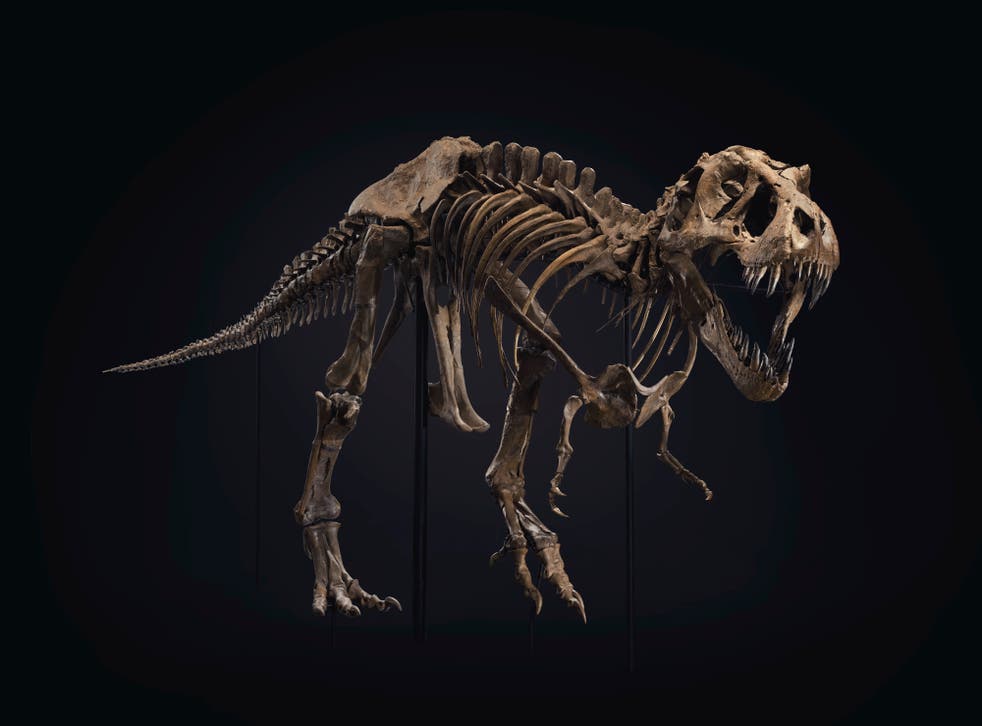 One of the most perfectly preserved Tyrannosaurus rex skeletons ever discovered is set to fetch up to $8m when it goes under the hammer in New York next month.
Stan the T Rex stands13ft tall and 40ft long, including its tail, and is named after the amateur palaeontologist who found his bones.
More than 50 Tyrannosaurus skeletons have been discovered around the globe since 1902 but most are housed in museums or science institutes and it is rare for one to hit public auction.
The fearsome dinosaur would have stalked the earth 67 million years ago and the first parts of its 188-bone skeleton were discovered in the Hell Creek Formation that covers parts of Wyoming, Montana and North and South Dakota in 1987.
For the past two decades Stan has been housed at the Black Hills Institute in South Dakota and has been the subject of a string of papers and studies.
Stan Sacrison, who discovered the bones, originally misidentified them as Triceratops bones and they remained undisturbed in their resting place until 1992.
When visiting palaeontologists realised their real identity it took more than 30,000 man hours to excavate and restore the skeleton.
Experts say the state of the fossilised bones indicate that Stan suffered a broken neck while alive but survived the injury.
One of the animal's ribs also shows a puncture wound that may have been caused by another T Rex, and his skull has a tooth-shaped puncture wound.
At his largest Stan would have weighed up to 8 tons, twice as heavy as an African elephant, and his longest tooth measures 11 inches.
The skeleton was being unveiled to the public on Wednesday at Christie's Rockefeller Center in New York and offered as a highlight of Christie's Evening Sale of 20th Century Art on 6 October.
It will be viewable 24 hours a day through windows at the auction house.
"We are honoured to be bringing Stan to auction and to have been entrusted with the stewardship of such and iconic and important T. Rex," said James Hyslop, head of Scientific Instruments, Globes and Natural History at Christie's.
"I'll never forget the moment I came face to face with him for the first time, after his remount in Colorado, he looked even larger and more ferocious than I'd imagined, a specimen that only further establishes the T. Rex's position as the King of Dinosaurs."
Join our new commenting forum
Join thought-provoking conversations, follow other Independent readers and see their replies