Few universities want to be transparent about gender equality, says UN Women senior adviser
Elizabeth Nyamayaro, head of the HeForShe movement at UN Women, says 10 universities have committed to achieving gender equality in the near future - she explains how they aim to do that, and why a lot of other institutions did not want to sign up
Rachael Revesz
New York
Tuesday 20 September 2016 20:15 Comments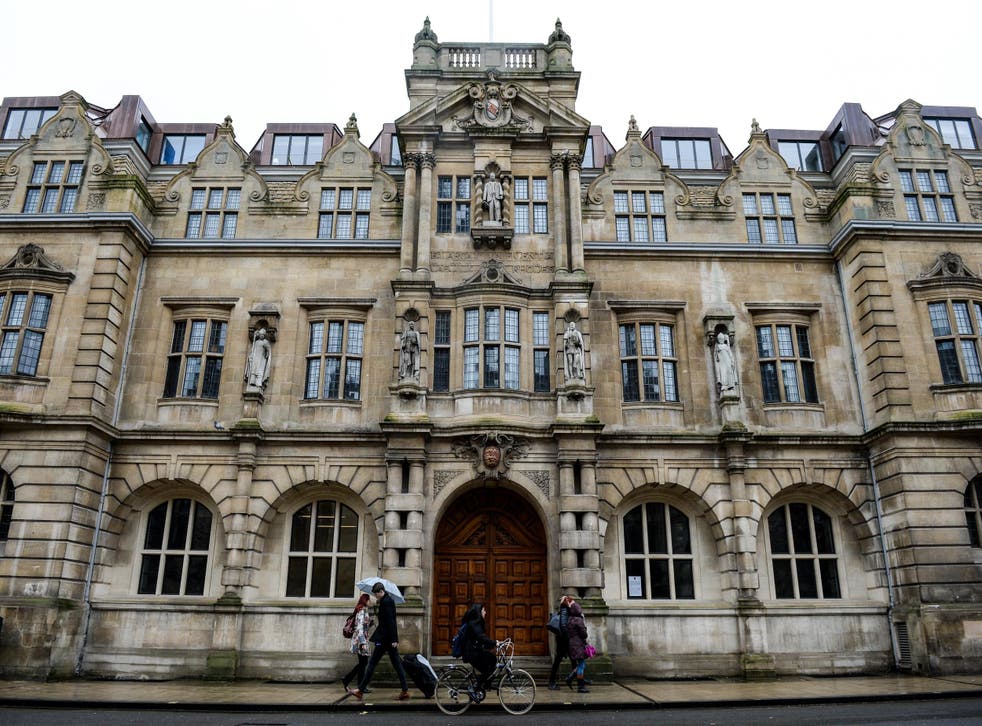 A United Nations entity has signed up 10 universities - representing more than 700,000 students - to commit to achieving gender equality and ending campus violence in the near future, but there were many more institutions that were reluctant to get involved.
The University Parity Report, released Tuesday, reveals that institutions including Oxford University and prestigious French university Sciences Po aim to make great strides within three to five years.
There were many more universities, however, that were unwilling to commit to the programme.
Elizabeth Nyamayaro, the brains behind the HeForShe movement and senior adviser to the under secretary-general UN Women, told The Independent that 65 universities were originally interested in the programme.
"The moment we had one or two signed up, we saw people reaching out to us," she said.
"We did notice we had many more universities [interested] than the 10 positions we could accommodate, but the moment we started asking for concrete transparency and commitment they fell off the radar.
"We're not saying this is the perfect group but these are the ones committed to being transformative and groundbreaking."
Nagoya University in Japan, for example, will be the first in the country to establish a campus committee and office to promote gender equality, and will open a library of 15,000 books on the subject next year.
Oxford University is aiming for 30 per cent female representation across all leadership roles by 2020, and will offer students a mobile phone app to report sexual violence on campus.
In the US, where one in five women will be sexually assaulted on campus, Georgetown University aims for all staff to complete training on how to prevent discrimination, harassment and sexual misconduct.
The universities were also required to provide data on the ratio of men to women for all levels, from undergraduate students to senior leadership.
Across all 10, there was a much smaller number of women at higher levels. At Sciences Po, just 14 per cent of tenured professors are women.
This is despite women making up around half of undergraduate students at all universities, except at Nagoya in Japan.
"Yes, girls are graduating, but we have to go deeper than that, and look at the output," said Ms Nyamayaro.
"How many women are empowered to take STEM subjects and to assume leadership roles?"
Kellyanne Conway: Rape would not exist if women were physiologically as strong as men
No such gender data at universities exist on a national or global level.
"We can't ignore the engagement of youth as catalysts for change," she said.
"The universities were targeted for that reason. We saw those doing great work but also those that have the will and want to be part of change. It was a mixture of proactive and reactive engagement."
In the UK, for example, Oxford wants to close the gender gap both ways - that means getting more women into science, technology, engineering and maths (STEM), as well as encouraging more men to study the so-called "soft" subjects like social sciences and art. The UN is also working with Unesco to educate boys and girls at schools.
Other universities include the University of Hong Kong, the University of Leicester, the University of São Paulo, Stony Brook University, the University of Waterloo and the University of Witwatersrand.
Men are heavily involved in the campaign. They include 10 male heads of states, from Japanese prime minister Shinzo Abe to Rwanda president Paul Kagame, as well as 10 male chief executives, including Jes Staley, of Barclays, and McKinsey's global managing director Dominic Barton.
Ms Nyamayaro said male involvement was "critical" as a catalyst for change.
Emma Watson asks Malala Yousafzai about feminism
The HeForShe movement, which boasts actress Emma Watson as an ambassador, wants to create global gender equality by 2030 - a big task, since not one country has achieved this feat, according to Ms Nyamayaro.
"This is just really the beginning. It's easy to make commitments, but these institutions promised to make that commitment and show how they will get there. There are clear targets and a timeline," she said.
"Next year I hope the numbers will improve."
Register for free to continue reading
Registration is a free and easy way to support our truly independent journalism
By registering, you will also enjoy limited access to Premium articles, exclusive newsletters, commenting, and virtual events with our leading journalists
Already have an account? sign in
Join our new commenting forum
Join thought-provoking conversations, follow other Independent readers and see their replies