United Airlines reverses plans to make CEO Oscar Munoz chairman after passenger dragging scandal
Members of the Senate Commerce Committee have called Mr Munoz's behaviour 'unacceptable'
Emily Shugerman
New York
Friday 21 April 2017 22:21 Comments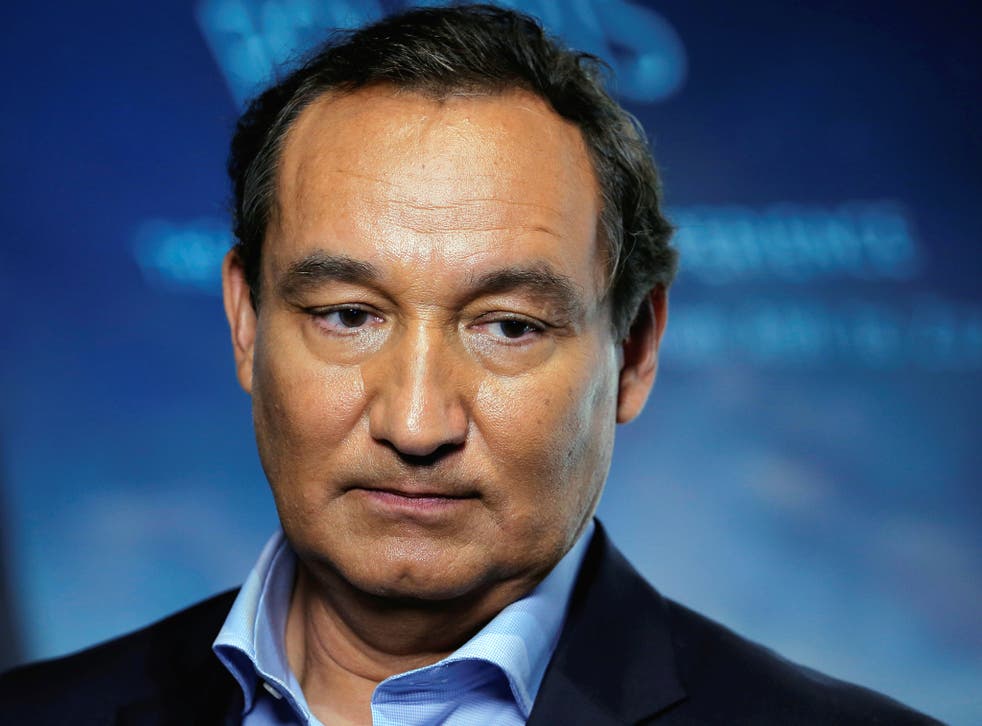 United Airlines has reversed plans to name CEO Oscar Munoz chair of the company's board in 2018, following a high-profile incident in which a passenger was violently dragged from one of the airline's flights.
A recent United Airlines filing officially removes provisions in Mr Munoz's contract related to his future appointment as chairman of the board. It leaves future decisions about the chairman position up to board members.
The airline faced widespread backlash this month when they called police officers to drag a middle-aged man from his seat on the plane. The passenger, David Dao, had refused to give up his seat to make room for airline crew.
Leaders of the Senate Commerce Committee sent a letter to the airline in the wake of the incident, asking about the airline's policy for bumping passengers off oversold flights. They also asked about Mr Dao in particular, and the reasons given for his removal.
The senators instructed United to reply by Thursday, but Mr Munoz wrote the committee on Friday asking for an extension. He promised a full response by 27 April.
"We are in the process of gathering the full set of facts about this incident and finalising a thorough review of our policy," he wrote. "We look forward to sharing the full results of this ongoing review and the immediate, concrete actions we will take to better serve our customers with the committee."
Senators John Thune, Bill Nelson, Roy Blunt and Maria Cantwell said in a statement that they were "disappointed" by the airline's response. They promised to continue pressing their airline, as well as the Chicago Department of Aviation, for their response.
"Getting answers for the public about what happened and what can be done to prevent such an incident from happening again is a priority for the members of our committee," the senators wrote. "We find any further delay in getting necessary answers unacceptable."
World news in pictures

Show all 50
​Mr Munoz has previously been criticised for his lackluster response to the incident. His initial statement failed to acknowledge the violence against Mr Dao, and his second statement appeared to blame the passenger for what occurred.
In their letter to the airline, the senators wrote that United's response "has been unsatisfactory, and appears to underestimate the public anger about this incident."
Consumers communicated their anger through social media, and by dumping United stock. The airline's share price dropped as much as 4.4 per cent following the event, before bouncing back.
Mr Dao's lawyers have directed both United and the city of Chicago to preserve any evidence – including surveillance video, cockpit recordings and passenger logs – that may pertain to the incident.
Register for free to continue reading
Registration is a free and easy way to support our truly independent journalism
By registering, you will also enjoy limited access to Premium articles, exclusive newsletters, commenting, and virtual events with our leading journalists
Already have an account? sign in
Join our new commenting forum
Join thought-provoking conversations, follow other Independent readers and see their replies