United Airlines passenger jet's engine cover rips apart over Pacific Ocean
'Scariest flight of my life,' says one passenger after part of airliner falls off in mid-air
Chris Baynes
Wednesday 14 February 2018 10:00 Comments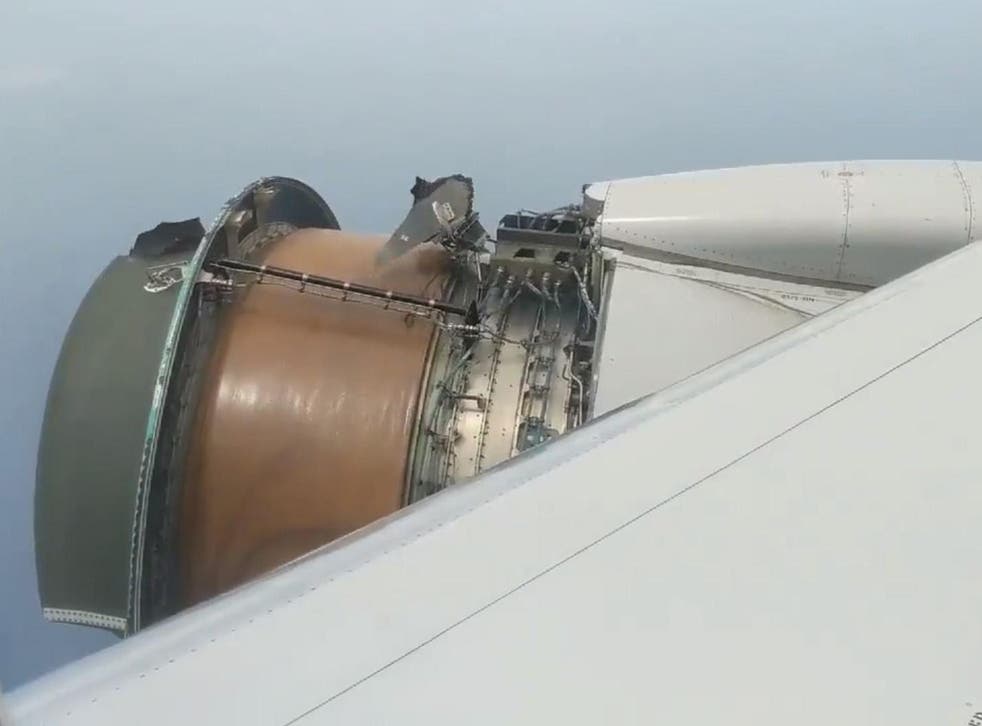 A United Airlines flight was forced to make an emergency landing after its engine began to fall apart over the Pacific Ocean.
Passengers told of hearing "a loud boom" and said the plane "really started shaking" after part of an engine cover was ripped off in mid-air.
One woman on board described the "scariest flight of my life" after the airliner landed safely at Honolulu.
Video filmed by a passenger showed an engine, its exterior cover missing, shaking as pieces of its casing flapped in the wind.
"There was a loud bang... and then the plane really started shaking," passenger Allison Sudiacal told Hawaii News Now. "There was a loud boom and then it was like rattling and the plane was kind of shaking like boom, boom, boom."
The drama began about 35 minutes before the United flight 1175 from San Francisco was scheduled to land in Hawaii. Pilots declared an emergency due to a vibration in the right engine and warned airport ground crew.
The Boeing 777 landed safely, said a Federal Aviation Administration (FAA) spokesman. Some 363 passengers and 10 crew were on board.
"They let us know that we had to brace for impact in case there was a rough landing," said Ms Sudiacal, who was travelling with her four-month-old son, her husband Tim and his parents. "It was scary. But [the crew] did a really good job."
Maria Falaschi, a marketing consultant from San Francisco, wrote on Twitter: "Scariest flight of my life."
She posted photos on the social media website of the aircraft's engine with its covering, also known as the cowling, missing.
United said pilots called for an emergency landing "because of an issue with the #2 engine".
"Our pilots followed all necessary protocols to safely land the aircraft," the airline added. Paramedics and fire crews were waiting at the airport as a precaution but were not needed.
A United spokesman could not immediately say whether the plane's engine continued to function after the casing came off.
He said the airline was "fully cooperating" with investigations by the FAA and the National Transportation Safety Board.
Register for free to continue reading
Registration is a free and easy way to support our truly independent journalism
By registering, you will also enjoy limited access to Premium articles, exclusive newsletters, commenting, and virtual events with our leading journalists
Already have an account? sign in
Join our new commenting forum
Join thought-provoking conversations, follow other Independent readers and see their replies