United Airlines CEO admits removing passenger David Dao was a 'mistake of epic proportions'
Oscar Munoz admits it is 'is a turning point for United and our 87,000 professionals'
Steven Banks
Wednesday 03 May 2017 01:17 Comments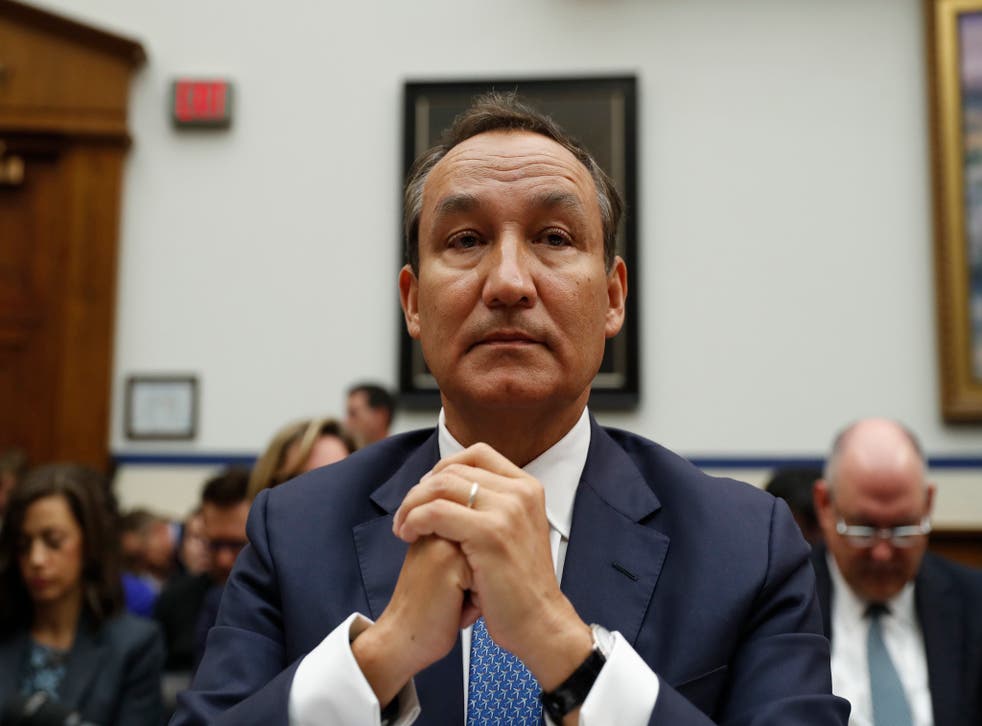 The forcible removal of a passenger from a United Airlines flight was a "mistake of epic proportions", the airline's chief executive Oscar Munoz has admitted to US politicians.
"This is a turning point for United and our 87,000 professionals," he told a hearing of the transportation committee of the House of Representatives in Washington DC.
"It is my mission to ensure we make the changes needed to provide our customers with the highest level of service and the deepest sense of respect."
He added: "It was a mistake of epic proportions, clearly, in hindsight."
The passenger, David Dao, was treated in a way that no customer – or individual – should be treated, he said, adding that it was a "terrible experience" that should never be repeated.
Mr Dao was waiting to fly from Chicago to Louisville, Kentucky, on 9 April when the airline decided it needed four seats on his flight for Republic Airline crew members needed to work on a United Express flight in Louisville the next morning.
When Mr Dao and his wife were selected for bumping, he refused to leave and was then dragged off the flight, suffering injuries that his attorney has said included lost teeth, a broken nose and a concussion.
Video of the incident sparked withering criticism and mockery of United online and in the media.
Man brutally dragged off United Airlines flight: "Please kill me"
Mr Munoz initially blamed Mr Dao, but later said he was horrified by the event and called it a failure on United's part.
United reached a settlement with Dao and issued new policies designed to prevent customer-service failures. The airline and lawyers for Dao have declined to disclose financial terms of the settlement.
Mr Dao's attorney has praised the airline and Munoz for accepting responsibility and not blaming others, including the city of Chicago, whose airport security officers yanked Dao from his seat and dragged him off the United Express plane.
United has vowed to reduce – but not eliminate – overbooking. The airline will raise to $10,000 (£7,760) the limit on payments to customers who give up seats on oversold flights, Munoz said. The airline also said it would improve employee training.
World news in pictures

Show all 50
The incident ignited a debate about poor service and a lack of customer-friendly policies on US airlines. United's president, Scott Kirby, joined MR Munoz at the hearing, along with top executives of American Airlines, Alaska Airlines and Southwest Airlines.
The House transportation committee chair, Bill Shuster, a Pennsylvania Republican, said United and other carriers should use the notoriety of Dao's removal to improve customer service. If changes are not made, he said, Congress was likely to step in.
"Seize this opportunity," Mr Shuster told Mr Munoz and the other executives. Otherwise, "we're going to act and you're not going to like it". Shuster predicted a "one-size-fits-all" solution that may serve some airlines, but not all.
Register for free to continue reading
Registration is a free and easy way to support our truly independent journalism
By registering, you will also enjoy limited access to Premium articles, exclusive newsletters, commenting, and virtual events with our leading journalists
Already have an account? sign in
Join our new commenting forum
Join thought-provoking conversations, follow other Independent readers and see their replies