Woman claims United Airlines paid her $75 'hush money' after man masturbated next to her
She says she was horrified and 'shook silently' in her seat after becoming aware of what the man was doing, ultimately having a panic attack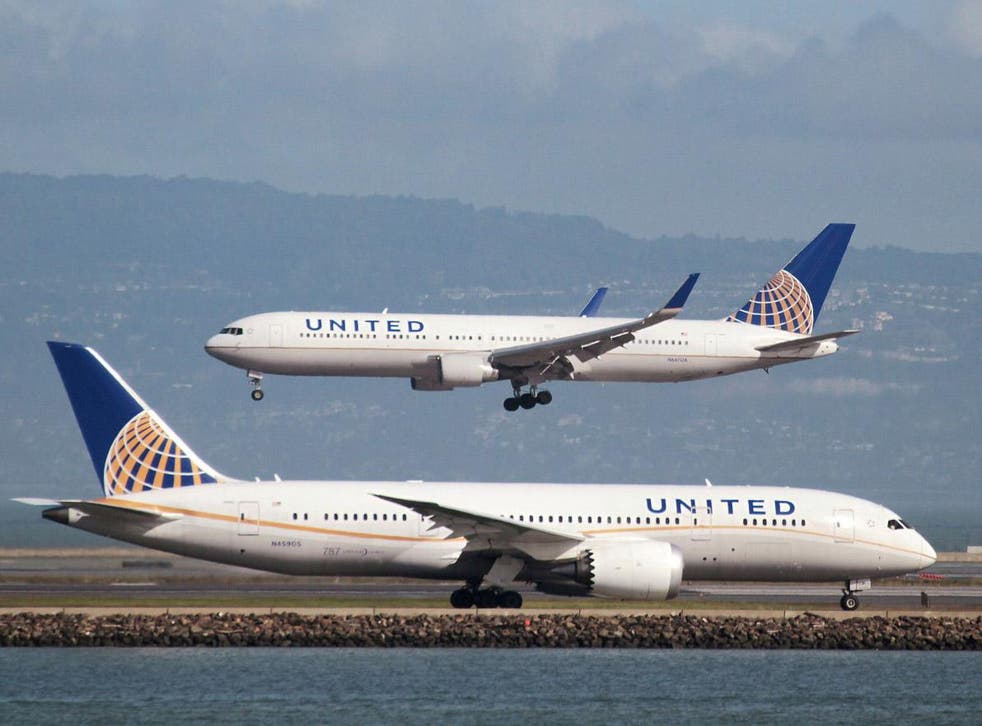 A woman has alleged United Airlines paid her $75 of "hush money" after a man masturbated next to her for hours during a flight.
Mikaela Dixon, 21, said she was aboard a United Airlines flight from Orange County in California to Chicago with her boyfriend on 11 August when the man seated on the aisle seat in her row quietly masturbated next to her.
Ms Dixon said she was horrified and "shook silently" in her seat after becoming aware of what the man was doing, ultimately having a panic attack.
"I just spent hours next to a guy who was masturbating on this flight. My bf was asleep in the window seat, I'm in the middle, and the man is in the aisle. I had no idea what to do, I couldn't get up bc I didn't want to go anywhere near him…" her tweet read.
Ms Dixon then explained why she chose not to notify a flight attendant.
World news in pictures

Show all 50
"I couldn't call an attendant over because he's in the aisle seat and would've heard me reporting him," she said. "I sat there shaking until he got up to go to the bathroom as we landed. Attendants came over, moved my seat, at this point the guy came back and knew what was happening".
Ms Dixon said she was told by United the man would be detained by Chicago police when the plane landed. However, when she got in touch with the police, they had not been informed of the incident.
She claimed United informed her she would not know what happened to the man after the flight unless she were to press charges.
Ms Dixon argued the airline did not want the public to know about her ordeal.
"They were desperately trying to keep it internal," she told BuzzFeed News on Wednesday.
The airline issued a statement to Fox News which confirmed parts of Ms Dixon's account. They said airline officials are "investigating the matter to learn more about what happened."
British couple who 'lost' passports on plane forced to fly back home
"The safety and well-being of our customers is our top priority," the statement continued. "Our customer was immediately moved to a different seat when the flight attendants were made aware of the issue and the aircraft was met by our security personnel. Although United Airlines, as a company, cannot press charges on our customers' behalf, we will provide as much assistance as possible to law enforcement authorities should they investigate this matter further."
But Ms Dixon is not content in not knowing what happened to the man and has accused the airline of lying.
"Basically United lied about everything, let the man go after a few questions, and refused to involve law enforcement until I called the cops myself and forced them to file a report w the FBI," she tweeted.
In June, the FBI revealed that airline assaults against women are growing at "an alarming rate". The number of sexual assaults on aircrafts increased 66 per cent from 2014 to 2017.
The Independent contacted a representative of United Airlines for comment.
Register for free to continue reading
Registration is a free and easy way to support our truly independent journalism
By registering, you will also enjoy limited access to Premium articles, exclusive newsletters, commenting, and virtual events with our leading journalists
Already have an account? sign in
Register for free to continue reading
Registration is a free and easy way to support our truly independent journalism
By registering, you will also enjoy limited access to Premium articles, exclusive newsletters, commenting, and virtual events with our leading journalists
Already have an account? sign in
Join our new commenting forum
Join thought-provoking conversations, follow other Independent readers and see their replies