United Airlines: Previous case of company officers threatening to handcuff passenger re-emerges after video goes viral
'They told me they needed the seat for somebody more important who came at the last minute', says Geoff Fearn
Chloe Farand
Thursday 13 April 2017 15:29 Comments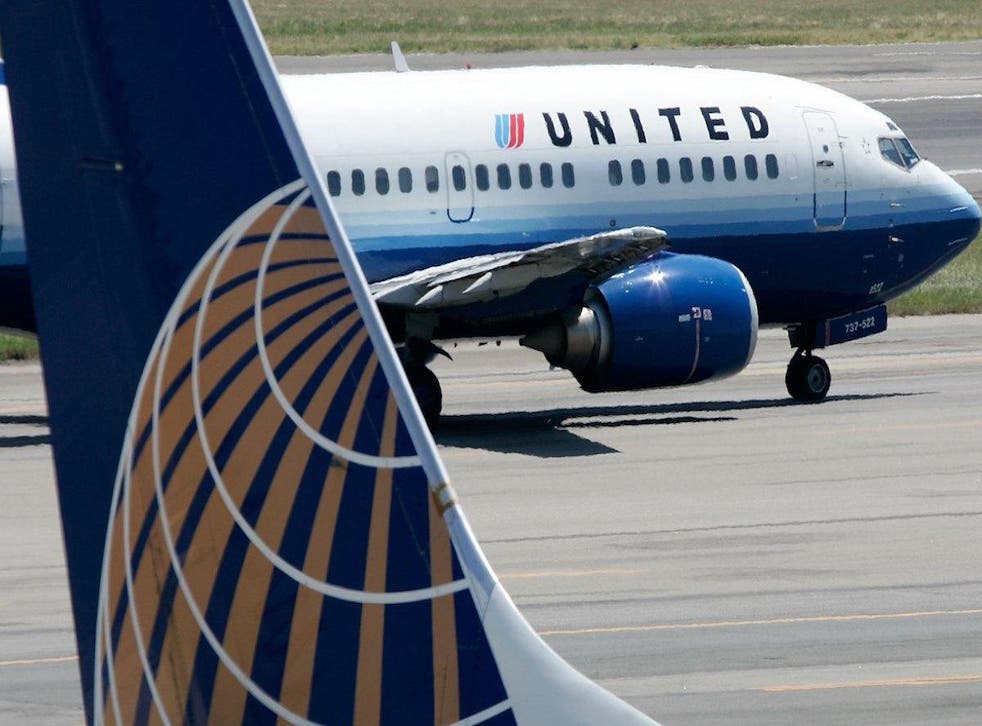 As the controversy over United Airlines rages on after a passenger was violently dragged off his seat in an overbooked flight, another passenger has come forward saying the airline previously threatened to handcuff him if he refused to leave the plane.
Geoff Fearn, 59, also had a bad experience when he tried to remain in the seat he booked on board the United Airlines flight from Hawaii to Los Angeles last week.
The investment firm president told the Los Angeles Times that he was returning from a business conference and needed to be back early. He said he had paid about $1,000 (£800) for a first class ticket leaving Lihue Airport, on the island of Kauai.
But as Mr Fearn, a member of the airline's frequent traveller programme, was enjoying a complimentary orange juice, United Airlines employees reportedly boarded the aircraft and told him he had to get off the plane because the flight was overbooked.
"They told me they needed the seat for somebody more important who came at the last minute," Mr Fearn told the newspaper. "They said they have a priority list and this other person was higher on the list than me.
"They were telling me I had no choice. They said they'd put me in cuffs if they had to."
Mr Fearn's story echoes what happened to 69-year-old David Dao, a doctor from Kentucky, who was filmed in a viral video bleeding from his mouth after law enforcement officers selected him at random and tried to remove him from the overbooked flight leaving Chicago.
During the incident, passengers allegedly heard the doctor saying he could not delay his journey because he had appointments with his patients scheduled for the next day.
Dr Dao is receiving treatment in Chicago hospital and told a local TV channel he was not doing well.
Mr Fearn resigned himself to give up his seat, when he was confronted with the enforcement officers and the company agreed to keep him on the plane.
He was downgraded to the economy class and reportedly spent the six-hour flight sat in between a couple, who had had an argument and refused to sit next to each other.
World news in pictures

Show all 50
Upon arrival in California, Mr Fearn said he complained to United Airlines and asked for a refund.
He received an apology for the "unpleasant flight" but the company only agreed to refund him the price difference between a first and second class ticket.
A United Airlines spokesman said: "We are aware of this incident that resulted from switching to a smaller aircraft and are sorry for Mr. Fearns' entire travel experience with us. This was not the experience any customer should have while traveling with us. As part of our larger review of how we can further empower our employees to handle similar situations and do the right thing for our customers, we are going to reach out to Mr Fearns again and talk to our employees."
Following the outrage sparked by Dr Dao's own experience with United Airlines, the company's chief executive Oscar Munoz said "this will never happen again" and sent his "deepest apologies" to the passenger.
He also said that the airline would review its use of law enforcement officers to remove passengers from overbooked plans.
Register for free to continue reading
Registration is a free and easy way to support our truly independent journalism
By registering, you will also enjoy limited access to Premium articles, exclusive newsletters, commenting, and virtual events with our leading journalists
Already have an account? sign in
Join our new commenting forum
Join thought-provoking conversations, follow other Independent readers and see their replies