North Korea threatens 'nuclear storm' against China as ally makes pact with US
'Of great importance to both of us is North Korea's pursuit of nuclear weapons, which threatens the security and stability of the region'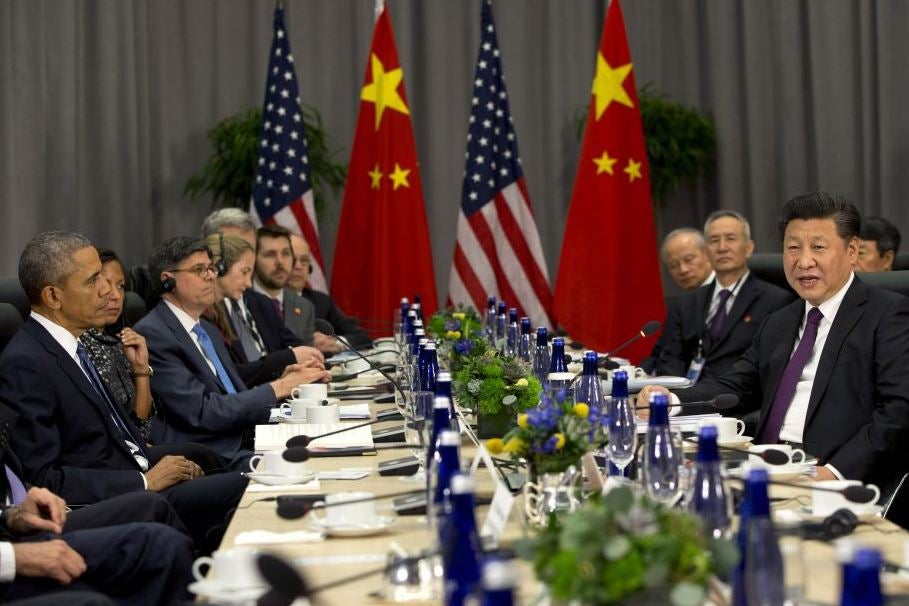 The US and China are united in wanting to prevent North Korea from carrying out further missile tests and committed to the "denuclearisation" of the region, Barack Obama has said.
Speaking following a meeting on the sidelines of the global nuclear summit, the US President said both he and his Chinese counterpart, Xi Jinping, wanted to see the "full implementation" of the United Nation's sanctions on North Korea.
But just hours after the meeting in Washington, North Korea appeared to fire a short-range missile from an eastern coastal area into the sea off the North's east coast, according to South Korea's Joint Chiefs of Staff. It is the latest in a series of weapon launches carried out by the country.
North Korea has lashed out against the UN sanctions - approved by the Security Council - aimed at withholding funds to its nuclear weapons and ballistic missile programmes.
In a letter which reportedly condemns Beijing's part in the sanctions, the Central Committee of the Workers' Party of North Korea has commanded its people to actively confront China with a "nuclear storm". The letter was obtained by the Daily NK but could not be independently verified.
And on Monday, North Korea's foreign minister Lee Su-yong said: "In response to the US frenzied hysteria for unleashing a nuclear war… we state resolutely about the readiness to deliver a pre-emptive nuclear strike."
Which countries have nuclear weapons?
Show all 14
Despite the threats, Mr Obama insisted both he and Mr Xi were "committed to the [denuclearisation] of the Korean Peninsula".
At the global nuclear summit, he said: "Of great importance to both of us is North Korea's pursuit of nuclear weapons, which threatens the security and stability of the region."
Mr Xi said: "China and the US have a responsibility to work together." China also agreed to fully implement the latest economic sanctions on North Korea.
Mr Obama also met with the leaders of Japan and South Korea, Shinzo Abe and Park Geun-hye. The US President said: "We are united in our efforts to deter and defend against North Korean provocations. We have to work together to meet this challenge."
North Korea violated the UN sanctions with a nuclear test in January and a satellite launch the following month.
Additional reporting by agencies
Join our commenting forum
Join thought-provoking conversations, follow other Independent readers and see their replies