Fidel Castro: A timeline of relations between Cuba and the US
Barack Obama today hailed what the White House called a 'new course' in US-Cuba relations
Adam Withnall
Wednesday 17 December 2014 18:03 Comments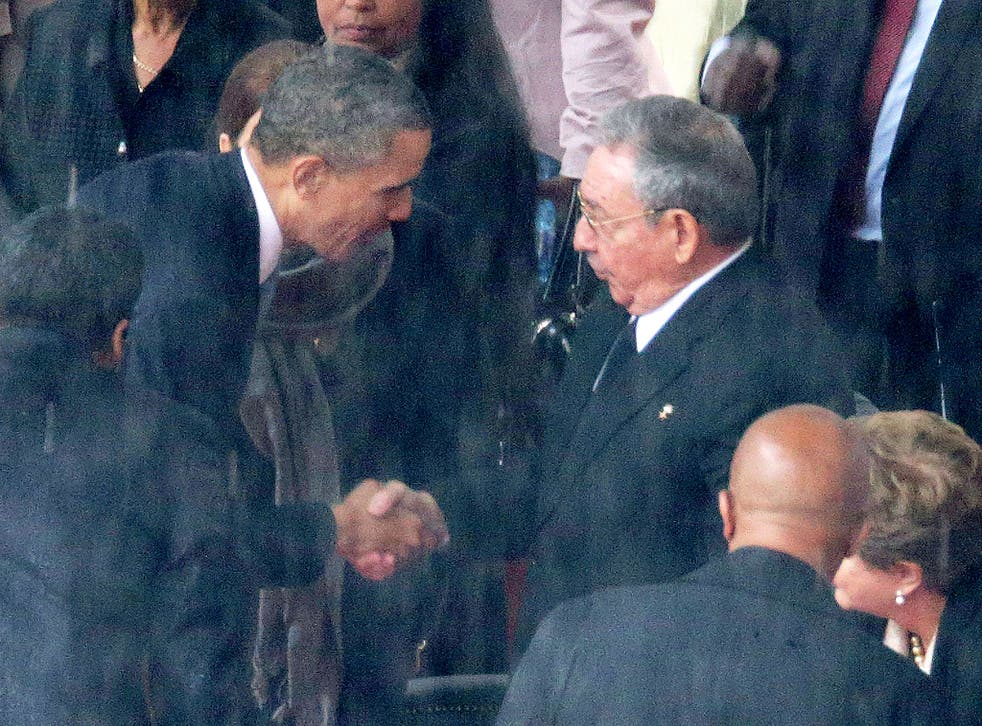 The US and Cuba have today laid out a series of "historic steps" aimed at improving relations between the two countries.
The talks will pave the way for a return to full diplomatic relations, as well as an easing of the trade and travel restrictions imposed by the US.
Here is a timeline of landmarks involving the two nations, from the rise of Fidel Castro to the present day:
July 1953: Fidel Castro begins leads a revolutionary campaign against the regime of Cuban President Fulgencio Batista.
January 1959: Castro and Che Guevara enter Havana after a successful final offensive. Batista flees, and Castro becomes prime minister, ruling by decree.
October 1960: Castro's reforms sees hundreds of US businesses in Cuba nationalised and their owners not compensated. In December, US US breaks off diplomatic relations and imposes a trade embargo.
April 1961: Cuban exiles launch the Bay of Pigs invasion with US backing.
October 1962: A 13-day confrontation known as the Cuban missile crisis begins when Castro allows the USSR to deploy nuclear missiles on the island. Generally regarded as the closest the world has come to nuclear war.
April 1980: A sharp downturn in the Cuban economy and Castro temporarily lifting restrictions sees around 125,000 people, many of them released convicts, flee to the US
February 1996: Cuba shoots down two US aircraft operated by Miami-based Cuban exiles, prompting the US to make its trade embargo permanent.
June 2001: The case of the "Cuban Five" begins, as five spies in Miami are convicted of providing intelligence to the Havana government.
In pictures: Timeline of US and Cuba relations

Show all 19
Nov 2001: US sells $30m of food to the Cuban government to assist in the aftermath of Hurricane Michelle, which killed 22 people, the first food export between the countries for more than 40 years
Oct 2003: US President George W Bush announces fresh anti-communist measures, including tightening the travel embargo and creating a new government body, the Commission for Assistance to a Free Cuba.
Aug 2006: President Bush seizes the opportunity of President Castro's illness and a handover of powers to Raul Castro, urging Cubans to work towards democratic change.
Feb 2008: Raul Castro officially takes over as president. Washington responds by saying its trade embargo will remain in force unless free and fair elections are held
Dec 2008: A poll by Florida International University suggests for the first time that a majority of Cuban-Americans living in Miami want an end to the embargo.
April 2009: President Obama lifts restrictions on family travel to Cuba.
Dec 2009: US aid worker Alan Gross is detained in Cuba on suspicion of spying for Washington.
Nov 2010: American Ballet Theatre performs in Cuba for the first time in 50 years, the most high-profile in a series of cultural exchanges.
Sep 2012: Cuba hints at its willingness to do a deal with Washington on the Gross case.
December 2013: President Obama and Raul Castro shake hands at the memorial service for Nelson Mandela. Castro says in English: "Mr President, I am Castro." It was hailed in Cuba as "the beginning of the end" for what were then described as "US aggressions".
Register for free to continue reading
Registration is a free and easy way to support our truly independent journalism
By registering, you will also enjoy limited access to Premium articles, exclusive newsletters, commenting, and virtual events with our leading journalists
Already have an account? sign in
Join our new commenting forum
Join thought-provoking conversations, follow other Independent readers and see their replies