US Army deletes tweet after accusations of racism, only to provoke more anger
The army said it did not intend to offend, but fell short of an official apology
Emma Finamore
Sunday 01 February 2015 13:46 Comments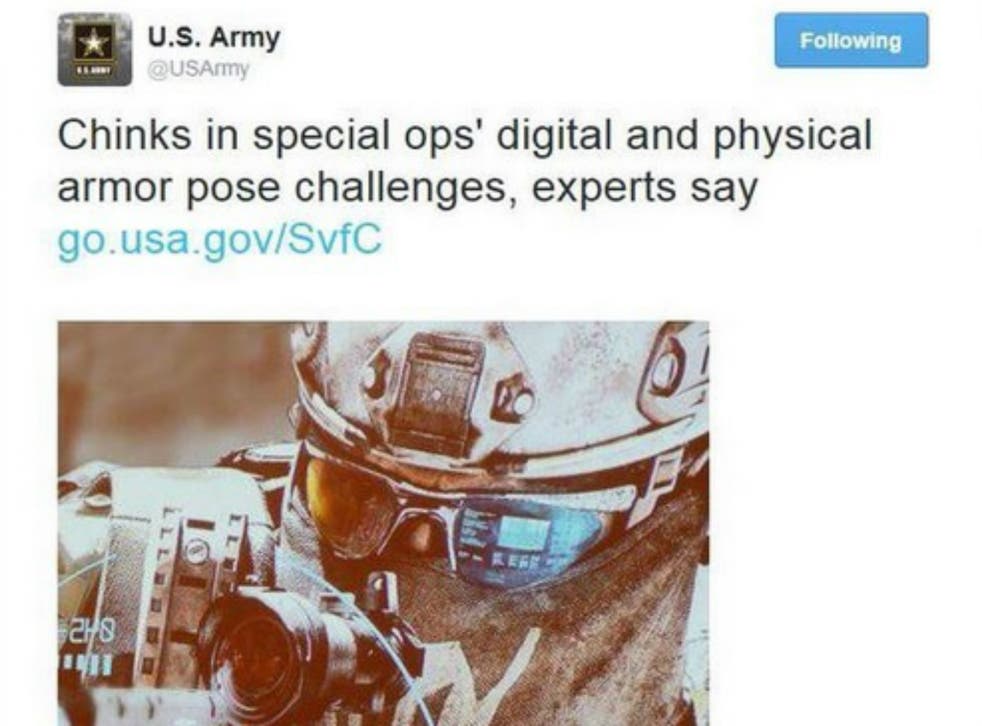 The US Army has deleted a tweet after it was accused of being racist.
On Thursday, the army's official account sent a tweet referring to "chinks" in the armour of its Special Operations capabilities.
It read: "Chinks in special ops' digital and physical armor poses challenges, experts say."
Even though "chinks in armour" is an expression referring to a weakness or vulnerability, the tweet was received with anger by some, who pointed out that the word "chink" can also be used as a racist term referring to people of Chinese descent.
The Army, whose main Twitter account has 589,000 followers, has since deleted the tweet and amended the press release linked to it (the URL remains the same).
Lt. Col. Alayne Conway, an army public affairs officer, told The Washington Post that the army was surprised by the reaction "since there is nothing even remotely racial" in the expression.
"The phrase and word have been in use for more than 600 years; it is a proper noun, meaning a 'crack' or 'fissure,' as defined by Webster's," she said.
"Nevertheless, based on feedback from some followers who expressed offense, we deleted it. It was certainly not our intention to offend anyone."
Even though the post was deleted, the US Army did not issue an apology – provoking even moer anger.
In turn, this anger has provoked outrage at political correctness "gone mad" and accusations that the army have "succumbed to the perpetually outraged".
Register for free to continue reading
Registration is a free and easy way to support our truly independent journalism
By registering, you will also enjoy limited access to Premium articles, exclusive newsletters, commenting, and virtual events with our leading journalists
Already have an account? sign in
Join our new commenting forum
Join thought-provoking conversations, follow other Independent readers and see their replies