Border patrol agent's explosive 'gender reveal' stunt sparks 47,000-acre wildfire and causes £6.3m damage
More than 800 firefighters battled flames for week after Dennis Dickey, 37, shot rifle at target containing pink and blue explosive powder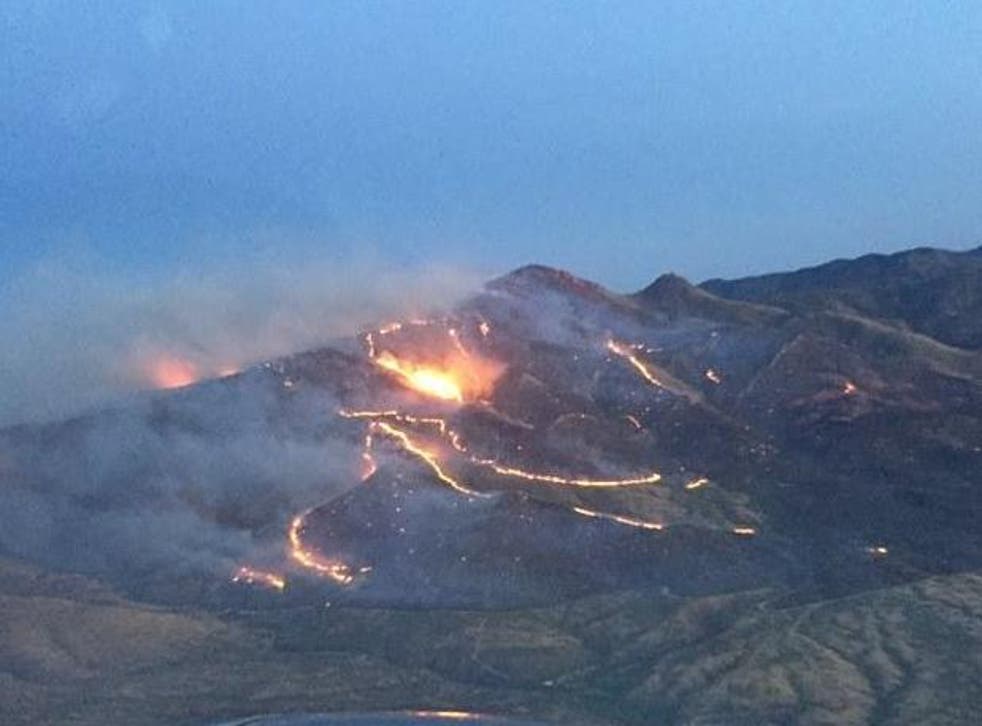 An elaborate stunt planned by a US Border Patrol agent to reveal the sex of his future child sparked a massive wildfire that spread over 47,000 acres of land and caused $8.2m (£6.3m) damage.
Dennis Dickey, 37, shot a rifle at a target containing Tannerite, a highly explosive powder, at a "gender-reveal party" near Green Valley in Arizona.
The "high-velocity" bullet was intended to cause an explosion of either blue or pink powder, but it also sparked flames which spread rapidly to the Coronado National Forest.
More than 800 firefighters battled the blaze, which became known as the Sawmill Fire, as it burned for more than a week in dry and windy conditions in April 2017.
Hundreds of people were forced to evacuate their homes but no one was hurt.
Dickey, of Tucson, Arizona, pleaded guilty to a misdemeanour violation of US Forest Service regulations on Friday.
He agreed to pay compensation totalling $8,188,069 (£6,316,000), according to the US Attorney's Office, although it is unlikely he will pay anything close to that amount.
Dickey will pay an initial sum of $100,000 on 7 October, followed by monthly payments.
His lawyer Sean Chapman said he would pay $500 a month for the next 20 years, or more if his salary increases, the Arizona Daily Star reported.
Dickey told a US magistrate judge the fire had been "a complete accident".
"I feel absolutely horrible about it. It was probably one of the worst days of my life," he said.
Dickey reported the fire immediately and admitted starting it, according to a US Department of Justice statement.
He was not on duty as a Border Patrol agent at the time and is not expected to lose his job.
World news in pictures

Show all 50
Tannerite is a legal explosive mostly commonly used for shooting practice but which has become increasingly popular at pregnancy celebrations.
Retailers have even begun selling gender-reveal kits containing the compound along with two colours of power - usually blue to indicate the baby is a boy, and pink for a girl.
The parties, an American trend which have been growing in popularity in the UK, began with more low-key methods such as balloons containing blue or pink confetti.
The sex of Dickey's child has not been revealed.
Register for free to continue reading
Registration is a free and easy way to support our truly independent journalism
By registering, you will also enjoy limited access to Premium articles, exclusive newsletters, commenting, and virtual events with our leading journalists
Already have an account? sign in
Register for free to continue reading
Registration is a free and easy way to support our truly independent journalism
By registering, you will also enjoy limited access to Premium articles, exclusive newsletters, commenting, and virtual events with our leading journalists
Already have an account? sign in
Join our new commenting forum
Join thought-provoking conversations, follow other Independent readers and see their replies