White House moves to reassure China after Donald Trump's call with Taiwan
President-elect broke decades of foreign policy protocol by speaking with the Taiwan president last week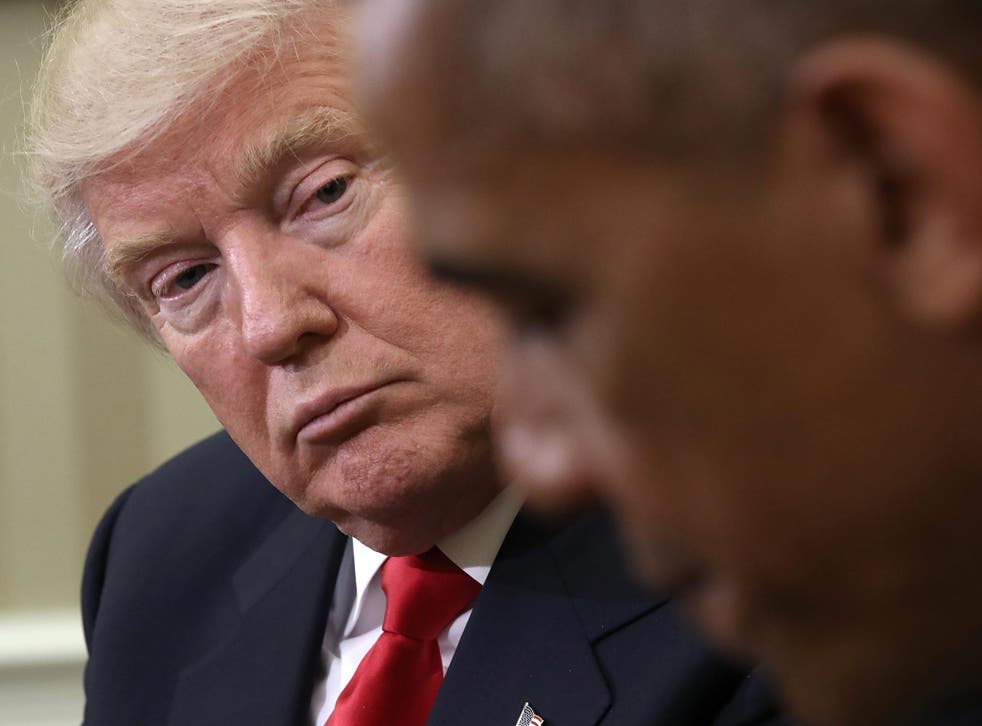 White House officials say they have spoken with Chinese leadership following President-elect Donald Trump's call with Taiwan President Tsai Ing-wen.
Federal officials called to reassure the country that the US still adheres to the "One China" policy, which does not recognise Taiwan as its own sovereign nation.
White House spokesperson Josh Earnest said officials "do not understand why" Mr Trump's conversation with Taiwanese leader took place, but assured reporters that there would be no change in the official US position on the policy.
"If the President-elect's team has a different aim, I'll leave it to them to describe," he said.
The call set off a diplomatic protest by Beijing with the "relevant side" in the US.
On Friday, Mr Trump held the 10-minute phone call with Ms Tsai, which he said was congratulatory. After sparking concerns of a conflict with China, Mr Trump deflected blame for the call to Ms Tsai.
"The President of Taiwan CALLED ME today to wish me congratulations on winning the Presidency. Thank you!" Mr Trump tweeted.
Donald Trump breaks US policy stance with Taiwan call
The Taipei Times originally reported that the call was "arranged by his Taiwan-friendly campaign staff".
A spokesperson for Ms Tsai, Alex Huang, said: "Of course both sides agreed ahead of time before making contact."
The Trump transition team said that "they noted the clsoe economic, political, and security ties that exist between Taiwan and the United States".
Chinese Foreign Minister Wang Yi rebuked Taiwan for the phone call.
"This is just the Taiwan side enaging in a petty action, and cannot change the 'One China' structure already formed by the international community," he said. "I believe that [the call] won't change the longstanding 'One China' policy of the United States government."
The US first adoped the 'One China" policy in 1972 after meetings between President Richard M Nixon and Chairman Mao Tse-tsung – later solidified by President Jimmy Carter. Under the policy, the US retains unofficial ties to Taiwan while recognising Beijing as representing China. China considers Taiwan a renegade country.
Over the weekend, Secretary of State John Kerry said it would be "valuable" if President-elect Trump informed current officials that any such calls with foreign leaders beforehand.
"We have not been contacted before any of these conversations [with foreign leaders]," he said. "I do think there is value, obviously, on having at least the recommendations. Whether you choose to follow them or not is a different issue, but I think it's valuable to ask people who work the desk [for] their input on what's the current state, is there some particular issue at the moment.
"I think that's valuable, and I would certainly recommend it but, obviously, that hasn't happened."
Register for free to continue reading
Registration is a free and easy way to support our truly independent journalism
By registering, you will also enjoy limited access to Premium articles, exclusive newsletters, commenting, and virtual events with our leading journalists
Already have an account? sign in
Register for free to continue reading
Registration is a free and easy way to support our truly independent journalism
By registering, you will also enjoy limited access to Premium articles, exclusive newsletters, commenting, and virtual events with our leading journalists
Already have an account? sign in