US Constitution pocketbook is best-seller after father of fallen Muslim soldier asks Donald Trump to read it
Khizr Khan waved his worn pocketbook and said to Mr Trump: 'I will gladly lend you my copy'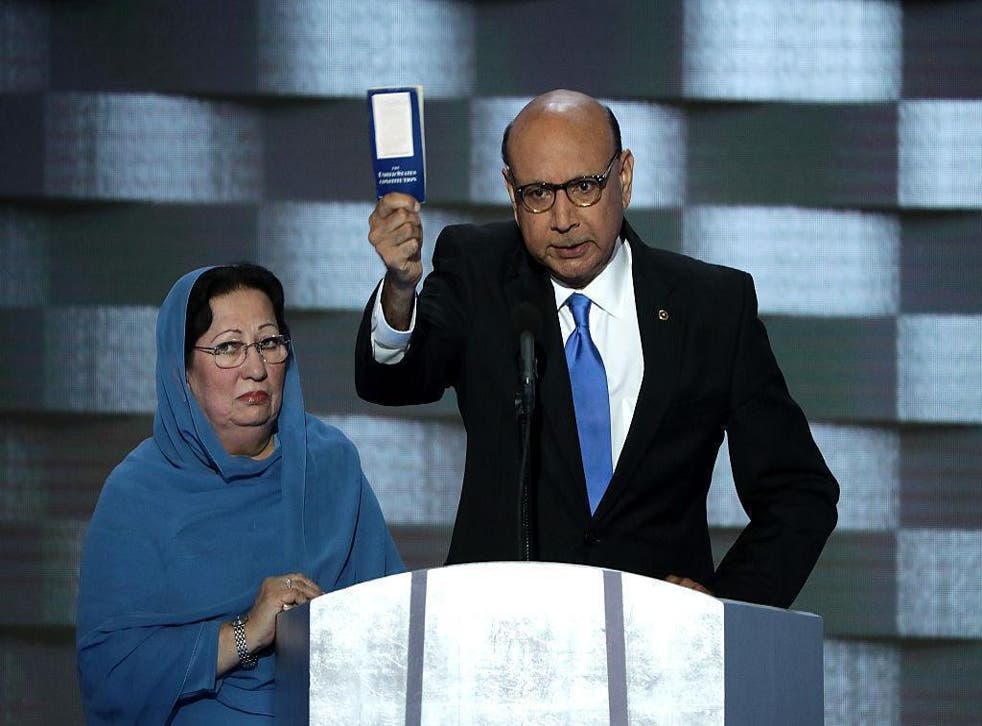 When the father of a slain Muslim soldier asked Donald Trump if he had read the US Constitution, it may have prompted a wave of collective national guilt.
The pocketbook of the Constitution, sold for $1 on Amazon.com, is one of the 10 best-selling books over the weekend.
The 52-page pocket edition, which also includes the Declaration of Independence, has been printed by the National Centre for Constitutional Studies and is based on the original text.
The Amazon best-seller has a picture of former president George Washington on the cover and does not appear to be the same version which Khizr Khan held up while he was speaking at the Democratic National Convention.
"Donald Trump, you're asking Americans to trust you with their future," said Mr Khan.
"Let me ask you, have you even read the United States Constitution? I will gladly lend you my copy. In this document, look for the words, look for the words, liberty and equal protection (under) law."
Mr Khan is the father of Humayan Khan, a soldier who died when a car bomb exploded during the Iraq War in 2004 and who was posthumously awarded the bronze star and the purple heart.
Father of Muslim-American soldier killed in action tells Donald Trump: You have sacrificed nothing
Mr Khan told CNN's State of the Union that Mr Trump was "totally incapable of empathy".
"I want his family to counsel him. Teach him some empathy. He will be a better person, but he has a "black soul".
Mr Trump hit back at the soldier's parents, saying he had made sacrifices like working "very hard" and questioned whether the soldier's mother, Ghazala Khan, had been allowed to speak as she stood on the stage next to her husband.
Ms Khan responded in a Washington Post op-ed that although she had been silent, America had "felt her pain".
Mr Trump's campaign manager, Paul Manafort, defended his employer's view and said that the death of Humayan Khan was an enormous loss and a "tragedy", but it was not "the issue".
"The issue is not Mr Khan and Donald Trump, the issue really is radical Islamic jihad and the risk to the American homeland. That's the issue," he told CBS news.
Join our new commenting forum
Join thought-provoking conversations, follow other Independent readers and see their replies