US couple travelling to China to reunite adopted daughter with the twin they never knew about
The family are working to expedite the paperwork so they can go get Avery sometime in July
Colby Itkowitz
Tuesday 10 May 2016 11:58 Comments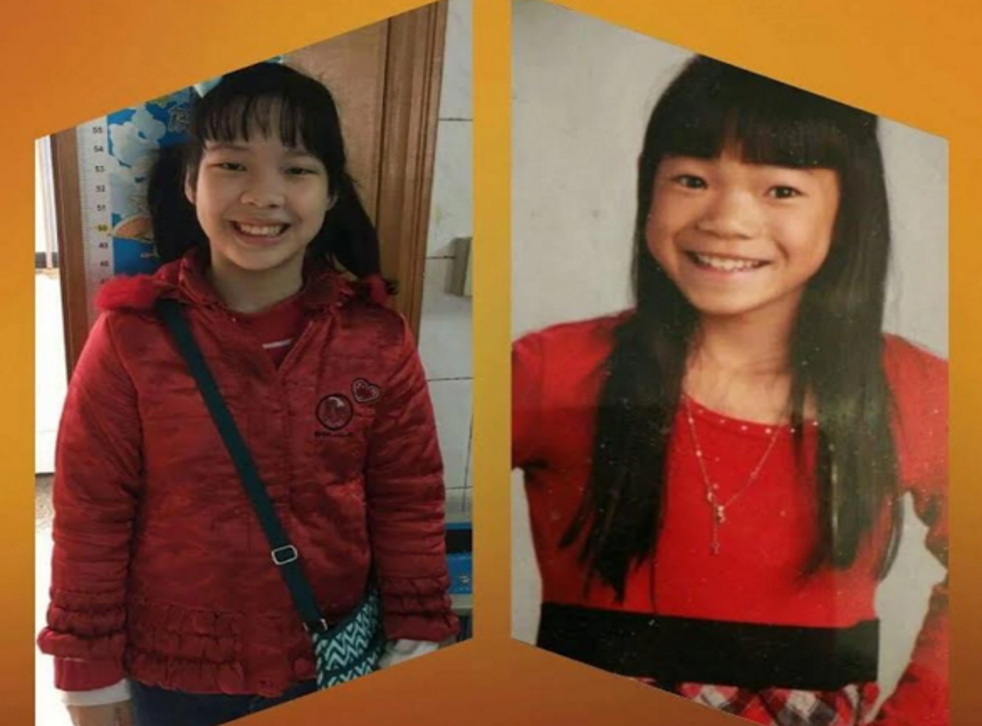 Lisa Lumpkins was scrolling Facebook when she first saw the photo. In her newsfeed, a group that identified older children in need of adoption had posted a picture of a teenage Chinese girl who looked strikingly like her own daughter.
The image bore into her mind and she couldn't shake it. She thought maybe she was imagining the similarity. So she shared the post on her personal page and almost instantly close family and friends were messaging her: That girl looks a lot like Aubrey.
Lumpkins and her husband, Gene, lived a comfortable life in Georgetown, Ky., with two children, 7 and 14, a mortgage and a Lexus in the garage. She was done having biological children, but ever since she was a young girl playing with her baby dolls, she'd felt a pull to adopt. Her husband felt it, too.
They decided to adopt a child from China, and originally were signed up for a traditional adoption. But then they heard about special-needs adoptions and knew those were the children who needed them the most.
Lumpkins, 43, is terrified of flying and had never been on an airplane -- aside from a quick commuter trip she took to prepare herself -- before she flew across the world in 2008 to get her first Chinese baby, Maya, an 18-month-old girl with bowel and gallbladder complications. When she brought Maya home, she couldn't stop thinking about the other children left behind in the orphanage.
"I felt like I left a part of my heart in China," she said. Since then, she and her husband have adopted three more children from China: Noah in 2010, Aubrey in 2013 and Carter in 2014.
The Lumpkinses traded in their Lexus for a used 1999 Toyota minivan. They used to derive pleasure from collectible cars and motorcycles and vacations. But they cut back on all of that to save money for the adoption costs -- about $35,000 per child when all was said and done.
"When you go to an orphanage and see these kids and all they want is love, what is important changes," Lisa Lumpkins said. "They've changed the person I am. Your values, what's important ... it's not about how much money you have or the fancy car or the big diamond ring, there's more to life. It's about what can you do to help someone else."
World news in pictures

Show all 50
Aubrey was the oldest of the children they adopted. She was 9 years old and born with cerebral palsy. In the orphanage, she'd never been taught to read or write -- only to color. Now 13, she's on the honor roll, Lumpkins said.
It was early March when Lumpkins saw the photo of the girl who she thought looked like Aubrey. She contacted the orphanage in China and was amazed that it agreed to let her pay for a DNA test, she said. She sent in a swab of Aubrey's saliva and soon it was confirmed: The girl, whose name is Avery and also has cerebral palsy, was her daughter's twin. Aubrey never knew she had a sister.
The Lumpkinses still owed money for Carter's adoption, and had no idea how they would afford another one. They couldn't borrow against the house again, and there were six other children who depended on them financially.
"God, I know you didn't let us find her to lose her," Lumpkins prayed. "She needs to be here, she needs to be with her family. What a gift to give to both of them."
One complication was Chinese law. Once a child turns 14, they are no longer eligible for overseas adoption. Avery and Aubrey will turn 14 in August. Some orphanages will give teenagers jobs caring for younger children, Lumpkins said, but others send them out on their own with no education or training or life skills to survive.
The Lumpkinses set up an online fundraiser that didn't get any traction, but it was spotted by a former British stockbroker-turned-altruist, Leon Logothetis, who has dedicated the past four years of his life traversing the world looking for people in need. He helped them start a GoFundMe page -- his latest endeavor is elevating stories on the site that weren't getting attention -- and within just two weeks they've raised more than $25,000.
"When I met them in person it's so powerful to meet a family that comes from their hearts," Logothetis said. "This is a family who has created an environment where the first thing you feel is how much love there is."
The Lumpkinses are working to expedite the paperwork so they can go get Avery sometime in July before her birthday. Because of the generosity of strangers, they are getting close to having enough to cover the adoption. Any extra money can go toward medical expenses and getting a larger car to hold a family of nine, Lumpkins said.
"I'm speechless. I've cried so many times," she said. "In a world where there is so much hate, there are still so many good people who care and who love. I haven't had words."
Copyright: Washington Post
Register for free to continue reading
Registration is a free and easy way to support our truly independent journalism
By registering, you will also enjoy limited access to Premium articles, exclusive newsletters, commenting, and virtual events with our leading journalists
Already have an account? sign in
Join our new commenting forum
Join thought-provoking conversations, follow other Independent readers and see their replies