US airports experience 'nationwide system shutdown'
'The regular line has several hundred, if not thousands in it', one traveller waiting in line at New York JFK writes on Twitter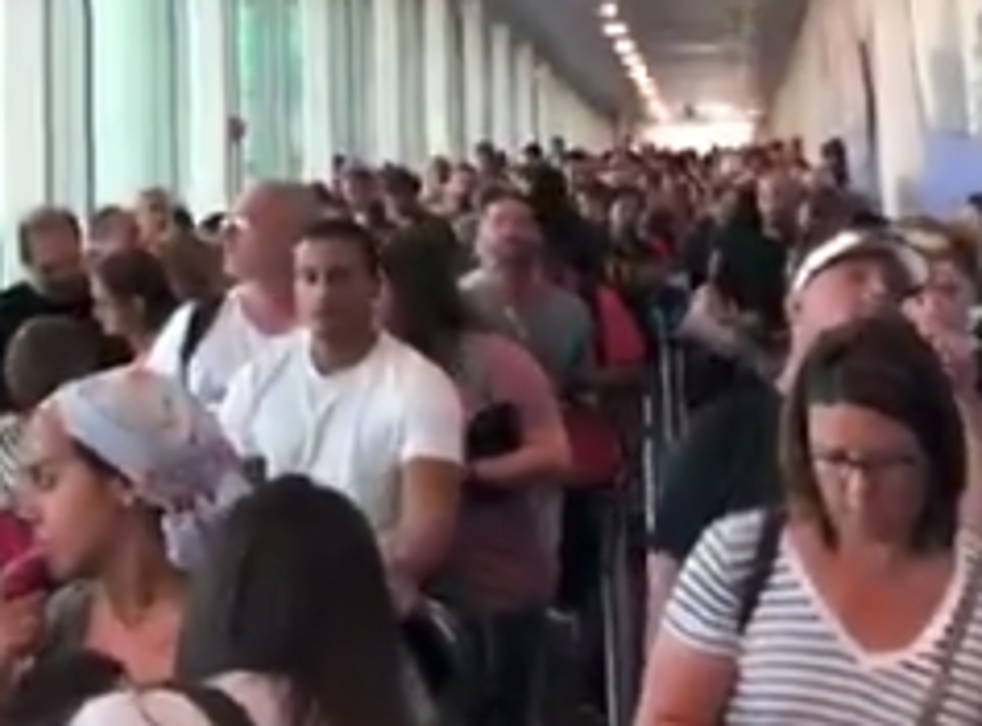 The US Customs and Border Protection (CBP) computer system is experiencing a "nationwide" shutdown.
"CBP officers continue to process international travellers using alternative procedures until systems are back online," the organisation tweeted from its Washington DC headquarters.
Overseas visitors to the US are subject to rigorous examination by border officials, including checks on databases of individuals suspected of involvement in terrorism or other crime.
The shutdown was confirmed by John F Kennedy International Airport in New York, and by Los Angeles International Airport.
Massive lines have been reported by travellers entering the US.
"Here's a better perspective of the customs line at JFK, said Sarah Baird. "People are growing frustrated. Nothing like landing after a 10 hour flight to this: pic.twitter.com/WrEUsoJhbH"
Onboard Virgin Atlantic Pride Flight

Show all 43
T"I'm in the global entry line and the regular line has several hundred if not thousands in it," Twittter user Sarah Baird wrote in a tweet.
Support free-thinking journalism and attend Independent events
"People are getting frustrated. Nothing like landing after a 10-hour flight to this," the Twitter user wrote.
Other travellers on social media reported: "Easily 5,000+ passengers in line at Dulles [Washington DC]" and "it's a mess at EWR [Newark, New York]".
Travellers from Canada reported problems with the land border crossings to the US, and also airport "pre-clearance" locations such as Toronto: "Zero line movement," reported Darin Hamilton, from the US pre-clearance area at Pearson airport in Toronto.
Seattle airport tweeted shortly before 3pm local time: ​"CBP systems are back online and the backlog of passengers are being processed."
But The Independent has not yet had this statement corroborated.
While the issue affects only arriving passengers, it could swiftly feed through to departures – for example if planes are held on the ground after arriving from Europe, because of lack of space at the gates, schedules could soon start to unravel.
Join our new commenting forum
Join thought-provoking conversations, follow other Independent readers and see their replies