2020 polls: Biden's lead narrows but analysts say Trump 'will lose' election
American professor who correctly predicted Trump's victory in 2016 anticipates his fall this time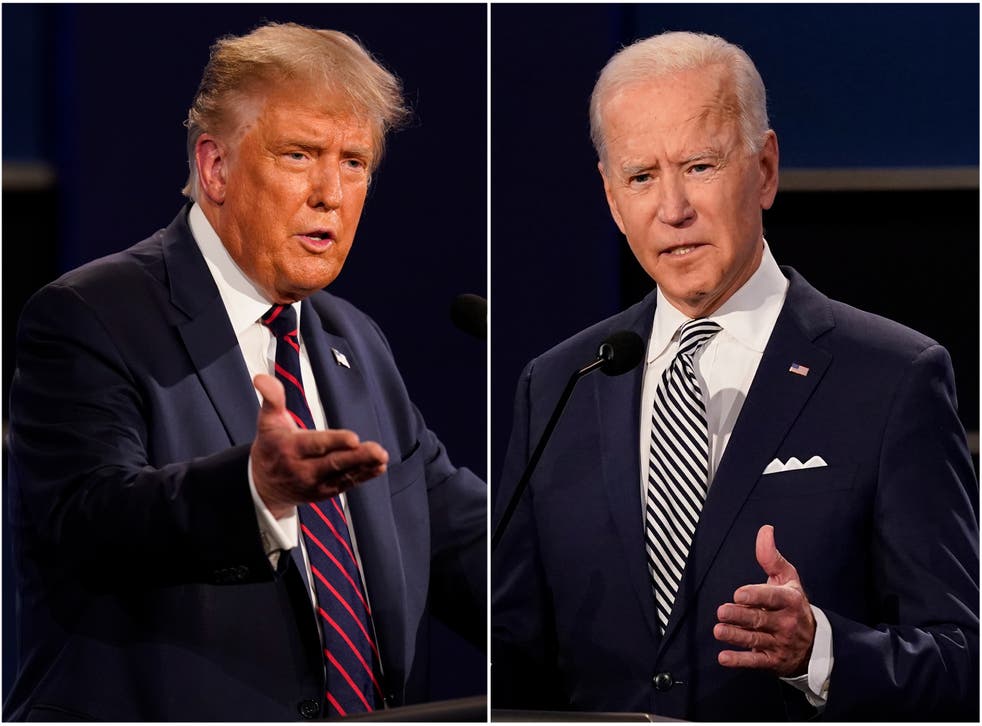 With just a couple of weeks to go until the US elections, Joe Biden's lead over Donald Trump is becoming narrower – particularly in key swing states where both campaigns are devoting most of their attention.
Mr Trump visited Pennsylvania for only his second rally after recovering from coronavirus, and is already scheduled to return there later on Tuesday when he will reportedly be joined by First Lady Melania Trump. 
And according to a Reuters/Ipsos opinion poll released on Monday, Mr Biden's lead in the crucial state has dropped to just four percentage points, with 49 per cent of likely voters backing him compared to 45 per cent for Mr Trump. Last week the same polling showed a seven percentage point gap in the state. 
Mr Trump is seeing strong polling in Pennsylvania for his handling of the economy, with 51 per cent backing him on the issue compared to 42 per cent for Mr Biden. On who would handle the coronavirus pandemic better, however, Mr Biden enjoys an eight percentage point advantage.
Bill Stepien, Mr Trump's campaign manager, made clear in a memo on Sunday night the importance the Republicans are placing on just a few key states. "New polling shows this election is going to come down to a few swing states like North Carolina, Minnesota, Arizona, Florida, Pennsylvania, and Wisconsin… Simply put, we can win this but we've got to ramp up our campaign," he said.
National poll trackers continue to give Mr Biden double-digit percentage point leads – but across swing states, the race appears much closer. There are also question marks over how well polls can call the result, after the 2016 elections in which most experts and pollsters had predicted a Hillary Clinton win.
But one model that correctly predicted Mr Trump's 2016 victory is now falling in line with other polling – anticipating a Trump loss in November.
American University professor Allan Lichtman developed a model that he calls "13 keys" in which he analyses the different parameters that can decide the fate of parties and candidates.
Lichtman told US News: "In 2016, Trump was the challenger. I gauged that exactly six keys were turned against the incumbent party, the Democrats.
"I said that this was going to be a change election – any generic Republican was going to beat any generic Democrat," he added.
The keys are based on a range of factors including the state of the candidate's party, the health of the economy, social unrest, foreign policy successes and failures and the individual candidate's charisma. His model states that if six of the 13 keys turn against the governing party then they will lose the election.
According to his latest analysis, Lichtman says seven keys are now turned against Mr Trump, meaning he will lose the White House.
Lichtman adds that up to the end of 2019, Mr Trump was heading for a second term, with only four keys turned. "Everything changed in 2020" he said, "with the pandemic and the cries for social and racial justice."
Join our new commenting forum
Join thought-provoking conversations, follow other Independent readers and see their replies