Police chief resigns after calling for death to 'Marxist Democrat b******s'
The police chief first claimed the posts were fake and he was actually a Biden-Harris supporter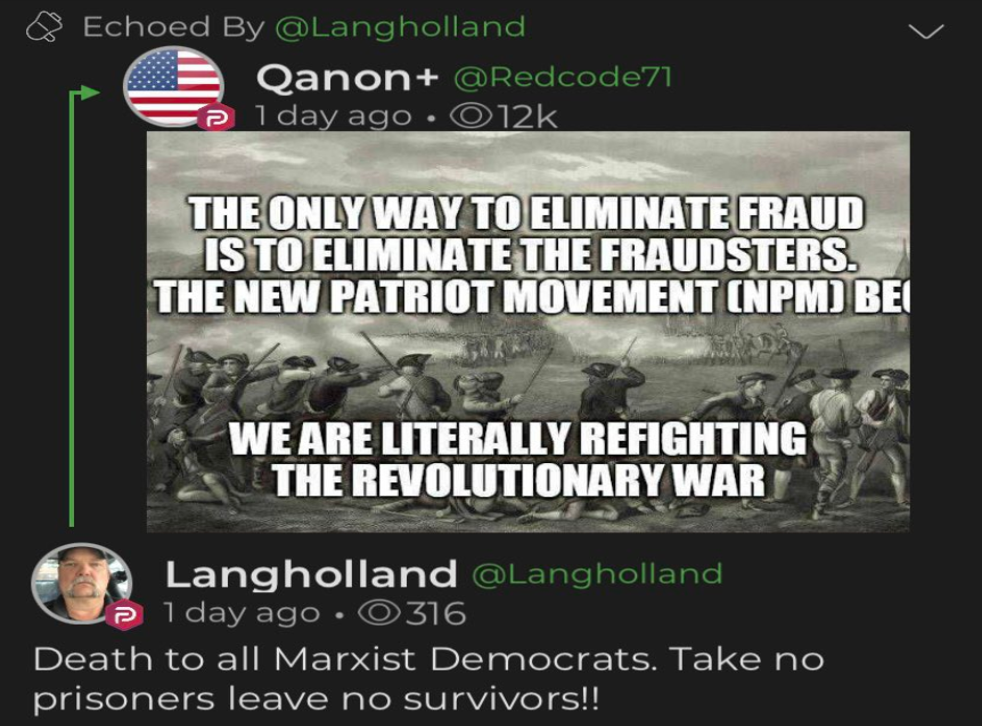 Leer en Español
A police chief in Arkansas resigned after making posts on social media saying "death to all Marxist Democrats" in a QAnon conspiracy calling for the refighting of the Revolutionary War to eliminate fraud.
The posts under the name of Lang Holland, the police chief of Marshall about 100 miles north of Little Rock, came as Donald Trump claimed election fraud was behind the late swing of votes in key states that delivered the presidency to Joe Biden.
Mr Trump is reportedly planning a campaign-rally style tour to for battleground states where he will be filing lawsuits and contesting the counts that propelled Mr Biden to the presidency.
"When this is over and Trump is president for 4 more years. Do not go to sleep. Do not forget what these Marxist Democrat bastards have tried to do," Mr Lang wrote.
"When you see one in public get in their face do not give them any peace. Throw water on them at restaurants. Push them off sidewalks. Never let them forget they are traitors and have no right to live in this Republic after what they have done."
Mr Holland resigned when called in by the city's mayor Kevin Elliot to answer for the since-deleted posts, circulated on Twitter by Arkansas' KATV news reporter Viktoria Capek.
"The City of Marshall strongly condemns the actions of Mr Holland in his posts to social media," Mr Elliot said in a statement.
"The Marshall community does not in any way support or condone bullying or threats of violence to anyone of any political persuasion! We condemn it!."
In one of the posts, Mr Holland said "death to all Marxist Democrats. Take no prisoners leave no survivors!!" in response to a QAnon post that said: "The only way to eliminate fraud is to eliminate the fraudsters. The new patriot movement (NPM) begins. We are literally refighting the Revolutionary War."
The posts first appeared on Parler on Friday, a day before the election was called for President-elect Biden.
Mr Holland at first claimed the posts were fake, with a second Parler account appearing under the name "Chief Lang Holland" saying the original posts were made on a fake profile.
"If I were really as abhorrent and morally bankrupt as the imitators would have you believe, I would have to be a complete imbecile to post such disgusting traits publicly," the post said.
"Honored to soon be serving under President-Elect Biden!"
By Saturday, all the posts had been removed.
Join our new commenting forum
Join thought-provoking conversations, follow other Independent readers and see their replies