Biden lines up ex-Google boss for White House role as Mark Zuckerberg could face hostile reception
Mr Biden has been a vocal critic of the social media giant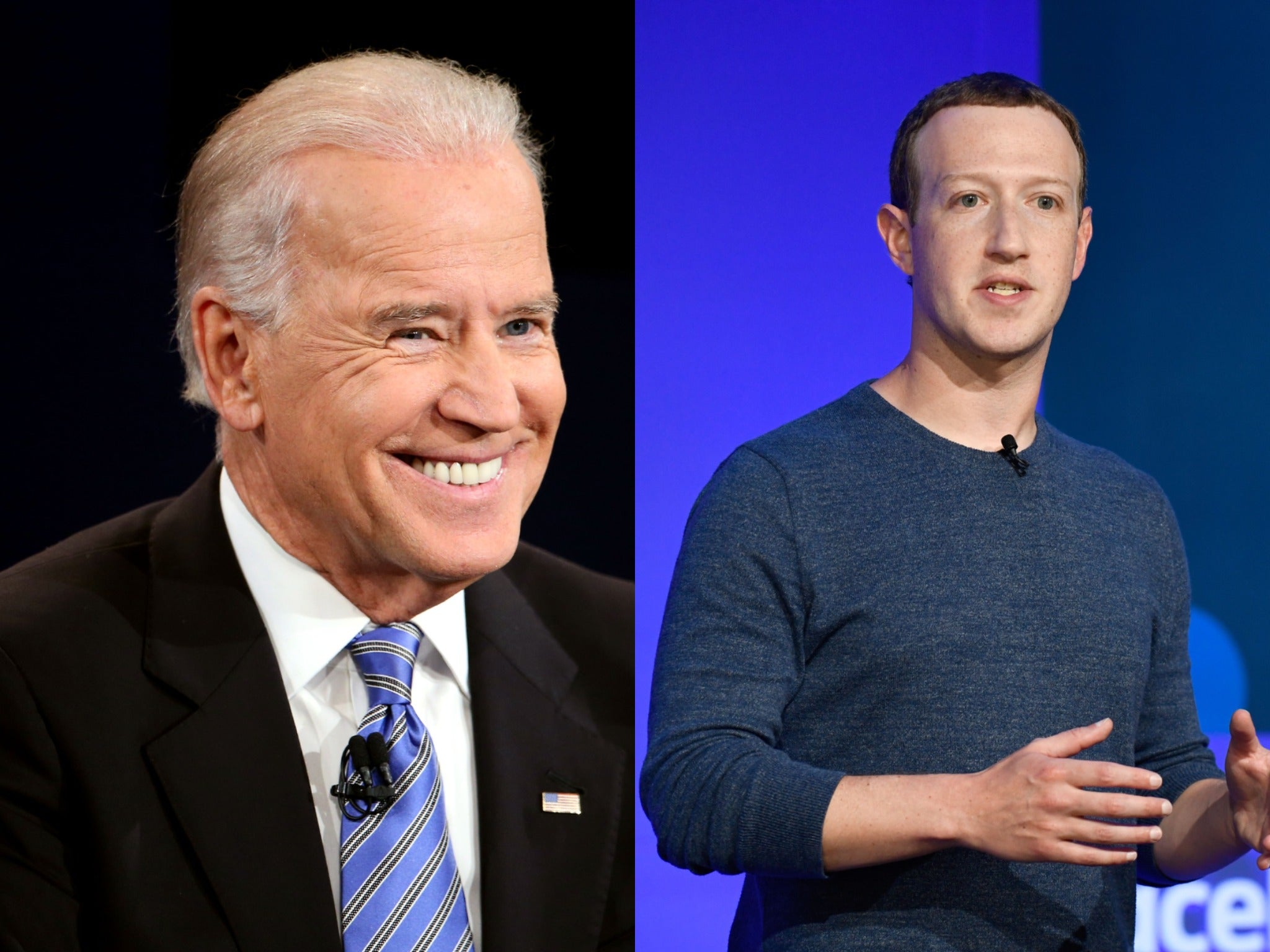 Leer en Español
Joe Biden may give ex-Google boss Eric Schmidt a top administration role but Facebook's Mark Zuckerberg could face a more hostile reception from the president-elect.
Mr Schmidt, who ran the search giant from 2001 to 2011, is being considered to lead a new technology industry task force in the White House, says a report.
But Mr Zuckerberg may have some work to do after Facebook's decision to not fact-check political ads during the campaign "irritated" Mr Biden, according to the Financial Times.
And just hours after Mr Biden made his victory speech, a leading campaign aide took shots at Mr Zuckerberg on social media.
Bill Russo retweeted a Sacha Baron Cohen post which showed Mr Zuckerberg meeting with Donald Trump with the comment "One down, one to go."
Mr Russo, Mr Biden's head of press, added his own comment that read "Hell yes."
Mr Russo doubled down with another fiery attack on Facebook on Monday, accusing the social media giant of spreading disinformation in the wake of Mr Biden's victory over Mr Trump.
"We pleaded with Facebook for over a year to be serious about these problems. They have not. Our democracy is on the line. We need answers," tweeted Mr Russo.
He also accused the company of "shredding the fabric of our democracy."
Mr Biden's transition team will also include Facebook's former associate general counsel Jessica Hertz, and Apple's ex vice president for government affairs Cynthia Hogan, says the Financial Times.
Mr Biden's team was repeatedly critical of Facebook throughout the campaign and they called for the company to more aggressively deal with conspiracy theories and misinformation.
Mr Biden's campaign chief Jen O'Malley Dillon wrote a letter to Mr Zuckerberg in which she called Facebook the 'foremost propagator' of voter disinformation.
Before his election Mr Biden indicated that he would not be soft on Facebook and supported revoking Section 230, which protects US websites for being held liable for content uploaded by users.
"I've never been a fan of Facebook, as you probably know," Mr Biden told the New York Times last December.
"I've never been a big Zuckerberg fan. I think he's a real problem.
"The idea that it's a tech company is that Section 230 should be revoked, immediately should be revoked, number one. For Zuckerberg and other platforms."
Few tech observers expect Mr Biden to return to the "golden era" of the Barack Obama administration.
"Do we think this is going to be Barack Obama 2.0? No, not at all," a tech executive told the Financial Times.
Join our commenting forum
Join thought-provoking conversations, follow other Independent readers and see their replies