Biden makes last-minute radio appeal for Democrats in Georgia
President-elect makes final push to secure victory in high-stakes runoff election
Graeme Massie
Los Angeles
Tuesday 05 January 2021 23:58 Comments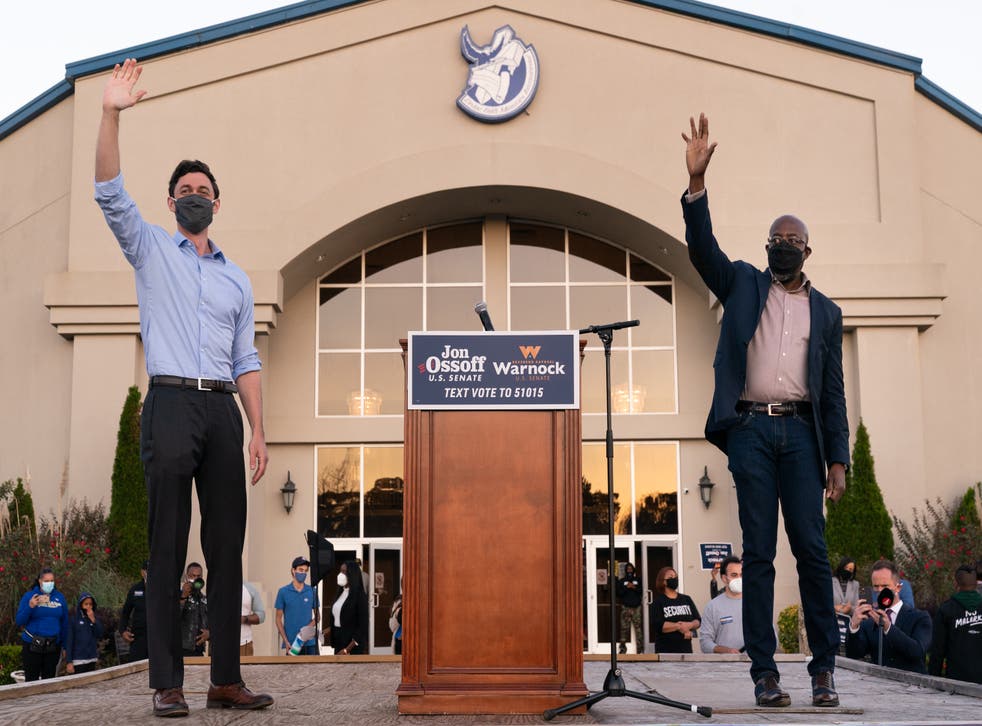 Joe Biden made a last-minute radio push to help Georgia Democrats Jon Ossoff and Raphael Warnock in the final few hours before polls in their runoff election closed.
The president-elect took to the airwaves in the state to support the candidates in their tightly-contested senate campaigns against David Perdue and Kelly Loeffler.
Mr Biden told listeners in the state that if both Democrats won and helped the party take control of the US Senate, "we will be able to immediately out checks for $2,000 to guys who are really hurting."
"These other guys don't seem to understand," said Mr Biden on WVEE-FM, an urban music station in Atlanta.
"This Covid pandemic and the job loss has been consequential.
"Thousands of people are lying in bed, staring at the ceiling, wondering is they are going to be thrown out of their apartments and if they have enough food on the table."
Mr Biden added that if both Democrats won, "the vice president of the United States will essentially become the majority leader of the United States Senate."
The House passed an increase in direct Covid payments to $2,000 but it was blocked in the senate by Republican majority leader Mitch McConnell and kept at $600.
If Mr Ossoff and Mr Warnock can win both races it will give Democrats control of the senate as vice-president elect Kamala Harris will break all ties once sworn in.
The Republicans need to win just one of the seats in order to give Mitch McConnell control of the high chamber again.
Hundreds of millions of dollars have poured into the state and it is set to be one fo the most expensive elections in US history.
The polls close across the state at 7pm ET and Mr Ossoff has urged anyone still in line to stay and ensure that they have their vote counted.
Register for free to continue reading
Registration is a free and easy way to support our truly independent journalism
By registering, you will also enjoy limited access to Premium articles, exclusive newsletters, commenting, and virtual events with our leading journalists
Already have an account? sign in
Join our new commenting forum
Join thought-provoking conversations, follow other Independent readers and see their replies