Trump thinks senior voters are 'expendable', says Biden
Biden visited Florida on Tuesday as coronavirus deaths topped 215,000 nationwide
Matt Mathers
Wednesday 14 October 2020 09:44 Comments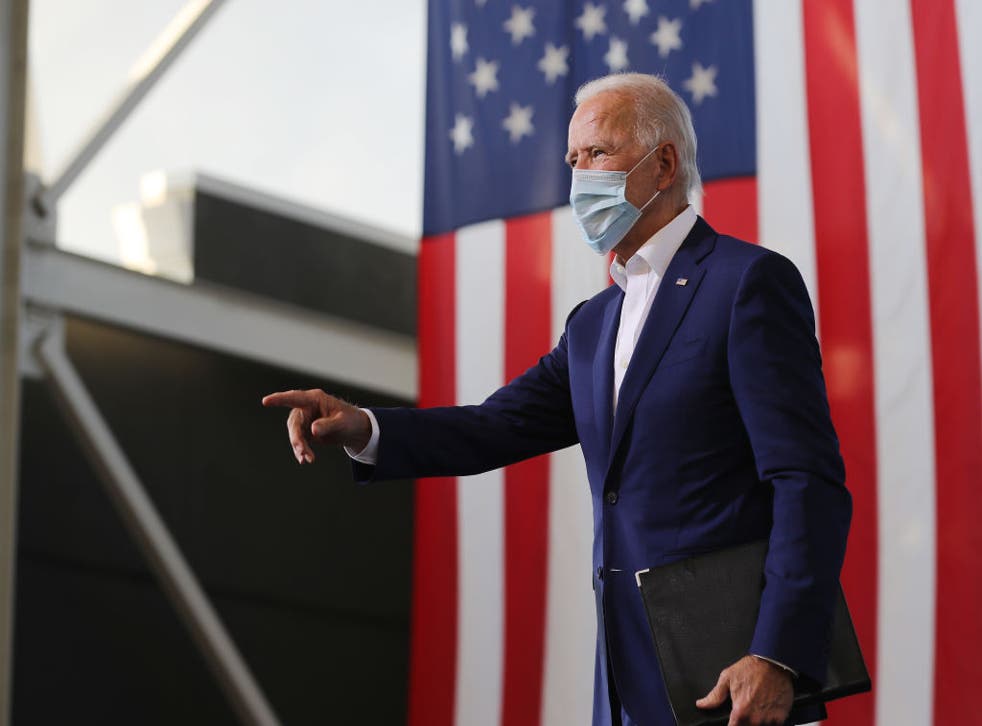 Democratic presidential nominee Joe Biden on Tuesday told senior voters in Florida that Donald Trump's handling of the coronavirus pandemic was evidence the president thinks older Americans are "expendable".
"To Donald Trump, you're expendable. You're forgettable. You're virtually nobody," Mr Biden, 77, told a socially distanced gathering of around 50 people at a care centre in Pembroke Pines, Broward County.
Mr Biden's visit came as the US coronavirus death toll topped 215,000, with around 7 per cent of those fatalities being recorded in Florida, where around a quarter of the population is over 60-years-old. The president continues to downplay the seriousness of the disease, despite being hospitalised with it earlier this month.
The former vice president criticised Mr Trump, 74, for holding a ceremony at the White House to celebrate his nomination of judge Amy Coney Barrett to the supreme court.
America's top infectious diseases expert, Dr Anthony Fauci, condemned the GOP gathering as a "super-spreader" event - a number of the president's top aides and Oval Office officials contracted the disease days after attending.
The "only senior Donald Trump seems to care about" is himself, Mr Biden told Tuesday's gathering, as he sought to win over older voters in the Sunshine State - a key battleground in the 2020 race for the White House.
"The longer Donald Trump is president, the more reckless he seems to get," Mr Biden added. "Thank God we only have three weeks left to go."
Later in the day, the former VP held an outdoor drive-in event in Miramar, Florida, where dozens of cars turned up to show their support.
Meanwhile, the president visited Johnstown, Pennsylvania - arguably the most important state in this year's contest. The latest polls show Mr Biden has a 5 point lead in Pennsylvania.
Mr Biden's Tuesday visit to Florida came 24 hours after Mr Trump made his own trip to the state. It was the first time the commander-in-chief appeared back on the campaign trail having been hospitalised with coronavirus.
Speaking to thousands of tightly packed together supporters at the international airport in Sanford, Mr Trump told the crowd he was feeling "powerful" and that he wanted to kiss them.
"I'll kiss the guys and the beautiful women," Mr Trump added, despite his history of sexual assault allegations. "I'll give you a big, fat kiss."
Mr Trump is still significantly behind his challenger in most major polls, with some surveys giving Mr Biden a massive lead of up to 17 points as the campaign enters its final weeks.
But polls show a much tighter race in some of the key battleground states - including in Florida - where the president and Mr Biden are neck and neck.
A win for Biden in Florida would put a huge dent in the president's reelection hopes. He narrowly won the state in 2016 when up against Democrat Hilary Clinton.
Mr Trump will visit Florida again on Friday with a trip to Ocala. Before then, he will hold rallies in Arizona, Michigan, Pennsylvania, North Carolina, Iowa and Nevada.
Mr Biden went on the offensive earlier this week by visiting the red state of Ohio and will visit key battle ground states later in the week.
Register for free to continue reading
Registration is a free and easy way to support our truly independent journalism
By registering, you will also enjoy limited access to Premium articles, exclusive newsletters, commenting, and virtual events with our leading journalists
Already have an account? sign in
Join our new commenting forum
Join thought-provoking conversations, follow other Independent readers and see their replies