Corey Lewandowski and David Bossie appointed to Pentagon advisory board after purge
The Defense Business Board 'is comprised of private citizens who possess a proven track record of sound judgment and business acumen'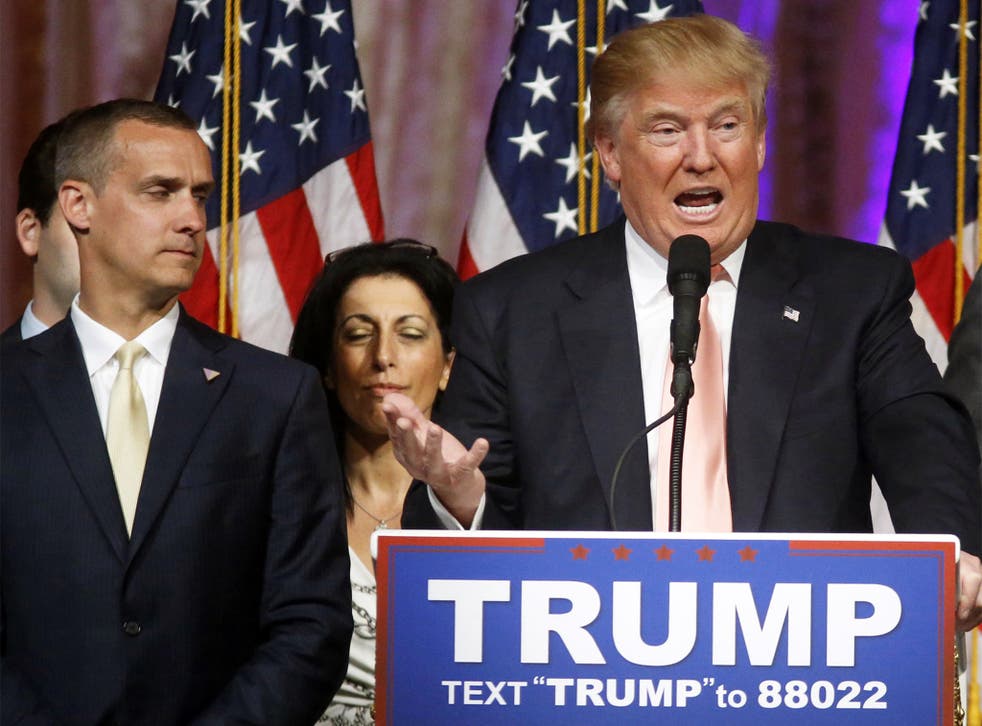 Donald Trump has appointed two of his most loyal lieutenants to the volunteer board advising the defense department on their business interests, shortly after shocking the existing team by firing their chair, vice chair and seven members.
Corey Lewandowski, who briefly served as Mr Trump's 2016 campaign manager, and David Bossie, who was Mr Lewandowski's deputy, were appointed to the Defense Business Board on Friday.
The Defense Business Board is made up of more than a dozen industry and academic leaders who volunteer to provide independent business advice to Pentagon leadership and are appointed by top Pentagon leaders.
According to their website, "the Board is comprised of private citizens who possess a proven track record of sound judgment and business acumen."
The board has completed reviews of defence agencies and activities, looking into the efficient running of the $700 billion (£502bn) department.
Mr Lewandowski, 47, and Mr Bossie, 55, have both involved in efforts to contest the results of the 2020 presidential election. Both men also tested positive for coronavirus after attending a large campaign party at the White House on Election Night.
Christopher Miller, the acting defense secretary, appointed to his job last month following the firing of Mark Esper, said in a statement that he was "proud" to welcome each of the new members, and looked forward to their contributions to help guide the defense department's business efforts in coming years.
"These individuals have a proven record of achievement within their respective fields and have demonstrated leadership that will serve our Department, and our nation well," Miller said in a statement.
Other new appointees include Henry Dreifus, Robert McMahon, Cory Mills, Bill Bruner, Christopher Shank, Joseph Schmidt, Keary Miller, Alan Weh and Earl Matthews.
The Biden administration can replace them when he takes office, but their appointment marks Mr Trump's latest effort to inject politics into the Pentagon in the waning days of his presidency.
The chair, vice chair and at least two other members of the Defense Business Board were fired by email on Friday.
Michael Bayer, chair of the board, told Politico he was shocked by the move.
"I was very surprised that the White House would, at the eleventh hour, adjust an advisory board that for 19 years has had a record of nonpartisan support with the department," he said.
"This kind of a move really will weigh heavily on people on the future and their willingness to serve on these outside advisory boards if they're going to be subjected to political loyalty tests.
"It's unprecedented. I'm just saddened."
Another dismayed former board member told the site: "You are talking about 15, 20 executives, business leaders, government leaders, who are giving their time to serve the nation and not even a thank you note.
"It's just about simple gratitude and appreciation for people."
Join our new commenting forum
Join thought-provoking conversations, follow other Independent readers and see their replies