Donald Trump and his supporters seek comfort in conspiracy as election hopes dim
Trump falls back on conspiracy and division as his options run out, Richard Hall finds in DC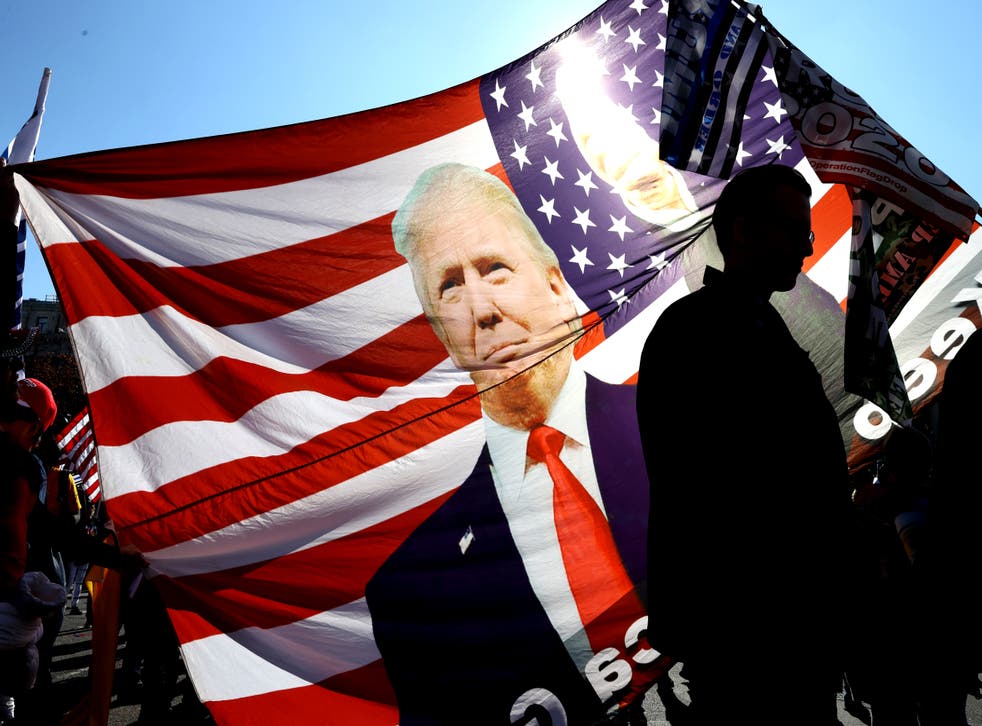 For a man who often broadcasts shirtless and screaming in between commercials for brain pills, the stage Alex Jones found himself speaking from on Saturday afternoon might have felt like a considerable upgrade. On the steps of the US Supreme Court, no less, the conspiracy theorist had a receptive audience.
"President Trump by every metric won this election!" he bellowed from the podium to cheers from a crowd of thousands of the president's supporters in Washington D.C.
"That's why the corporate media including Fox News will not let anybody on to show the proven fraud in Pennsylvania, in Michigan, in Arizona, in Georgia, in Nevada and in Minnesota," he added, before expanding the list of collaborators to include "paedophile globalists" and "Clinton blackmail rings."
It is perhaps fitting that America's most infamous conspiracy theorist is stumping again for Donald Trump. In the week since his election loss, the president appears to have all but abandoned the job of governing to focus on spreading false and debunked stories about voter fraud to explain his defeat.  
The "Million MAGA March", featuring Jones as one of the key speakers, was called to lend support to the president's unsubstantiated claims of a rigged election. More than 10,000 turned out in the capital with signs reading "Stop the steal" and "Stop deepstate fraud now," marching from Freedom Plaza to the Supreme Court. It was the president's Twitter feed come to life.
Far-right militias walked alongside families, members of the neo-fascist Proud Boys were cheered by onlookers as they marched purposefully through the peaceful crowds on a quiet sunny afternoon, as if they were heading to a great battle.
The event seemed to be a magnet for other conspiracies, too. There were signs claiming the coronavirus was a hoax, others calling for the arrest of Dr Anthony Fauci, the country's leading infectious disease expert.
And as night fell, the rally saw clashes at the edges, between counter-protesters and the Trump supporters. The president turned to Twitter, railing against the "ANTIFA SCUM", and urging the DC police to not "hold back."
Trump supporters take to Washington DC for the Million MAGA March
It should come as no surprise that this is how the Trump presidency ends. Conspiracy theories were the lifeblood of his early political career. His baseless claims about president Barack Obama's birth certificate, and the dog-whistle racism that accompanied them, helped him on an improbable journey to the highest office in the land. His lies then seemed like a means to an end. Today, as he approaches the end of his one-term presidency, they are all he has left.
But what of his supporters, the targets of his falsehoods? What will be the long term impact of the president's decision to spend his last months in office attacking the foundations of American democracy?
The mood of the crowd that turned out for him on Saturday offered some insight into where the movement that propelled him to power goes next. Acceptance doesn't appear to be an option.
Much like the president, many wanted to know the answers to questions that had already been answered. They shared conspiracy theories that had already been debunked.
"I certainly believe there was some very suspicious activities that happened with the vote totals, where they were shut down on Tuesday night, and we want to get to the bottom of it," said Blake Marnell, who wore a brick wall-patterned suit meant to represent Trump's border wall.
"If we don't find out now if there is cheating and systemic fraud in our elections, it's gonna be too late next election," he added.
Marnell and the thousands of others who turned up were there because they were convinced the election had been stolen. Exactly how it had been stolen, however, was up for debate. Some believed a fully-fledged nationwide conspiracy, others that mass low-level fraud had occurred.
Most appeared unaware of the basic mechanics of the pandemic-era electoral process. Due to the virus, Democrats voted overwhelmingly by mail, and thus were always going to fall behind in early counting in key states as in-person votes are tallied first. That news does not seem to have reached everyone, so when Trump's early lead was erased, they saw foul play.
There has been no evidence of widespread voter fraud of the kind alleged by Trump and his supporters. Federal agencies overseeing election security have declared the 2020 election "the most secure in American history," adding this week that "there is no evidence that any voting system deleted or lost votes, changed votes, or was in any way compromised."
Trump's campaign has filed more than a dozen lawsuits in its attempt to throw out votes or overturn counts, the vast majority of which have been unsuccessful. And yet the president's amplification of conspiracies has found a receptive audience among his base — both seem unwilling to accept the loss.
"Trump was ahead in Pennsylvania by 800,000 votes. They stopped the count and then Biden passed him. Magically they found pallets of ballots in the middle of the night," said Despina, who came to DC from Philadelphia.
Brandon Zeigler, also from Philadelphia, said there were "multiple videos online that are being censored on Facebook and Instagram of people on live TV in courthouses, and you can live watch people vote one after the other for Biden, they are just throwing in the pile for Biden, no dates, no names."
The fact that Trump has spent years making unsubstantiated claims of voter fraud, always without evidence, has done little to dampen his supporters' belief this time around – rather his history of claims seems to have bolstered their popularity now.
Many of Trump's colleagues in the Republican Party have said privately that the president's baseless claims are little more than "theatre" and he will eventually concede. But litle thought appears to have been given to the long-term impact this theatre might have. 
This crowd was united in their belief that the election had been stolen. But there were groups of people here who have been bound together since long before any votes were cast, simply by their admiration and support for Trump and his rhetoric.
The Proud Boys came along to support the president. They refused to talk to the press. As did a few Boogaloo Boys, a loosely organised anti-government extremist group. They were joined by the Oath Keepers, a far-right militia made up of former law enforcement officials and military veterans.
These groups, too, have bought the claim that the election has been stolen. Some have hinted at the use of violence to resist any administration that is not led by Trump.
"I think about half this country won't recognise Biden as legitimate. They won't recognise this election," said Stewart Rhodes, who founded the Oath Keepers, which is one of the largest anti-government militias in the country.
"What that means is that everything that comes out of his mouth will be considered not of any force or effect, anything he signs into law we won't recognise as legitimate. We'll be very much like the founding fathers. We'll end up nullifying and resisting."
When Trump leaves office in January, the anger and resentment he has fuelled will not disappear. And it will be largely up to him to choose what to do with it.
Register for free to continue reading
Registration is a free and easy way to support our truly independent journalism
By registering, you will also enjoy limited access to Premium articles, exclusive newsletters, commenting, and virtual events with our leading journalists
Already have an account? sign in
Register for free to continue reading
Registration is a free and easy way to support our truly independent journalism
By registering, you will also enjoy limited access to Premium articles, exclusive newsletters, commenting, and virtual events with our leading journalists
Already have an account? sign in
Join our new commenting forum
Join thought-provoking conversations, follow other Independent readers and see their replies