Debate ratings: Trump and Biden's final debate reached 21% fewer viwers compared to first encounter
The number of people tuning in to Thursday night's presidential debate was down by a fifth in comparison to the first encounter
Harriet Alexander
Friday 23 October 2020 19:59 Comments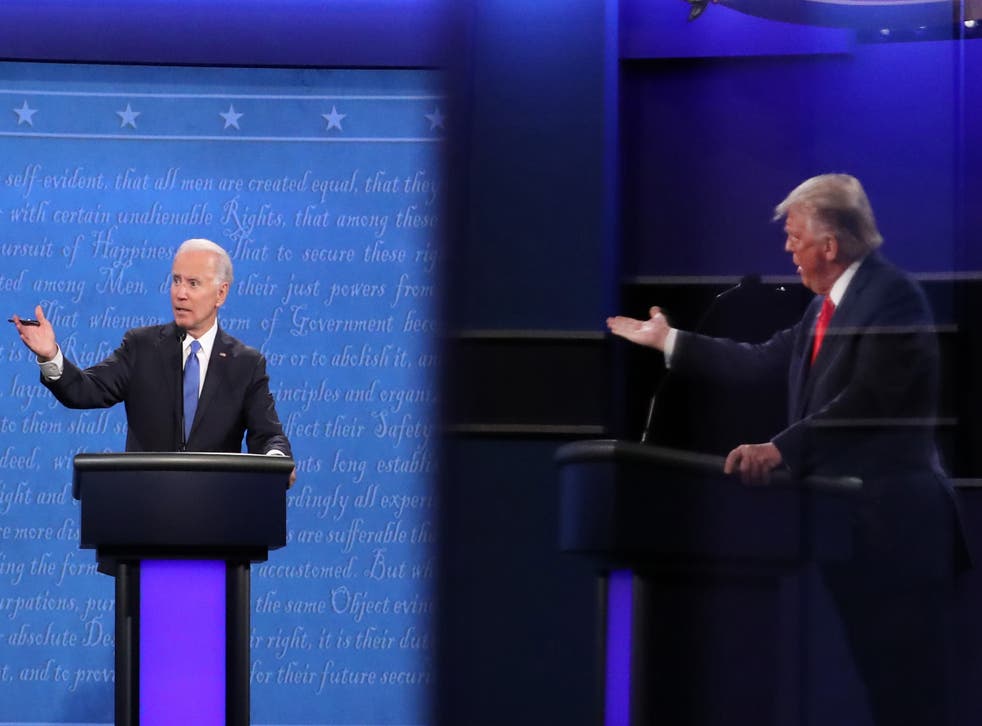 Leer en Español
Preliminary ratings from Thursday night's presidential debate show that significantly fewer people tuned in to watch Donald Trump and Joe Biden' final encounter than their first contest.
Early figures from the big four networks - ABC, NBC, CBS and Fox - show an average of 21.4 million viewers during the 90-minute programme, according to Deadline.
The tally represents a 21 per cent decline from the first debate in Cleveland, Ohio on 29 September.
Those numbers are likely to increase when cable networks CNN, MSNBC and Fox News Channel report their audience totals later on Friday, but are still likely to mark a significant decline from the first meeting.
That first debate, which was marked by repeated interruptions from the president that infuriated moderator Chris Wallace, Mr Biden and the audience, was one of top three most-watched debates of all time.
A total of 73.1 million viewers tuned in.
The most-watched debate of the past 24 years was Hillary Clinton's first showdown with Donald Trump, which attracted 84 million viewers.
Four years ago, the numbers did tail off between the first and final debates - as they did this year.
For Mr Trump and Mrs Clinton's final debate, on October 19, 2016, a total of 71.6 million people watched.
Thursday's lower ratings is due to a combination of factors.
The first encounter, in Ohio, was so contentious many people may have decided to skip the second debate.
An estimated 45 million people had already voted as of Thursday, meaning that they were perhaps already "done" with the election.
And finally, the debate clashed with a high-profile American Football game, which pitched the New York Giants against the Philadelphia Eagles.
Register for free to continue reading
Registration is a free and easy way to support our truly independent journalism
By registering, you will also enjoy limited access to Premium articles, exclusive newsletters, commenting, and virtual events with our leading journalists
Already have an account? sign in
Join our new commenting forum
Join thought-provoking conversations, follow other Independent readers and see their replies