From dead voters to mail-in ballots: A brief history of Donald Trump's bogus claims of voter fraud
Donald Trump has consistently undermind the integrity of American democracy in the service of protecting his own ego, Richard Hall writes
Tuesday 10 November 2020 17:31 GMT
Comments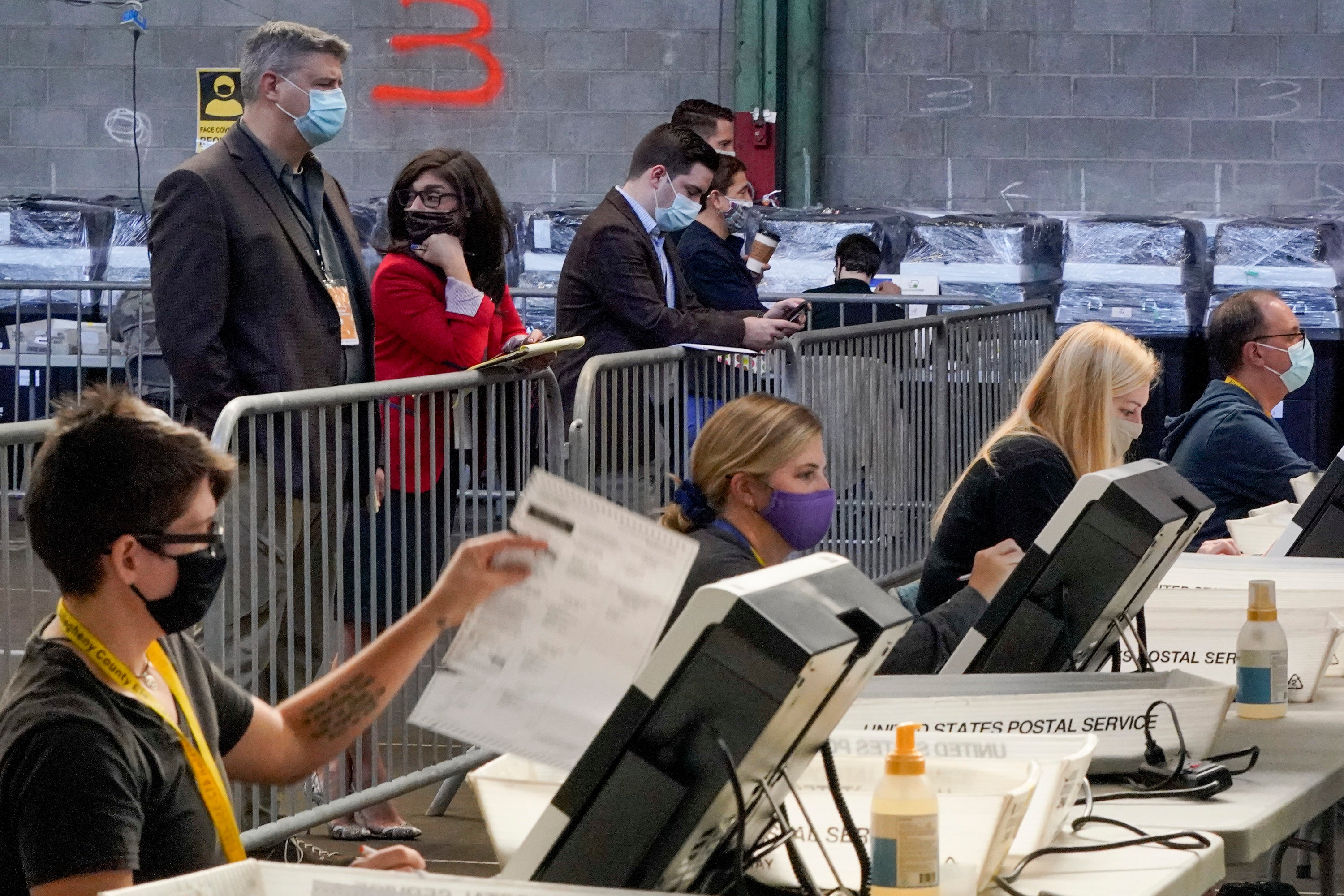 Leer en Español
To understand Donald Trump's refusal to accept defeat in the 2020 election, it's necessary to go back a few years. With the benefit of hindsight, it's clear to see that it was always likely to end this way.
For his entire political life, Mr Trump has used bogus claims of vote rigging and election fraud to explain defeats or anticipated defeats. He has consistently undermined the integrity of American democracy in the service of protecting his ego.
During his successful 2016 presidential run he made frequent unsubstantiated claims of vote rigging against his Democratic opponent Hillary Clinton and even his rivals in the Republican primaries.
"Based on the fraud committed by Senator Ted Cruz during the Iowa Caucus, either a new election should take place or Cruz results nullified," Mr Trump wrote following his defeat to the Texas senator in 2016.
Those bogus claims continued after he won the nomination and until election day, during which time most polls predicted a loss for the real estate developer against Ms Clinton. They varied from allegations that dead people were voting, to the media making up fake news stories to influence the outcome.
"You have 1.8 million people who are dead, who are registered to vote, and some of them absolutely vote. Now, tell me how they do that," he told Fox News's Sean Hannity in the month before the 2016 election.
"Of course there is large-scale voter fraud happening on and before election day. Why do Republican leaders deny what is going on? So naive!" he tweeted the same week.
Those allegations continued even after he won. In January 2017, after he had been inaugurated, Mr Trump said he would be asking for "a major investigation into VOTER FRAUD, including those registered to vote in two states, those who are illegal and even, those registered to vote who are dead (and many for a long time)".
The then president did indeed create a "voting integrity commission" to study those claims. It was disbanded the next year after finding no evidence to support widespread evidence of voter fraud.
In short, the scene was set in 2020 for the president to repeat a set of well rehearsed and baseless lies about the integrity of the election in the event that he should lose. Indeed, that is exactly what happened. But this time, he added another element to the mix.
At the beginning of the year, the coronavirus pandemic arrived in the US and rapidly spread across the country. By the time campaigning began it was clear the virus was going to dramatically alter how this election was going to be held.
In an effort to protect voters from catching and spreading the virus in voting lines and at poll stations, states across the country began to introduce measures to make voting by mail easier.
But a pattern began to emerge that said as much about the pandemic as it did about polarisation in the United States. Polls and surveys consistently showed that Democrats would vote in overwhelming numbers by mail, while Republicans preferred to vote on the day. This mirrored the seriousness with which voters from each party viewed the pandemic.
This presented a serious threat to Mr Trump's re-election chances. Mail-in ballots are traditionally encouraged by campaigns because they put votes in the bank and reduce the number of people they need to turnout on election day.
As states around the country looked to make it easier to vote, Mr Trump and the Republican Party began an all-out war against the use of mail-in ballots. The president said as early as April that mail-in ballots presented a "tremendous potential for voter fraud, and for whatever reason, doesn't work out well for Republicans". He did not provide any evidence for his claims.
He accompanied these unsubstantiated attacks on mail-in voting with legal efforts to limit their use wherever possible. One of those efforts tried to block the use of drop-off ballot boxes — simply postboxes where voters could drop off their ballots — in Pennsylvania and a number of other battleground states.
The president also began to use the levers of the US government in his campaign to undermine mail-in ballots. As Congress was debating massive stimulus bills to aid sectors of the economy that were suffering due to the coronavirus, he vowed to block emergency funding for the US postal service, specifically citing his effort to block mail-in ballots as the reason for doing so.
"They need that money in order to make the Post Office work so it can take all of these millions and millions of ballots," he told Fox Business. "But if they don't get those two items, that means you can't have universal mail-in voting, because they're not equipped to have it."
Mr Trump has claimed that "universal mail-in voting" – which means anyone can request an absentee ballot – is susceptible to fraud, again, without evidence.
Mr Trump's attacks on the USPS, in addition to sweeping changes made by the newly appointed postmaster general, Louis DeJoy, have raised concerns that the increased volume of mail-in ballots would not arrive in time to be counted on election day.
Mr DeJoy, a major donor to Mr Trump before he was selected by the Republican-led USPS board of governors, defended his changes as essential cost-cutting measures and insisted that all election mail will be delivered on time. While there were some delays, there is no indication that large numbers of ballots went undelivered.
Mr Trump's attacks on mail-in ballots only made Republicans far less likely to use them. That polarised voting divide set up what many election observers described as a "red mirage" on election day.
Nowhere was that clearer than in Pennsylvania — the tipping point state in this election. Because mail-in ballots take longer to count, and because the Republican-controlled GOP state legislature had blocked measures to begin processing those ballots before election day, Mr Trump was always expected to take an early lead in vote counting. That lead — the red mirage — was expected to fall and eventually disappear as those mail-in ballots were counted.
As expected, Mr Trump and his allies have used this entirely anticipated shift to cry foul and fraud. On Wednesday afternoon, the president's personal lawyer Rudy Giuliani arrived in Philadelphia to announce that the campaign was suing Pennsylvania to stop counting ballots, citing a lack of "transparency" in the process.
Mr Giuliani came to Philadelphia for a second time on Saturday, where he held a press conference in the parking lot of a landscaping company on the edge of town to make more allegations of interference. Those claims amounted to a disagreement about how far campaign-designated poll watchers could stand from people who were counting ballots. Mr Giuliani did not provide any proof of widespread voter fraud.
Mr Trump, meanwhile, continued to spread disinformation on his Twitter account.
"Tens of thousands of votes were illegally received after 8 P.M. on Tuesday, Election Day, totally and easily changing the results in Pennsylvania and certain other razor thin states. As a separate matter, hundreds of thousands of Votes were illegally not allowed to be OBSERVED," he said.
To date, the Trump campaign has yet to provide any evidence of widespread voter fraud anywhere. It has filed 10 lawsuits since election day to push those bogus claims and all 10 have been thrown out so far — most for lack of evidence.
Mr Trump may be hoping that he will be able to convince a court to throw out or discount enough votes to overturn Joe Biden's victory. But he would need to do that in several states, run by both Republicans and Democrats, at opposite sides of the country.
Unfortunately for the president, in US courts a tweet does not count as evidence.  
Join our commenting forum
Join thought-provoking conversations, follow other Independent readers and see their replies