How old are Biden and Trump?: How age and health of two candidates shaped US election
Two septuagenarians campaign during a public health crisis that exposes deep disparities in elder healthcare, writes Alex Woodward, but what does America need to know about its aging leadership?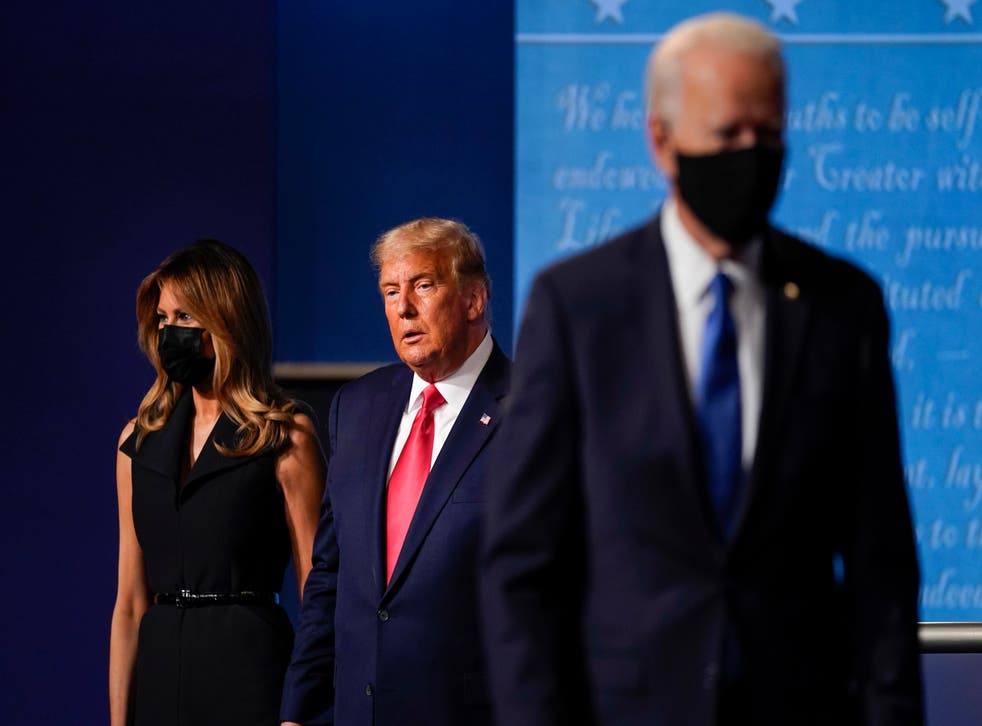 Leer en Español
America's next president will be the nation's oldest. The line of succession, currently, includes the 80-year-old House Speaker and the 87-year-old Senate president pro tempore. In Congress, the average age of the House of Representatives is more than 57 years old, while in the Senate, that figure is nearly 62 years old, among the oldest in US history.
Donald Trump is 74 and the oldest person to serve as commander in chief. His challenger Joe Biden will be 78 less than three weeks after Election Day.
Both candidates have faced intense scrutiny over their health; the president's aides and physician gave conflicting, evasive answers about the state of his health after he was hospitalised with the coronavirus in October, while his campaign has attacked his opponent as a confused elderly man.
Senate Majority Leader Mitch McConnell, who has pummeled the GOP's agenda and judicial strategy into Congress, is 78-years-old, up for re-election, and seen recently at the Capitol with a bruised face and hands.
"Of course not," he told reporters when asked whether the public should be aware of any potential health concerns.
Read more: 2020 election results, updates and analysis
Writing in The New York Times, columnist Ben Smith discussed the spectre of aging and declining health among US leaders in public view, a taboo often avoided by political reporters, as the White House failed to speak honestly about the president's condition in the middle of a public health crisis that has similarly affected thousands of Americans.
He said that "there is no question that this prying is in the urgent public interest, and the White House press corps is working with admirable aggression and openness."
"We need to know who is in charge of the government, and to understand the outcome of President Trump's long evasion of the coronavirus crisis as Americans begin to vote," he said.
Understanding elected officials' health, and the realities of aging, are vital to a functioning democracy, but the issue has been weaponised by the Trump campaign against his opponent, and the perennial question of "fitness" has loomed over not just an unprecedented presidential race but the entirety of Congress as it ages.
The fitness test
"The health and longevity of presidential candidates and sitting presidents is important regardless of age," according to Stuart Jay Olshansky, who authored a recently published study with a team of researchers to review health claims from the presidential candidates.
"Questions have been raised as to whether voters should accept a presidential candidate's declaration of health at face value," according to the report. "A candidate of any age that is harboring a lethal known condition that is likely to lead to death while in office, or a high risk for cognitive impairment that could influence the ability to discharge the powers and duties of the office, could influence an election outcome."
Those concerns have prompted analysts to consider whether candidates for public office should be required or encouraged to reveal detailed medical records, which could violate privacy rules governing individuals' health information.
Read more: Can Trump still win the US election
The report found that both candidates are likely to survive a four-year term based on current health information, though each possess a number of risk factors that could affect their health in the event of severe illness.
A medically obsese Mr Trump has avoided losing weight, despite medical advice, is at risk of cardiovascular disease, takes cholesterol management drugs, and was treated with a variety of experimental drug cocktails while hospitalised for Covid-19, which researchers have found could have potentially debilitating long-term impacts among high-risk survivors.
Medical history provided by Mr Biden's campaign from his doctor declared him "fit to successfully serve" in a report outlining Mr Biden's current health in a three-page summary.
His most significant medical event was in 1988, when a then-45-year-old Delaware Senator received surgery for two aneurysms after he had complained about painful headaches. During surgery, the aneurysm burst; a second operation discovered a second aneurysm. He wrote about the potentially deadly scenario in his 2007 autobiography.
"He has never had any recurrences of any aneurysms," according to Kevin C O'Connor, director of executive medicine at the GW Medical Faculty Associates. "A 2014 CT angiogram showed no recurrence of disease."
Read more: Who is Jill Biden?
On 18 October, campaign adviser Lara Trump suggested Mr Biden is in "cognitive decline" during an interview with CNN, echoing campaign memes and statements about Mr Biden.
A few days earlier, the president told Fox Business Network that Mr Biden should "come clean" about his aneurysms – despite having already done so – after host Maria Bartiromo asked Mr Trump whether the former vice president should disclose "mental issues we need to know about."
The aging electorate
The 2020 races is not the first time Americans have scrutinised the health and abilities of the executive office holder.
Ronald Reagan's health was the subject of debate in the press even before he took office. Following what even his own aides described as a "tentative" debate performance in 1984, The Wall Street Journal ran the headline "Reagan Debate Performance Invites Open Speculation on His Ability to Serve".
After that debate, the former chair of the Democratic Congressional Campaign Committee told reporters that the president – then 74 and the oldest US president by that time – "showed his age."
"The age issue is in the campaign now and people like me can talk about it, even if [Democratic candidate Walter Mondale] can't," Tony Coelho said.
Five years after leaving office, the former president was diagnosed with Alzheimer's.
Former presidents Woodrow Wilson and Franklin D Roosevelt both suffered strokes while in office in their 60s, as most Americans by then were retiring.
In the years that followed, the retirement age has moved to the point of obsolescence, as more Americans continue to work into their 60s and 70s. The age required to receive full Social Security benefits has gradually increased to 67, while employers have moved from pension plans to 401k contributions, which took a beating in the 2008 recession, and leaving a growing number of older Americans unable to retire.
Nearly a quarter of adults 65 and older are in workforce, according to the US Bureau of Labor Statistics.
As to whether a person can be "too old" to be president, most Americans generally believe age 80 is a maximum, according to polling from The Independent and JL Partners.
A threshold of 80 years old is also the consensus among younger people – 52 per cent of respondents aged 18-24, and 30 per cent of people aged 25-34.
Based on voting history, 34 per cent of people who supported Hillary Clinton in 2016 agree that 80 is "too old," while that figure is at 46 per cent for Trump voters.
But 26 per cent – roughly one in four respondents – believe 60 or 70 is too old.
The concentration of power among older people "will predictably lead to policies that benefit the old and the rich, at the expense of the less privileged," said Derek Thompson, writing in The Atlantic.
How will an aging leadership address the crises younger generations inherit?
The climate emergency "urgently requires the input and ideas of the generations that will be most affected by it," he warned. "If government of the elderly, by the elderly, and for the elderly will not perish from the Earth, the rest of us might suffer instead."
While most Americans are living longer and healthier lives, the 2020 elections will likely be the last in which a majority of voters are baby boomers. Millennial voters and similar-in-age groups will represent a larger share of the voting population by 2024.
But in 2020, nearly a quarter of the electorate is 65 and older, the highest since 1970, according to Pew Research.
By next year, baby boomer and older generations will account for fewer than 40 per cent of eligible voters, the group found.
Fighting ageism and uncovering disparities
What should Americans know about their elected officials' health as they age, and what will that reveal about their abilities to lead?
Dr Karen Bullock, who leads North Carolina State University's Department of Social Work, has more than 20 years of experience studying mental health and aging.
While there is heightened scrutiny about the candidates' health and age ahead of Election Day, there still is not enough evidence that voters "have prioritised age as a deciding factor in determining who is the best candidate to lead this country for the next four years," she said.
"In the US, we have fought long and hard against stereotypes, mislabeling, ageism, sexism, racism and other actions of actions of discrimination and prejudice," she told The Independent.
In that sense, she said, the candidates "are a reflection of our collective belief that we should judge people solely by the evidence of merit and morals … irrespective of the antiquated belief that older age impairs one's cognition and competence to lead this country."
She said that for the public to better understand elected officials' health, reporters should continue to rely on credible health evaluations and assessments and frame age-related issues through a historical context – a reflection of their past performance and statements – and how they appeal to younger Americans.
"We need to move away from the historical assumptions that age determines one's capacity and ability to lead, as an elected official," she said. "Thus, the kinds of questions reporters can ask to adequately cover the health of elected officials are those that provide insight to function and ability."
The candidates then have a small window of opportunity to address the needs of a diminishing population of older voters, especially the health disparities that have emerged during the public health crisis and the disproportionate impacts among older people of colour.
While the president received state-of-the-art care at Walter Reed under a team of physicians, the medical realities for millions of other older Americans – often relying on fixed incomes or living in communal settings – are far from the same.
"It is gravely impossible for an elderly person, who was not allowed to contribute to a retirement plan as a young adult because of structural or systemic racism and discrimination, to have sufficient income in old age," Dr Bullock said.
"These individuals and communities are under siege," she said. "Cases continue to spike, people in high risk categories are dying daily across this country and we have a president that insists that we should get back to activities as usual."
Register for free to continue reading
Registration is a free and easy way to support our truly independent journalism
By registering, you will also enjoy limited access to Premium articles, exclusive newsletters, commenting, and virtual events with our leading journalists
Already have an account? sign in
Register for free to continue reading
Registration is a free and easy way to support our truly independent journalism
By registering, you will also enjoy limited access to Premium articles, exclusive newsletters, commenting, and virtual events with our leading journalists
Already have an account? sign in
Join our new commenting forum
Join thought-provoking conversations, follow other Independent readers and see their replies