Instagram is accused of trolling Trump by flagging his Pearl Harbor post to say Biden won the election
Instagram insist that the label, quickly removed, was automatically applied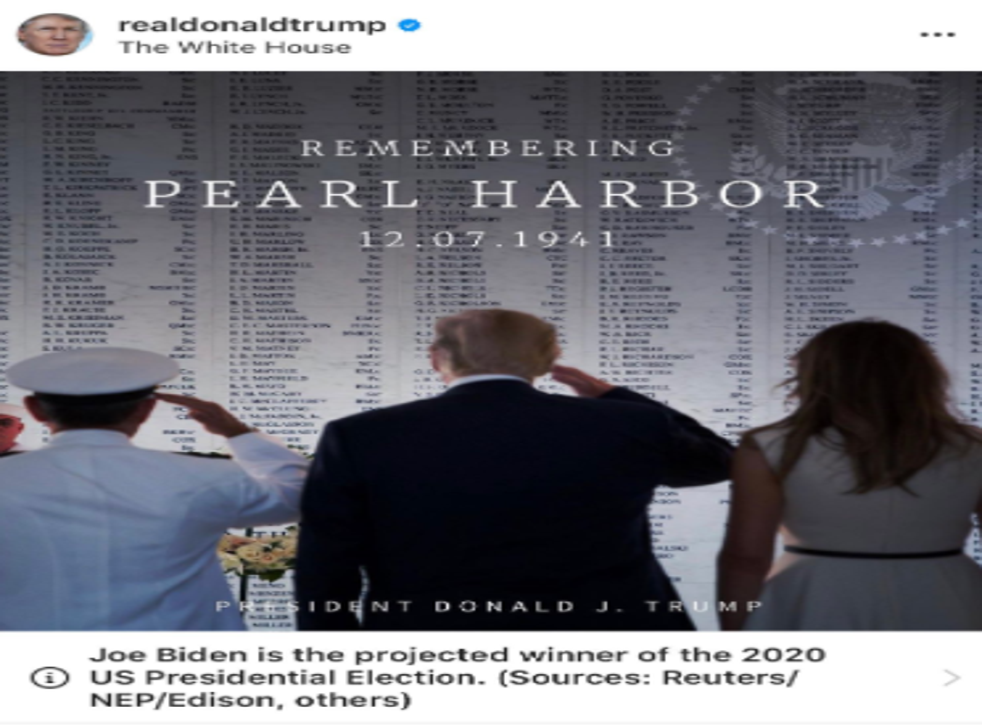 Leer en Español
Instagram has been accused of trolling Donald Trump after his post marking the 79th anniversary of Pearl Harbor was flagged to point out that Joe Biden had won the election.
The president posted an image on Monday of him saluting a wall filled with the names of victims of the 1941 attack.
Soon after, what looked like a fact-checking label appeared.
"Joe Biden is the projected winner of the 2020 US Presidential Election," it read.
Supporters of Mr Trump were angered by what they perceived as yet another attack on the president by the tech giants.
Facebook, Twitter and Instagram have all been placing labels on Mr Trump's tweets they deem to be inaccurate - in particular his claims of election fraud. Twitter also enraged Trump supporters by blocking the New York Post's dubiously sourced report about Hunter Biden's laptop - an action for which they have since apologised.
"So, @instagram put a warning/fact check on a Trump tweet paying tribute to Pearl Harbour victims," said conservative commentator Rita Panahi.
Less than two hours later, the Daily Dot website noticed, the label had vanished.
In a statement to the Daily Dot, an Instagram spokesperson said that the label was applied to Trump's account automatically.
"As part of our work to keep our community informed around the elections, automated labels were applied to posts from all candidates," the spokesperson said.
"In this instance, this label was unintentionally applied, and thus has since been removed.
Instagram had announced on 5 November that all posts by political candidates would have the label.
Instagram also disagreed with the idea that its notices were intended to fact-check the president.
"This was not a fact-check, but rather a notice to inform our community around election results," the spokesperson said.
Join our new commenting forum
Join thought-provoking conversations, follow other Independent readers and see their replies