Top House Republican dismisses Pelosi's claim of Biden mandate
'It was a mandate against socialism. It was a mandate against defunding the police,' GOP leader says of gains in House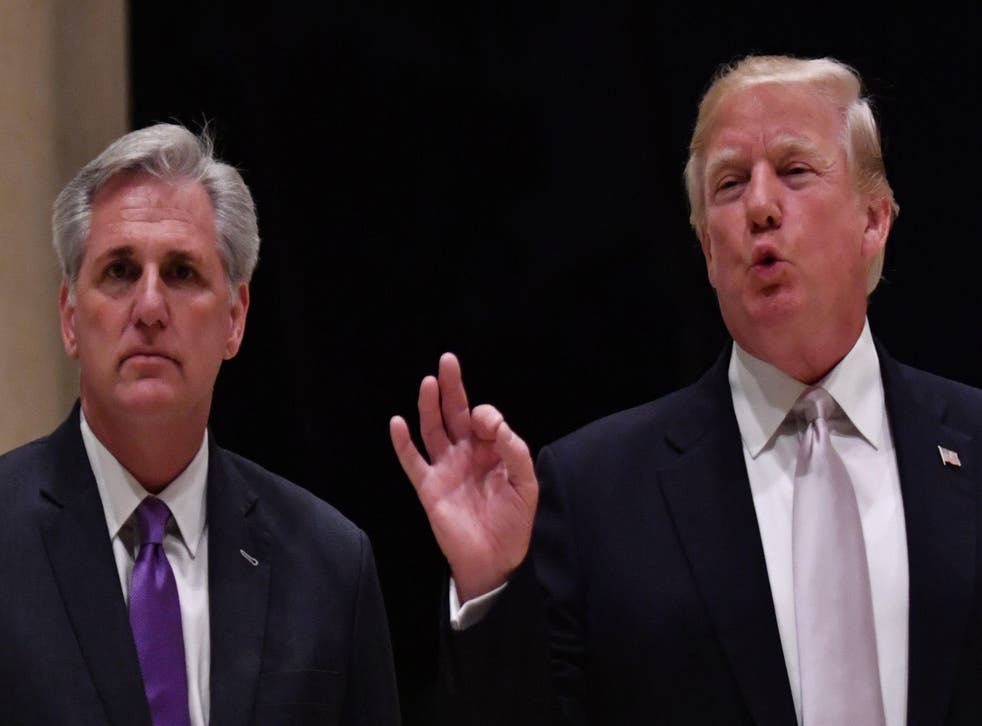 The top House Republican is pushing back against Democratic claims that President-elect Joe Biden will have a mandate, saying voters handed the GOP one with more seats in the lower chamber.
"I heard the speaker call it a mandate. It was a mandate against socialism. It was a mandate against defunding the police," Minority Leader Kevin McCarthy told reporters on Thursday.
Because Mr Biden has received 77m votes, more than any presidential candidate in US history, he and Democratic lawmakers say he has a clear mandate to push his agenda.
Democrats had predicted a "blue wave" on Election Day that would have expanded their House majority, given them a slim Senate majority and Mr Biden the White House.
Instead, they only got one of the three – so far – with Senate control still up for grabs.
Any Democratic majority in the upper chamber would be smaller than projected by political analysts even if several run-off races go their way.
Meantime, Mr McCarthy continued backing Donald Trump's wave of legal challenges of the election's results in swing states he lost.
"Every challenge needs to be heard … regardless of how this outcome is we want to be able to trust in this election," he said. "I think you have more than 150m Americans voting. Let's make sure we get this right."
Senate Minority Leader Chuck Schumer, who addressed reporters minutes earlier, accused Republicans of feeling "fear" of Mr Trump, and letting that drive their refusal to call Mr Biden the president-elect.
Political prognosticators say the outgoing president will be the most powerful figure in the Republican Party for years to come, driving that alleged "fear."
Register for free to continue reading
Registration is a free and easy way to support our truly independent journalism
By registering, you will also enjoy limited access to Premium articles, exclusive newsletters, commenting, and virtual events with our leading journalists
Already have an account? sign in
Register for free to continue reading
Registration is a free and easy way to support our truly independent journalism
By registering, you will also enjoy limited access to Premium articles, exclusive newsletters, commenting, and virtual events with our leading journalists
Already have an account? sign in
Join our new commenting forum
Join thought-provoking conversations, follow other Independent readers and see their replies